'Anne Boleyn' is so dull that the lead's race is the only thing worth discussing… as intended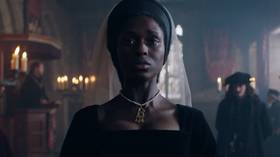 The Channel 5 mini-series has attracted a lot of attention for its unconventional casting, but it is an underwhelming piece of television.
The first episode of the highly anticipated three-part drama, Anne Boleyn, which has generated a great deal of conversation because it cast Jodie Turner-Smith, a black actress, in the titular role, premiered Tuesday night on BBC Channel 5.
The casting of a black actress to play a white historical figure has garnered much attention, which seems to be the point. I certainly wouldn't have watched Anne Boleyn if it weren't for the casting controversy… so mission accomplished.
This color-blind (casting without considering an actor's race) or color-conscious (intentionally casting a minority because of their identity) casting approach has been a hot topic in recent years.
'Whitewashing', where a white actor or actress plays a role that's a minority in the source material, such as Scarlett Johansson in Ghost in the Shell or Tilda Swinton in Doctor Strange, or where white actors/actresses play 'people of color', like Emma Stone in Aloha, Angelina Jolie in A Mighty Heart or Jonathan Pryce in Miss Saigon, has been labelled culturally insensitive and all but banned.
In a case of 'race-washing for me but not for thee', during this same time-period, 'artists of color' playing characters that are white in the source material, even when that source material is actual history, has been met with cheers for being a sign of victory for 'diversity' and 'inclusion'.
A Wrinkle in Time, Hamilton and Mary, Queen of Scots (2018) are just a few examples of the race-washing of white characters, including white historical figures, with actors of color in recent years.
As a traditionalist who believes in respecting source material, particularly when the source is history itself, I always find it ironic that the woke are so enthralled with color-blind or color-conscious casting when it comes to white historical figures or originally white characters, yet are so addicted to classifying people by their racial identity in real life.
Also on rt.com
White supremacy is worth investigating, but HBO's pretentious & infantile 'Exterminate All the Brutes' has nothing original to say
Of course, the argument from the pro-color-blind/color-conscious side is rather disingenuous and unserious. Author Miranda Kaufmann's recent article on the subject in the Telegraph is a perfect representation of the vacuousness and vapidity of that position.
Kaufmann opens her piece by declaring she is "always exasperated by the uproar when a new historical drama comes out with a cast that isn't solely white," and then goes on to reveal her ignorance and stunningly obtuse perspective on the issue.
According to Kaufmann, since there were blacks in England during the Tudor era, that means it's no big deal if a black actress plays Anne Boleyn.
There were white people in the civil rights movement, so should Joaquin Phoenix, Daniel Day Lewis, and Meryl Streep play Malcolm X, MLK, and Rosa Parks? There were white abolitionists, so should Sean Penn and Jennifer Lawrence play Frederick Douglass and Harriet Tubman? This is obviously absurd.
Equally absurd is Kaufmann's reasoning that because there were 200 free blacks out of a total of between 2 and 4 million people living in Tudor England, then a black Anne Boleyn is perfectly reasonable even though, as Kaufmann admits, "of course" Boleyn wasn't black.
Kaufmann's article is titled, 'Yes, there were black Tudors – and they lived fascinating lives' – so why not make a TV show about one of them and cast black artists in the roles instead of turning history into fantasy by casting Jodie Turner-Smith as Boleyn?
My opposition to color-blind and color-conscious casting is purely a function of wanting to see the very best film and television possible. Film and TV is all about 'make believe', as the actors are playing 'make believe' in order to make the audience believe what they are witnessing is genuine.
This is why movie and TV studios pay millions of dollars for top-notch CGI to make it look like superheroes are really flying and dragons actually exist, and why taller actors play Abe Lincoln and pretty actresses play Marilyn Monroe.
Also on rt.com
Making great movies in Hollywood is difficult. Anti-white racism will make it impossible
By casting a black woman as Anne Boleyn, or any other white figure, the critically important suspension of disbelief needed to lose oneself in entertainment has one more obstacle to overcome in our jaded age, and the 'make believe' is made markedly less believable.
Which brings us to Anne Boleyn.
I wanted Anne Boleyn to be good because I want everything I see to be good, but unfortunately it isn't just Anne's head that will roll in relation to this show, but viewers' eyes as well.
This drama is a rather flimsy and flaccid retelling of the Boleyn tale that brings nothing new to the table except for the race of its leading lady.
The show is not underwhelming because of Jodie Turner-Smith, it would probably be anemic regardless of who played the titular role, but it isn't helped by her presence either.
Turner-Smith is an undeniable beauty, but she's not particularly charismatic, and she certainly lacks the magnetism and skill to elevate this rather shallow and stilted drama.
The rest of the cast, be they white, black, or other, don't fare any better, as the production feels decidedly cheap and devoid of drama.
Episodes two and three of Anne Boleyn air over the next two nights, and maybe it will find its dramatic rhythm and improve significantly, but I doubt it, as the first episode was so dull it left me wanting to chop my own head off.
The bottom-line reality regarding Anne Boleyn is that the virtue signaling of color-blind or color-conscious casting may make pandering studio executives and the woke feel good, but it often doesn't make for good art and entertainment.
Like this story? Share it with a friend!
The statements, views and opinions expressed in this column are solely those of the author and do not necessarily represent those of RT.
You can share this story on social media: