What will Bella Hadid do now? Louis Vuitton has culturally raped Palestine with its $705 keffiyeh in the Israeli flag's colours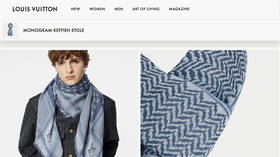 The French fashion house has rightly been met with a backlash for its ill-judged Arab scarf, whose price and colour scheme make it unedifying. Why was it allowed to be produced or was stoking controversy the plan all along?
There's cultural appropriation and there's outright political and capitalist opportunism. Louis Vuitton is guilty of the latter, with its crass and insulting Monogram Keffieh Stole.
But then that's likely part of this swivel-eyed ploy.
It's the traditional headdress worn by Arabs in various nations but for long has been associated with Palestine's oppression. The country's former leader Yasser Arafat famously introduced it to Western audiences, as he wore it at high-profile political events.
Also on rt.com
Bella Hadid receives widespread support for statements condemning 'ethnic cleansing' of Palestinians
The keffiyeh has morphed into a fashionable item for some, while it stood for opposition to injustice and is a staple at left-leaning universities.
Louis Vuitton has ripped it off, which is nothing new as often cultural items are copied.
Currently the Mexican government is alleging the same of the brands Zara, Patowl and Anthropologie for reproducing symbols used by their Mixe community.
What is different about LV's keffiyeh is the deliberate attempt to be provocative. To be selling such an item while the people it represents are being bombarded by Israel is disgusting.
Israel maintains a chokehold over Palestine, illegally occupying land it has no right to and in the recent conflict used force and weapons way beyond that of their Arab neighbours.
The price further proves how those in charge at Louis Vuitton reside in an Ivory Tower, with no concept of the real world. It costs $705 which at today's exchange equates to approx 2,290 Israeli shekels.
In 2019, the average daily real wage in Gaza was 43 shekels. The same study revealed that 80% of employees in Gaza's private sector earned less than the minimum wage of 1,450 shekels.
So it would take six weeks for a Palestinian to buy one of the keffiyehs, assuming they didn't need to purchase any food, clothes or pay any bills.
Then there's the pure aesthetics.
Louis Vuitton has selected a combination of pale blue and white for its keffiyeh. Those, of course, are the colours of the state of Israel.
Of all the facets of this debacle, that is the one that hits the hardest.
Some deluded designer has whipped up the idea that taking a Palestinian symbol and draping it in the colours of Israel would be an edgy statement.
It's not, it's cultural blasphemy.
Also on rt.com
Everyone is wrong about Israel-Palestine – here's how the pursuit of huge gas reserves and money is fuelling the conflict
The Palestinian people live on their knees due to Israel's disregard for basic humanitarian rights, so to use blue and white on an important Arab piece of clothing is a desecration of their identity.
The levels of wrongness are hard to comprehend, and it is impossible that Louis Vuitton didn't know what it was doing.
Most big companies favour Israel over Palestine in their statements and actions, but they don't deliberately throw a match onto an open bonfire.
This has been designed, looked over, manufactured and then stocked in their stores. Why at no point along that journey did no one in a senior position speak out? The answer is they may have but it didn't matter, as those in charge sought the attention.
In the way that Sinead O'Connor will always be deemed controversial for tearing up a photograph of the Pope on the American TV show Saturday Night Live, Louis Vuitton wanted to cultivate an image like that.
Their artist director of menswear Virgil Abloh attempted a similar toxic stunt when he planned to launch a Michael Jackson-inspired line, following the explosive Leaving Neverland documentary when two men recounted graphic sexual abuse at the hands of the singer.
Due to a backlash the line was never sold, but why did Abloh even embark on such a scheme unless it was to attract controversy?
Also on rt.com
Israel carries out the ethnic cleansing of Palestinians and robs them of their homes, yet it pretends it's the victim
The keffiyeh follows the same logic but on a far bigger scale. It's beyond offensive and only reveals what Louis Vuitton is. It may want to gain credibility and appear edgy, but it's none of these. It's an expensive brand that only the rich and wealthy buy.
No one who is part of the majority associates with them, as they represent the elite and privileged.
By trying to make a statement with the keffiyeh, Louis Vuitton has actually made a confession: it is a profit-hungry money machine and morally bankrupt.
Khaled Beydoun, an author and lawyer, summed it up when he said that the brand's design was "disrespectful and insensitive on myriad levels," adding, "This is more than just cultural appropriation. This is something more vile. Far more exploitative."
All eyes will now turn to supermodel sisters Bella and Gigi Hadid, whose father is Palestinian, and who have defendedthe country.
Because after this stunt, why would anyone with integrity want to be seen in Louis Vuitton's highly-priced products?
Like this story? Share it with a friend!
The statements, views and opinions expressed in this column are solely those of the author and do not necessarily represent those of RT.
You can share this story on social media: