As challenging as making a 'man-made sun': China plans to extract uranium from the ocean to end its energy dependency on the West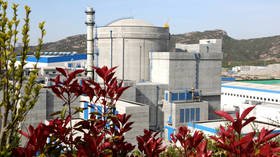 In an ingenious move sure to infuriate America, Beijing plans to build technology capable of distilling the radioactive element from seawater, fuelling its new nuclear power plants and giving it strategic independence.
Can the ocean fuel China's nuclear boom? According to a report from the South China Morning Post, Beijing is looking to build a device that can extract uranium from seawater, which has an estimated 1,000 times more reserves than on land.
It comes amid the country's push on multiple fronts to meet with two principal aims: first, to end its energy dependency on Western nations, a move accelerated by geopolitical tensions, and second, to meet its carbon commitments. The latter has been a new pressure point from the United States, with Joe Biden's new climate agenda necessitating that China builds a slew of nuclear power stations in the coming decade. If it goes to plan, the facility to extract uranium from the ocean could start construction by 2026, but may take years and a lot of money to complete.
For a long time, China's reliance on other countries to supply its energy needs has been a strategic Achilles heel. As an industrial powerhouse, the world's most populated nation, and one of its fastest-growing economies, it has an unquenchable thirst for energy. What makes this worse is that China has very few natural energy resources. It has some small oil and natural gas reserves, but that's about it. It also has fewer uranium reserves than France – a far smaller country.
As a result, China is a bulk importer of oil, uranium, natural gas and coal. This is a strategic problem, because access to these depends on Indian Ocean and Pacific maritime routes, which, in a conflict scenario, enemies such as the United States would attempt to cut off in a bid to try to paralyse China.
For many years, Beijing's priority has been to attempt to quash its energy dependency and diversify its provisions. It's done this in a number of ways. First is the Belt and Road initiative, which seeks to build cross-continental infrastructure in order to reduce reliance on the usual maritime routes. Key to this is the building of the China-Pakistan Economic Corridor and Gwadar Port on the shores of the Arabian Sea in Pakistan, which, linked to Xinjiang, allows China to bypass the Indian Ocean and have direct access to the Red Sea and the Middle East.
Also on rt.com
China's Belt and Road could bring true diversity and beat back cultural imperialism
Secondly, China has collaborated with Russia to build new gas pipelines, and it has also consolidated its hold over the South China Sea, which holds enormous oil reserves. Thirdly, to bolster its own secure energy supplies, it has invested heavily in renewable and clean resources, including solar panels, wind farms, electric vehicles and nuclear power.
But, of course, it's not enough. America is causing a strategic conundrum for Beijing, not just in one direction, but two: it wants China to meet a goal on peak emissions by 2030 and reach carbon neutrality by 2060. This means that it needs to wean itself off its reliance on coal and move to other energy sources faster, hence the push to go nuclear.
To build more nuclear power plants, you need more uranium. Over the past decade, Beijing has taken stakes in uranium mines in Niger, Namibia, Kazakhstan, Uzbekistan and Canada, but, as the Morning Post report notes, the existing supplies are not enough to meet the growing domestic demand, even though around 50 reactors are currently operational and 17 more underway.
It points out: "At its current rate of building six to eight nuclear reactors a year, China would need about 35,000 tonnes of uranium a year by 2035, according to an official estimate, meaning its reserves would be depleted in less than five years."
The West also has a heavy presence in the current supply chain and could, at some point, disrupt it. Ideally, China wants a supply of uranium over which it has complete sovereignty, that can meet domestic demand, is strategically safe, is in a non-contentious area and is not dependent on other countries. The answer? To take the unprecedented innovative practice of extracting uranium from the sea, which, as the report states, "can lead to the development of disruptive technology that can go well beyond the application in the nuclear sector".
Uranium in seawater exists only in trace amounts, and extracting it is extremely difficult. Technical details of how China plans to do it have not been released, but its scientists are confident they can meet a challenge that one of them has described as being as difficult as making a "man-made sun".
This bold move should be no surprise. The Chinese state is known for finding radical and ambitious solutions to its economic and social challenges. But will the US tolerate China making such leaps in nuclear technology when there will be military implications? Is that worth the price of China successfully reducing its emissions?
In many ways, America is mired in contradictions between its geopolitical competition with Beijing and the two nations' 'cooperation' on climate change. It wants China to produce renewables, but it also wants to produce those renewables itself, and has simultaneously attacked Beijing on everything from solar panels to electric vehicles, insisting that no Chinese energy advances should come at the expense of American industry or interests.
It is no surprise that, in 2019, the Trump administration added four Chinese nuclear power companies to the Commerce Department's Entity List, which bars American companies from exporting technology to them. The US would obviously prefer to hamstring China than for it to genuinely succeed in staging an alternative energy revolution.
China's broader commitment to carbon neutrality and its race to secure more energy is ultimately overshadowed, if not dictated by, the ongoing technological and strategic struggle going on in the background. The project to extract uranium from seawater is a game-changing project pioneered not so much by goodwill or concern for the environment or the rise in global temperatures, but by strategic mistrust and the need for Beijing to solve its energy conundrum before any serious crisis with the West breaks out.
Like this story? Share it with a friend!
The statements, views and opinions expressed in this column are solely those of the author and do not necessarily represent those of RT.
You can share this story on social media: