Hypocritical US puts pressure on China over the environment… but it's happy for Japan to dump radioactive waste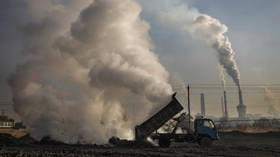 The US is framing China as a partner on climate change, but in reality, its bid to make Beijing reduce emissions is politically motivated. And its approval of Japan's plans to dispose of Fukushima waste exposes its dual standards.
Despite the growing stand-off between the United States and China, John Kerry is in town to talk climate change. Appointed by Joe Biden as the US special envoy on climate, Kerry landed in Shanghai on Thursday seeking commitment from China on carbon emissions.
The Biden administration has talked about the need to secure 'cooperation' from China on tackling global warming, but there's little good faith to be found. Sparks won't fly here, but the environment is ultimately just another front to vilify Beijing.
Earlier this week, the US raised eyebrows as it gave open backing to Japan's bid to release contaminated nuclear water from the Fukushima power plant into the sea. Predictably, the move drew angry protest from both China and South Korea. Yet, on the other hand, when Kerry arrived in Shanghai, he said he wanted to hold China to account on its climate pledges – a clear case of double standards in Beijing's eyes, and also demonstrating that even so-called 'cooperation' is being framed with tough talk.
Also on rt.com
The US' push for allied sanctions on China edges us closer to a new Cold War, but Biden mustn't bank on long-term European support
It's clear the US isn't asking China to be a partner on climate change; it's in Shanghai solely to make demands and talk down to it.
While the Biden administration is, objectively speaking, more concerned about global climate issues than President Trump ever was, having re-joined the Paris climate accord, scapegoating China on the environment has remained a consistent theme within Washington, and there is a political incentive in doing so.
Despite the fact that China actually files more renewable energy patents than any country in the world, and is steaming ahead on electric cars, buses and other sustainable resources, the country is persistently stereotyped by the mainstream media as being a gigantic and notorious polluter. The Trump administration aggressively pursued this narrative in order to ramp up the idea of China as a threat, with former Secretary of State Mike Pompeo even going as far as accusing Beijing of killing people in other countries through air pollution.
The Chinese Communist Party's continued destruction of the environment threatens the global economy and global health, but has the worst impact on its own people. The world deserves better. https://t.co/pQjSSHMGr3

— Secretary Pompeo (@SecPompeo) November 4, 2020
Of course, objectively speaking, there is a serious middle ground. We cannot deny the reality that China has an enormous population and the world's largest industrial base, which in terms of global carbon emissions obviously matters a great deal. One cannot defeat climate change without securing China's participation.
But one cannot also play down the notion that Beijing is being singled out on this matter. Why was Washington so quick to overlook Tokyo's proposed dumping of radioactive waste, despite the implications it could have for the ocean? Why is it ignored that there are places with far worse air quality than China such as New Delhi, as well as cities in Bangladesh or Pakistan? Climate change is a global issue, which requires global participation, but China is being given special treatment.
The climate change debate is a convenient way to try to constrain China's development by attempting to force it away from the one thing it needs the most right now, despite its strides in renewables – coal.
As a developing industrial nation, China's need for energy is constantly surging. Coal is the most affordable and accessible commodity, making it essential for sustained GDP growth, but it accounts for 40% of its carbon emissions. Renewables matter, but they cannot overnight satisfy the needs of 1.4 billion people and 'the world's factory'.
Also on rt.com
Biden's dual assault on China and Russia may backfire as it is pushing Beijing and Moscow closer together
It's for this reason that China is the largest importer of coal in the world. And so it should come as no surprise that John Kerry is demanding that China stop building new coal-fired fuel stations. A recent study found that if China is to meet its target of zero net emissions by 2060, it needs to reduce most of its capacity.
This makes for a difficult dilemma for China, which has committed to reducing emissions, but cannot easily divert from its existing development model. After all, if it ain't broke, don't fix it.
Therefore, even though Kerry's visit is depicted as a mission to seek accord, in reality, it is political and subtly confrontational, plus smacks of hypocrisy, given America's tolerance of Japan's Fukushima decision. It's clear that while the Earth might be warming up, the freezing of the relationship between China and the US continues apace as the new Cold War intensifies.
Think your friends would be interested? Share this story!
The statements, views and opinions expressed in this column are solely those of the author and do not necessarily represent those of RT.
You can share this story on social media: