Is the American dream really losing its appeal in China?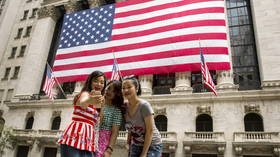 Recent studies suggest that where once the US was a country to aspire to for Chinese people, its appeal has been reduced by Beijing's rising global influence. While there is some truth in that, the reality is a bit more nuanced.
"Are Chinese people falling out of love with the Western dream?" Kristin Huang asked in the South China Morning Post on Monday. The piece is a reflection of the times we live in, covering the consequences of the growing geopolitical rift between China and the West, which has been exacerbated by the Covid-19 pandemic, and increased hostility and suspicion.
It cited a survey of 1,200 young adults in the Global Times in April which claimed that the percentage of those who "looked up to the west" had fallen by 30% since 2016. It also referenced a 2020 survey from York University in Ontario that claimed trust in the Chinese government was now as high as 98%.
Also on rt.com
Size matters in geopolitics, so the West is excited China's population growth is ending. But here's how Beijing will solve it
But what now constitutes the 'Western dream'? and is there such a thing as the 'China dream'? In 2013, Xi Jinping coined the latter term and dubbed it as the "great rejuvenation of the Chinese nation," reflecting a more confident, successful and influential China on the world stage. For example, several days ago, it became just the second country to successfully land a rover on Mars, undoubtedly adding to a sense of national pride. But what does this tell us about how people really think? And have recent events in fact altered the perceptions detailed in the surveys, and do they reflect the evidence on the ground?
For decades, the US has undoubtedly been the world's most definitive example of a 'successful' country. The American dream has long been perceived as a symbol of hope, prosperity and optimism, attracting millions upon millions of migrants over the decades in search of a better life.
We cannot say that China has not been starstruck by the US, or has not admired it as an example of something to be. Millions of Chinese students have studied in the US or other Western countries, including Xi Jinping's own daughter, as they offer better opportunities than anything back home. Hollywood movies, too, have traditionally been met with huge enthusiasm in China, with Avengers: Endgame having made $629 million there in 2019.
Also on rt.com
3 kids or more: Chinese researchers call to ABANDON birth limits to ensure immigration-fed US can't outperform Beijing by 2050
Has it all changed so suddenly? The argument being made in these surveys is that America and its allies are potentially losing their appeal and the perspective of Chinese people is evolving. Considerations such as China's ability to swiftly defeat Covid-19, its worldwide distribution of vaccines and growing economic trajectory have been cited as among the reasons why.
These contrast with the failures of the Western countries and their high death tolls, their inability to help other countries, their respective economic troubles and their growing portrayal of China as a systemic threat – their own change in perception that China will not inevitably evolve into a democratic state, but will make its own rules and upend a global balance of power that has long been lopsided in their favour.
It's clear the rise of China has upset the applecart. Yet it would be misleading to say its population consider it a utopian society which does not require improving. Whilst a 2020 study from Harvard University again reported approval of the Chinese Government topped 95%, it also found that it cannot take the support of its people for granted. Although it revealed people across the board are generally happy with the increased standards of living, it is also true that China remains a country with deep inequalities and dissatisfaction over environmental concerns and corruption. Yet the study also sets out how the Chinese government has been receptive and responsive to public concerns (despite the assumption it would not be, as an authoritarian state).
Also on rt.com
Ban on Chinese students will be another act of crazy self-harm by Britain on its anti-Beijing crusade
This data confirms the idea that the Chinese are increasingly confident in their country, but also that some aspects of the Western model – in particular the ideology – are increasingly undesirable. But this does not mean China has eclipsed the West entirely. It may be the world's second largest economy, but still has a long way to go to surpass the West in terms of income and prosperity; in that respect, it's a work which remains unfinished.
While the specifics of the West's political systems may have lost their shine, what about its cultural appeal? Politics as a zero-sum game can be deceptive. The same country highlighted as fostering growing anti-Americanism has, for example, over 6,000 KFC restaurants.
This soft power shows that America continues to penetrate China as a country to admire. While Chinese young people may be angry at America's foreign policy and may no longer have respect for its political system due to the excesses of the Trump administration and its harsh treatment of China, it does not mean the country has nothing to offer any more.
China is a nation that is fiercely proud of itself, increasingly competitive on the world stage and confident in a direction of its own, yet that has not completely eclipsed nor diminished the US' status. Not even the relentless hostility from former Secretary of State Mike Pompeo could keep the Chinese students away. Sure, there are more reasons to be hesitant than before, but America's appeal has not been extinguished yet.
If you like this story, share it with a friend!
The statements, views and opinions expressed in this column are solely those of the author and do not necessarily represent those of RT.
You can share this story on social media: