Nigel Farage's 'America's Comeback' tour reveals consummate showman, but his message resonates with Republican grassroots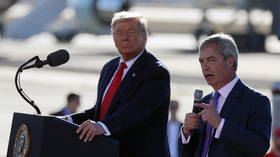 Wounded Republicans call on Trump's Brit pal, Nigel Farage, for a much-needed grassroots boost and he doesn't let them down with his well-rehearsed 'little story' of victory against overwhelming odds and a lasting Brexit dividend.
If there's one thing that Marmite Brexiteer Nigel Farage loves it's playing to a home crowd and while he might have stepped away from frontline politics in Britain – for the time being – speaking at the first major event of a six-week tour of the States the audience in Chicago welcomed him as one of their own.
Sporting a deep tan thanks to two weeks' Covid-19 quarantine on the Caribbean island of St Maarten prior to the start of his America's Comeback gig, Farage's first outing in his new role as cheerleader-in-chief of the Republican grassroots saw him push all the right buttons and leave an energised, cheering audience re-invigorated.
Job done.
The enemies of the Republican right were all put up against the wall to be picked off one by one: 'old duffer' President Biden, 'sneering' Barack Obama, Hillary Clinton, 'dangerous' Black Lives Matter, 'hard-Left' Democrat Alexandria Ocasia-Cortez, CNN. Even Tony Blair's name received a resounding 'Boo!'.
But Farage is about more than attacks on the Left. This Limey needs to establish himself and his message if he is to have any real effect. While the celebrity value of being a pal of Donald Trump does bring a certain cache he needs to bring more to the party than that.
So he's adapted his spiel. Not so much the content, but the way he presents it. Nigel has gone folksy.
He told the Chicago crowd, "I hope what I can do is to inspire you with a little story about how we fought back against the globalists, how we fought back against the establishment."
Of course, that "little story" was about the Brexit win – what he called, "the biggest geopolitical change in the West since the fall of the Berlin Wall".
Farage admitted the elation of victory was soon followed by despondency as he became convinced that efforts to overturn the result would be successful and compares this disillusionment with how his audience might "be feeling down now about where you are".
Post-June 23, 2016, "All the politicians promised they would honour the result of the referendum and they all did the opposite," he said.
And that's his connection with the audience. An audience in which many struggle to understand why their man, despite winning 74 million votes, was not still sitting in the Oval Office. There is a feeling of disenfranchisement that, valid or not, deserves addressing.
The polarisation post-Trump is still raw and anyone in Remain vs Leave Britain can testify how deeply wounding such political divisions can be.
So when Farage told of the establishment's reaction to Brexit, "our parliament, our politicians, our big businesses and large sections of our media from the first day of that referendum attempted to de-legitimise it," the message resonated across the Atlantic.
"They told us we didn't know what we voted for but somehow we were thick, ignorant, stupid peasants and we should either be made to vote again and the whole thing should simply be ignored."
And that's how these Republicans feel. They are expected to swallow the idea that four years of President Trump were an aberration. A blip. That Americans should just pretend they never happened.
In Britain, Nigel told the audience, that feeling of despondency had now vanished.
"Brexit has now been delivered," he said. "We've left. Elements of it aren't perfect but we've left. We are out and would you believe an opinion poll published last week which asked the question, 'If there was a Brexit vote again tomorrow how would you vote?' and now 70% support Brexit. How about that!"
But that's not all Farage has up his sleeve. "There's one more piece of this story I want to share with you," he confided.
Also on rt.com
Teaming up with BoJo's spurned adviser Dominic Cummings is the only way Keir Starmer can ever be Britain's PM
That mood change in Britain that brought Brexit has had a lasting effect. People, he said, "are proud to be British and they don't want to be led by a bunch of globalists who support open borders and frankly want to do down the very concept of the nation state.
"As a result of all of this, last week in the English local elections the Labour Party has been all but wiped out and socialism is dead in England."
Chicago loved it. Now for the Rebel Yell.
"We were disillusioned in 2019 and we turned it round," he said. "We've got Brexit, the country supports it. We beat the Labour Party in England. We've beaten socialism and you can do this in the midterms but you've got to organise. You've gotta mobilise. This won't happen by magic, you've got to work hard to make this happen."
Clap, clap, whoop-whoop, holler-holler!
I ran into Nigel a few weeks back and he told me that he'd been offered a speaking tour in the States but was unsure whether to take it on. Judging from this reception in the Windy City, he made the right choice.
Next stop, Milwaukee.
Think your friends would be interested? Share this story!
The statements, views and opinions expressed in this column are solely those of the author and do not necessarily represent those of RT.
You can share this story on social media: