The Golden Globes are moronic, but Hollywood boycotting them because the organizers aren't 'black' enough is idiotic hypocrisy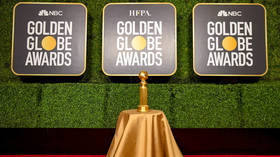 Hollywood is holding the Golden Globes to account, not for its blatant corruption, but because the skin tone of its members isn't dark enough.
Shock waves were sent through Hollywood this week when the esteemed Golden Globes became the target of a virtue-signaling blitzkrieg and boycott by some of the movie business' heavy hitters.
I am kidding, of course; the Golden Globes are certainly not esteemed and no one is shocked by Hollywood virtue-signaling over anything anymore.
The whole absurd firestorm started with Netflix and Amazon declaring they'd no longer work with the Hollywood Foreign Press Association (HFPA), the parent organization of the Golden Globes. This was quickly followed by WarnerMedia joining in the boycott, Tom Cruise returning his three past awards, and then NBC declaring they wouldn't telecast next year's Golden Globes ceremony.
The HFPA are a notoriously corrupt and cinematically ignorant organization filled by people with only a passing and tenuous connection to the film industry. The HFPA's awards, the Golden Globes, have long been a punchline for being so easily purchased by big studios looking to boost a movie's profile and box office. These are the reasons why I am so glad that Hollywood is coming together to put an end to this blight on the movie business and blasphemy against the art of cinema.
I'm just kidding again, Hollywood doesn't care about the Golden Globes being corrupt; instead, Netflix, Amazon, WarnerMedia, Tom Cruise and NBC are all piling on the Golden Globes because the HFPA, an organization of roughly 90 individuals that is packed with "people of color" from Asia, India, the Middle East, and Central and South America, doesn't have any members whose skin tone is dark enough to be considered "black".
This horrifying lack of melanin caused such an uproar at this year's ceremony that it led to one of the most unintentionally funny moments in the show's history when HFPA members Meher Tatna and Ali Sar, an Indian woman and Turkish man respectively, sheepishly spoke about the organization's dire need for "diversity" after being chastised by hosts Tina Fey and Amy Poehler, two white women, one of whom, Fey, had episodes of her hit tv show 30 Rock pulled from streaming circulation last year because they featured scenes with blackface. Only in Hollywood!
It's hysterically funny to me, but not the least bit surprising, that Hollywood is not concerned by the HFPA's relentlessly corrupt practices, just that no people with dark enough skin tones are getting in on the egregious grift.
Speaking of grift, it may come as a shock to learn that NBC's decision to not telecast the Golden Globes this year might not exactly be entirely motivated by a wholesome yearning for diversity. According to reports, NBC pays the HFPA $60 million to televise the Golden Globes, with most of that money going to production costs, but by refusing to televise the awards, NBC saves the vast majority of that money.
Considering that the Golden Globes ratings were down 63% this year and only attracted 6.9 million viewers, and that ratings and viewership for awards shows across the board are plummeting, this seems much more like a savvy business decision by NBC and not one of conscience.
NBC isn't the only one signaling its virtue for self-serving reasons; Tom Cruise's returning of his Golden Globes, which he won over twenty and thirty years ago for Born on the Fourth of July (1990), Jerry Maguire(1997) and Magnolia(2000), is not only utterly absurd but calculated and contrived.
Much like when Cruise was "caught on audio" chewing out crew members for violating Covid protocols on the set of the newest Mission Impossible monstrosity, a scenario which struck me as being completely staged for publicity purposes, Cruise's Golden Globes flex is a public-relations maneuver meant to generate talking points and good will when he is out shilling for his big movies this year, Top Gun: Maverick and Mission Impossible 7.
I assume Cruise is thinking that if he can distract people with his race-based virtue-signaling, people won't notice how oddly contorted his face is becoming from plastic surgery. Not a bad plan.
I'm also assuming that Amazon is hoping that by signaling its phony virtue regarding race and the Golden Globes it can distract people from its horrendous treatment of its employees.
Also on rt.com
HFPA, group behind Golden Globes, denounces ex-president for reportedly sending email equating BLM to Manson cult
As for me, the Golden Globes have never been more than a Ricky Gervais delivery system, and an opportunity to watch rich, famous movie stars get drunk in public.
Gervais has hosted the show five times, each more glorious than the last. His final hosting gig was in 2020, before all of the Covid unpleasantness, and it was a glorious thing to behold as he eviscerated the vacuous celebrities and their vapid awards with surgical precision and unabashed brutality.
I won't miss the Golden Globes this year, and if they vanish forever – a distinct possibility – I could not care less. But with that said, I do wish that in their stead NBC gets Ricky Gervais in front of a room filled with movie stars and Hollywood bigwigs and televises him comedically disemboweling them for their pretentious, self-serving nonsense. He could start with their ridiculous virtue-signaling boycott of the Golden Globes over something so insignificant as skin tone.
Think your friends would be interested? Share this story!
The statements, views and opinions expressed in this column are solely those of the author and do not necessarily represent those of RT.
You can share this story on social media: