There's no labor shortage... Covid has simply shown people there's more to life than crappy jobs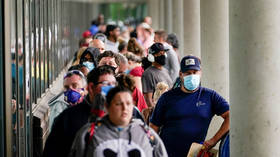 With many US industries struggling to recruit workers, there's been plenty of talk of a labor shortage. But it's more of a labor strike, with people unwilling to fill undesirable roles – and the only solution is raising wages.
Some friends and I went to a local wine spot the other day, which we picked because – according to the website – it served food. When we got there, however, our server told us that their cook had quit last week and they hadn't yet found a replacement. Apparently, it's becoming more and more difficult to fill jobs. My friends and I had to go hungry for a bit, but I'm happy to report that we eventually found somewhere to eat.
What turned out to be a minor inconvenience for us highlights the so-called labor shortage that is getting wall-to-wall coverage in the United States, and was reflected in Friday's Bureau of Labor Statistics jobs report – one of the most disappointing of all time. Only 266,000 jobs were added in the month of April, well below the estimates of at least one million.
Also on rt.com
I once lived off unemployment benefits & I KNOW Biden's claim they don't discourage people from seeking a job is wishful thinking
But can we actually call this a 'labor shortage'? Hardly. What we're actually seeing is more of an informal labor strike, because of the fact that many jobs are essentially undesirable. We're talking here mainly about jobs in the service sector – which is beginning to open back up again thanks to the country's vaccine drive – that are usually low-wage, precarious, have minimal benefits and mean having to deal with rude customers.
The common complaint I'm seeing from people is that they do want to work, but not in these jobs. People are just fed-up with being paid an unlivable wage. I argued in a recent column that employers in many service industries face a dilemma – namely the fact that while they and their shareholders might see more of an impetus to automate these jobs in future, they're probably going to have to raise wages for staff in the meantime.
But then there are also jobs in manufacturing, construction, warehousing and delivery services that are apparently going unfilled. As with the previously mentioned service sector jobs, this reflects that people are probably still hesitant about in-person work. A preprint study published in medRxiv earlier this year found that the jobs going unfilled right now are the same ones that had the highest likelihood of Covid deaths. It actually found that cooks were at greatest risk, so I guess I don't blame the cook at that winery for quitting.
Anyway, to put it crudely, employers in these industries basically left their workers exposed to the dangers posed by Covid – probably without a raise or any hazard pay – and are now complaining about how no one wants to work for them.
Another dimension of irony is added to this when you consider that in 2020, many of these industries just blanket-fired their staff because they apparently couldn't survive by keeping them on the payroll. Now, in 2021, people don't want to work there because they can't survive on the payroll.
Conservatives have been quick to point out that the federal enhanced unemployment insurance (UI), which amounts to about $600 a week altogether in some parts of the country, may be creating a disincentive to work. Some conservative-led states are even discontinuing the federal UI program in their state and the US Chamber of Commerce has called on Congress to end the program outright.
However, this would be a disaster, since it fails to actually take into account several factors, the most obvious being how UI actually works. In order to stay on these benefits, unemployed people have to show that they're actively looking for work unless, in this case, you have Covid, are taking care of someone with Covid or are offered a job in an unsafe workplace.
It also fails to take into account that childcare demands because of the pandemic are making it more difficult, if not impossible, for some two million women who lost their job to return to the workplace.
Although I personally wish it were so, America has not yet cast off its Protestant work ethic. People still definitely want to work hard and our culture mythologizes this ideal to a pretty unhealthy degree. We are generally overworked, tired, stressed and unhappy. But even putting aside this abstract level of analysis, the federal UI benefits expire in September anyway.
Even if it is the case that people are just staying at home rather than working – which is fair enough, considering they might actually be staying safer and making more money than working a crappy job they hate – people will inevitably have to find employment to provide a stable source of income in just a few months.
The question is how this is going to play out. Consider that researchers at the University of Chicago Harris School of Public Policy and the University of Notre Dame Department of Economics found that in March, poverty soared to a pandemic high even with federal assistance.
Black poverty was almost double the overall poverty rate at 21.2%, while poverty among those with only a high school education or less rose to 22.2% and childhood poverty soared to 17.4%. Also worth throwing in the mix is the fact that the federal eviction moratorium keeping nine million Americans off the street right now was lifted by a federal judge and is now in an appeal process that is unlikely to change anything.
So as bankers and economists put out overly optimistic forecasts, it's worth considering who things will improve for and, I would add, how it's even possible that consumer spending could drive a multi-year economic boom if people end up making less money with a job. Without raising wages, existing inequalities are only going to deepen.
I say more power to the people who refuse to work these jobs. Finally the law of supply and demand has shifted in favor of labor, so maybe the free market should respond the way we're told it does in Econ 101 classes – with higher wages.
Think your friends would be interested? Share this story!
The statements, views and opinions expressed in this column are solely those of the author and do not necessarily represent those of RT.
You can share this story on social media: