Quibbling over diplomatic rights for the EU and sending the navy to defend Jersey in fishing row is knee-jerk Britain at its worst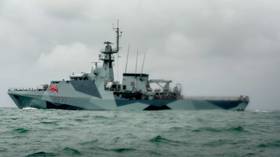 Having finally backtracked and given diplomatic status to the EU ambassador, belligerent Britain picks another target in Jersey, sending the Royal Navy to scare angry French fishermen instead of attempting a grown-up resolution.
While French gunboats and British warships circle one another off the coast of Jersey as protesting fishermen bait the opposing side over disputed fishing rights, at least we can all rest easy over one niggling little problem that has been resolved amicably.
The European Union ambassador to the United Kingdom, João Vale de Almeida, has had his full diplomatic recognition restored after he had been unceremoniously downgraded post-Brexit on the basis that he does not represent a country. Now we can all breathe out.
Also on rt.com
French fishermen blockade Jersey port as 2 British naval vessels arrive at the island amid fishing row (VIDEOS)
The UK wasn't the first government to make diplomats splutter on their gorgonzola-stuffed mushrooms and devilled eggs, as former disruptor-in-chief Donald Trump pulled the same stunt at the end of 2018 by giving the EU second-tier treatment, only to backtrack in March 2019 when he realised this particular appetiser had not gone down well in Brussels.
Obviously aware of the upset Trump had caused – but ignoring it anyway – someone in Downing Street thought the tactic worth repeating earlier this year as Brexit finally kicked in. The EU's high representative for foreign affairs, Josep Borrell, said in January, "It's not a friendly signal; the first one that the United Kingdom has sent to us immediately after leaving the European Union. If things have to continue like this there are no good prospects."
How prescient, Sr. Borrell, how prescient indeed.
At the time, the Foreign Office claimed that if it gave full diplomatic rights to the EU, which it had declared an international organisation, then other IOs would ask for the same treatment. The argument was nonsense. After all, the full 143 countries around the world that host an EU delegation are perfectly happy to grant full diplomatic rights.
Then there was the claim that post-Brexit, the UK government would prefer to deal with individual governments rather than a single representative institution. That too was rubbish because the EU bloc speaks with one voice. Just look at the way it conducts its trade negotiations and note that it will also negotiate as one bloc at the climate change summit in Glasgow later this year.
Clutching at straws, Foreign Secretary Dominic Raab went low and even claimed he was attempting to limit the number of foreign workers enjoying diplomatic immunity after the death of teenager Harry Dunn, who was knocked from his motorbike and killed by motorist Anne Sacoolas, the inattentive wife of a US diplomat who enjoyed legal cover and chose to leave the UK to avoid prosecution.
Also on rt.com
Jersey hits back after Paris threatens to turn lights off on the island if French fishermen aren't given access to waters
Again, smoke and mirrors, which all disappeared when it suddenly became expedient to restore full diplomatic rights to the EU at a time when fishing rights and unresolved issues surrounding the Irish border continue to prove troublesome and a little give could be helpful.
In the febrile atmosphere around these two outstanding issues, the level of discussion is really plumbing new depths. Some commentators say Brexit has fuelled the tensions in Northern Ireland that have led to resurgent violence on the streets, and the fisheries resolution we have with the French currently has their maritime minister threatening to pull the plug on Jersey's electricity supply and her president sending gunboats to the island.
Leading the saber-rattling of course was BoJo, whose decision to ask two Royal Navy warships to patrol the area is one of the more ludicrously over-the-top decisions he has made. And that's with some pretty stiff competition.
No doubt he'll enjoy the comparisons with Horatio Nelson and the Battle of Trafalgar, chuckle at the Daily Mail declaring 'Victoire!' and admire the plucky courage of the "millionaire property developer" whose boat was rammed by the angry captain of a French trawler as he sought to do his bit for Queen and Country.
It's enough to make you tie an anchor around your neck and leap to a watery grave.
Millionaire property developers defending our nation. Disproportionate reactions to even the smallest of perceived slights. Delusions of grandeur. Bulls**t excuses. Snappy, rude, and unbecoming behaviour passing as leadership.
Also on rt.com
Napoleon may have been dead for 200 years but the English sport of French-bashing will live forever
It's disgraceful and makes it extremely hard to reconcile the reality we have today with the confidence, promise and optimism that we believed was on offer to Britain outside the EU. It seems those we accepted to lead us to those sunlit uplands of Brexit have turned out to be not quite as sold.
Who woulda thunk it?
Like this story? Share it with a friend!
The statements, views and opinions expressed in this column are solely those of the author and do not necessarily represent those of RT.
You can share this story on social media: