Cancel culture is perfectly acceptable when celebrities are accused of serious sexual misconduct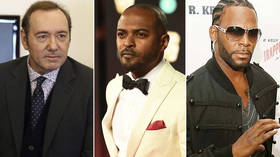 British TV network ITV has cancelled one of its major shows after a wave of sexual allegations against its star Noel Clarke. While nothing has yet been proven, this is the only sensible outcome in cases of this nature.
Noel Clarke is not a global star, but is nevertheless a well-known actor/director in the UK. Just a matter of weeks ago, the prestigious British Academy of Film and Arts awarded him the Outstanding British Contribution to Cinema prize.
That award has now been suspended after a total of 20 women complained about his conduct, to the extent he's been branded a "sexual predator."
The charge sheet is extensive; secretly recording naked auditions, groping, inappropriate kissing, asking for sex, sending sexual images and bullying.
Clarke denies all of it and said, "I vehemently deny any sexual misconduct or wrongdoing and intend to defend myself against these false allegations."
The timing couldn't be more controversial, as ITV has been showing his highly publicised five-part series Viewpoint. Each night this week, an episode has been aired, with one remaining when the scandal broke.
ITV subsequently cancelled that final episode, but will place it on its online streaming service for those who want to see the series to its conclusion.
Also on rt.com
New movie Pieces of a Woman is a story of forgiveness… so why is Netflix so keen to cancel its star, Shia LaBeouf?
And this decision frames the issue perfectly: does a person's creative work deserve a platform once serious allegations about their behaviour surface?
In Clarke's case, he has been suspended by BAFTA, and production company Vertigo Films – which works on another of his shows – has cut ties.
This is a similar space that's been inhabited by other well-known male celebrities. The group Women of Color of Time's Up began a public campaign to pressure record companies, ticketing agencies and streaming services to boycott singer R. Kelly, after he was indicted on 21 counts of child pornography.
Michael Jackson's music is no longer played by many radio stations following the controversial Leaving Neverland documentary, where two men detailed alleged sexual child abuse by him.
Kevin Spacey was cut from 2017 movie All The Money by director Ridley Scott following allegations of sexual assault, and his scenes were filmed again with Christopher Plummer as a replacement, while he was also removed from hit TV show House of Cards.
Most people would subscribe to the view that those accused of wrongdoing are innocent until proven guilty. But when dealing with an individual in the public eye, especially in cases of alleged sexual misconduct, it's not that simple. They cannot expect to avoid censure until a court of law decides one way or the other; the wheels of justice don't turn quickly enough.
Also on rt.com
Sean Connery, Diego Maradona, Robert Fisk… cancel culture has reached a new low with woke warriors' disrespect for dead icons
Those with a public profile – actors, politicians, royalty, singers and athletes, for example – have to carry a bigger burden than others. And while that may not be fair, it's reality. Their business is conducted for the world to see and that includes their successes and failings, alleged or not.
In the case of Clarke, the only morally correct thing to do is halt all future plans and interrupt any current projects, as ITV has done. Any platform carrying content that features Clarke should remove it immediately, no matter when it was made. And if any hypothetical criminal trial finds him innocent, that decision could be easily reversed. It's the same with others like Kelly, Jackson and Spacey – while any credible doubt lingers about their alleged activities, their work has to be sidelined.
Yes, there's a valid point of view that their personal conduct has no bearing on whether we should continue to respect their art. But that's incredibly simplistic, as a person's morality is of far greater importance than their artistic output.
Recently, cancel culture has become a buzz-phrase, with some seeing it as a way to silence anyone with opposing views (most often from a right-wing perspective). While this is unacceptable, cancel culture has a role to play when powerful people are accused of inappropriate behaviour.
When 20 people go on record to complain, it would be grossly unfair to allow a career to continue unchecked, no questions asked, until the cases are heard before a judge.
Also on rt.com
The rich and famous are taking a stand against cancel culture… will 2021 be the year we embrace forgiveness?
In the past, we've seen cases involving celebrities become major scandals because for too long things have been allowed to fester. Small incidents are dismissed or covered up because the guilty party is a famous name or has some form of influence.
This is wrong. As soon as allegations arise against any artist, they should be investigated and their work shelved. If there is no case to answer, then any boycott can be lifted with public statements to correct any mistruths. But if the allegations are proven, that person's output has to be shunned and they should face the consequences of their actions.
This is the only way to send a definitive signal. Many ordinary families are affected by abuse and sexual misconduct, so as a society we have to illustrate that it's not acceptable and hope that helps to eradicate it. And if that means holding celebrities to the highest of standards, so be it.
I was an admirer of Clarke's work from his early days. Regrettably, I will never watch anything he is involved in again until the accusations are proven false, and I don't expect his work to be aired anywhere either. Harsh? Maybe. But entirely justified.
We've seen too many stars' indiscretions tolerated in the past. Perhaps the threat of cancelling their work is the only way to prevent transgressions happening in the first place.
Think your friends would be interested? Share this story!
The statements, views and opinions expressed in this column are solely those of the author and do not necessarily represent those of RT.
You can share this story on social media: