The rich and famous are taking a stand against cancel culture… will 2021 be the year we embrace forgiveness?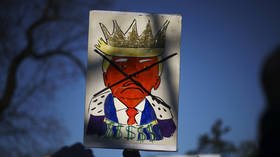 The arrival of a new year and Donald Trump's expulsion from social media seem to have made some celebrities realise the problems cancel culture is doing to our society. But has all the toxicity damaged our culture irreparably?
I don't often find myself praising celebrities. Hollywood tends to be a place where virtue signaling is currency, and the only place that I've seen more hypocrites was on an episode of The 700 Club.
So when I see celebrities start to speak up against cancel culture, I find myself a little taken aback. My perspective on such matters tends to be cynical, so it's nice to be proven wrong. Recently, more celebrities have been speaking out against cancel culture and censorship, even to the point of defending Donald Trump.
Also on rt.com
Cashing in on cancel culture: 'The Hunt' proves Hollywood is mastering marketing self-pity using Trump
First we had model and actress Emily Ratajkowski, and singer Keri Hilson voicing concern when Trump was booted off social media. Neither could be considered a Trump supporter, but both seem to have grasped that if it's happened to the president of the United States, it could happen to them.
And going a bit further, 'Breaking Bad' actor Bryan Cranston was widely quoted calling out cancel culture, saying he hoped that it would die. He claimed that it removes forgiveness from the world, which is a sentiment that I think many would agree with.
There have also been sporadic moments in the past where people have spoken out against it. When cancel culture came knocking at the door of Chris Pratt, his 'Avengers' cast mates defended him vigorously.
This is a good change of pace to see in society, but I wonder if it's too late. There is, after all, a possibility that the celebrities are only saying as much because they're now starting to realize that no one is safe from it. All it seems to take is a bunch of angry people on Twitter to bring someone's career down.
Hollywood is the epicenter of much of American pop culture, and sometimes can represent a microcosm of what America as a whole is feeling. And at first, I believe many people got high on the self-righteousness of cancel culture. Everyone likes to see the bad guy fall.
You're not going to see anyone complaining whenever an actual scumbag loses in life. The problem is that cancel culture is a kangaroo court. Evidence has almost no place there. Truth has no place either. It's purely emotion, and when you base everything on feelings and have no idea of what forgiveness is, you're more than happy to destroy someone's life.
Also on rt.com
Cancel culture stems from good-v-evil Disney populism – I voiced doubt and now I'm the villain
The worry in this situation is whether or not our culture is going to be able to embrace forgiveness. Though I disagree with Bryan Cranston on politics, I have to say that I think he is coming from the right place. I think Emily Ratajkowski and Keri Hilson are coming from the right place. America has to answer a question. Are we willing to relearn what forgiveness is? At one point, the concept of forgiveness was common to Western thought. In the modern age, we seem to have tossed it by the wayside.
Because cancel culture has done so much damage, it has become a tumor on society. And the unfortunate thing is that people didn't stand up sooner, because this was just as true three years ago as it is now. If we cannot relearn how to forgive, we will reach a point where we cannot even live next to each other. And if that's not possible, there's a good chance society itself will fall apart in the long run.
Think your friends would be interested? Share this story!
The statements, views and opinions expressed in this column are solely those of the author and do not necessarily represent those of RT.
You can share this story on social media: