Sean Connery, Diego Maradona, Robert Fisk… cancel culture has reached a new low with woke warriors' disrespect for dead icons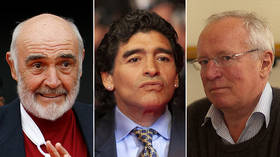 Whatever happened to not speaking ill of the dead? As we've witnessed with a number of high-profile figures recently, posthumous character assassinations are now fair game for the perennially self-righteous.
Time used to be that it was considered bad form to speak ill of the dead, but that was back in those heady days of civility when a man was unlikely to be spat on as a sexist subscriber to the patriarchy just for opening a door for a woman.
Now, thanks to the intolerance, the entitlement, the self-righteousness and a disgraceful lack of humanity, a corpse need not even be cold before the character of the dead is torn to pieces by the culture vultures who deem it their right to determine if and how people should be remembered.
When they run out of statues to tear down or deface, when they have bullied and guilt-tripped all the public institutions they can think of into breaking ties with historical figures who when viewed under a forensic contemporary spotlight are found wanting, then it's a case of 'bring out yer dead!' for some posthumous character assassination.
But not for everyone. Living woke idols become dead woke saints.
If someone ticked all the woke boxes in life, they are assured of sanctity. Michael Jackson, for instance, is still revered. A man who blazed a trail for his race, and faced a lifelong struggle with his sexuality and his fame.
The reality is that he was a drug-addled paedophile holed up in the weirdest ranch in the world, but for some reason, that is not the preferred narrative.
I'm not saying that's the only way we remember Wacko Jacko, but it certainly needs to be part of that memory.
After all, much as we like to think we have a real connection with the famous, we don't. And we have no idea about what really goes on inside anyone's head. Even those closest to us.
Diego Maradona for instance. The Argentine legend was arguably the greatest footballer ever and social media lit up with people not only shocked by his sudden death, but really saddened, too.
But still, peppered among that grief, are posts referencing the Argentine legend's lifelong struggle with drugs. "Coke kills," explained one self-important fellow on Twitter. Coke surely does, but not in Maradona's case because he was struck down by a heart attack.
You have to wonder where the urge comes from to take time to post such inanity alongside the outpouring of emotion from genuine fans. Does this chap feel just a touch more superior having shared his far-from-unique insight into the damage caused by illegal pharmaceuticals?
Then there was Sean Connery, the best James Bond of them all, who died at home in the Bahamas aged 90 on October 31. Actors are not complicated people, they're just regular folk who are good at pretending to be other characters to entertain us.
If you go looking to them for the meaning of life, you will always be disappointed, because they have no exclusive insight denied you or I. They have the same faults, weaknesses and outrageous opinions as the rest of us.
And Connery was no different. But for people who never knew him to dig up his interview with TV host Barbara Walters, in which he launches into an inexplicable defence of hitting women, as the defining moment we identified the real Sean Connery seems somewhat self-serving.
To the people apologizing for a wife beater / asking why we're speaking badly of a dead man:I've posted this video a few times a year for a decade, anytime he came into the spotlight. People should know when they talk about him that they're talking about a man who beat his wife

— Gregg Housh (@GreggHoush) October 31, 2020
It was weird and indefensible, but is that all Connery was?
In this case, one Twitter user who reposted the decades-old clip describes himself as 'Loud & Opinionated' as if this was a cherished quality we should seek in others. It's not. Calling yourself 'loud and opinionated' is like those who claim to be 'plain speaking'. These are terms that the idiotic use to describe themselves, ignorant of the fact that they are both euphemisms for 'unbearable obnoxious narcissist'.
Then take fallen idol, Erick Morillo, who died in September. Another genius of the music industry – he wrote and performed I Like to Move It – his character has now been thrown under a bus thanks to the manner of his death, ketamine poisoning, and allegations of sexual assault that he was waiting to face in court.
Whatever else he did in life, Morillo will also be forever known as a rapist who avoided jail through death thanks to social media bottom-feeders like Perez Hilton who treated us to his assumption that Morillo killed himself rather than face a rape trial.
Again, I'm not defending the horrible things that people do, just calling for some balance in how we remember those who once shone while living among us, and then allowing some respect to inform our recollections.
Not all of these people are celebrity superstars. Robert Fisk, who died in September, was unknown to many, but as a British journalist and foreign correspondent he was long considered one of the go-to guys in the Middle East for his insight and analysis. Even Osama Bin Laden, who he interviewed three times, suggested the Western powers tap into his knowledge of the region in forming their policy.
Maybe that's not a reference everyone wants on their CV, but it shows the respect afforded the man. Since his death, however, former colleagues have taken time and presumably payment, to demolish Fisk's career with accusations that he was a fabricator and a fraudster.
"Whenever an incident happens anywhere in that region (the Middle East), I would always go to Robert Fisk to see what he said about it first" - Jeremy Corbyn, tonight on STW's Zoom meeting.Well yes, that was precisely the problem, you were being fed information by a fabricator pic.twitter.com/MgClkSmciP

— Oz Katerji (@OzKaterji) November 30, 2020
Journalism is a sometimes shabby, bitchy industry just like showbiz or politics. Jealousy thrives and green-eyed hacks love taking down colleagues who they feel have risen too far above their station.
Speaking ill of the dead often makes those flinging the mud feel better about themselves. Not so little and unimportant. Too cowardly or too removed from their target to make accusations while the person was alive, they feel emboldened by social media into taking a stand once they have shuffled off this mortal coil.
So if it's all the same to those who propagate the cancel culture, I'll remember Maradona as a footballer, Connery an actor, Morillo a musician and Fisk as a journalist. They all defined themselves through their artistry at their chosen professions, not by anything else.
Like this story? Share it with a friend!
The statements, views and opinions expressed in this column are solely those of the author and do not necessarily represent those of RT.
You can share this story on social media: