All vaccines, including the new Covid ones, carry a tiny risk of serious side effects. But does that mean we shouldn't take them?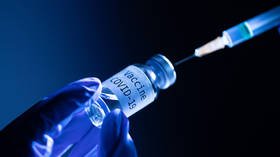 Vaccines are a wonder of modern medicine and serious reactions are vanishingly rare, so let's reduce 'vaccine hesitancy' by guaranteeing help for the few who are affected.
"I think vaccines are really important. Obviously, this is demonstrated beyond any doubt: vaccines are really important for public health… I think if we can get more people vaccinated, our public health will increase and suffering will reduce."
Peter Todd is a lawyer who has represented many people who have suffered serious side effects from vaccinations. But he is very far from being an 'anti-vaxxer'. What he is concerned about is the way we treat the tiny minority whose lives are irreparably altered after being vaccinated.
With the UK government putting the NHS on standby to start delivering vaccinations early in December, many are now talking about a light at the end of the tunnel of the Covid-19 crisis. This is an unalloyed good thing and I, for one, will be delighted when I get the chance to be vaccinated. But we shouldn't allow this good news – and a desire to counter anti-vaccine voices – to mean we don't discuss some of the downsides of vaccinations.
Vaccines work by provoking a response from our immune systems. Most people won't suffer any more discomfort than a sore arm, but some people will feel unwell for a few hours, maybe a couple of days. These aren't really side effects; they are the normal responses to the jab, even if they can be rather unpleasant for a short while.
Also on rt.com
As a doctor, people ask me if it's safe to take a new Covid vaccine. Given that criticism is risky, here's my very careful answer
But very rarely, recipients will have much more serious reactions to a vaccine. Since the odds of any particular individual suffering serious harm from the actual disease are usually low, even in the case of Covid-19, receiving a vaccination can be viewed as an act of social solidarity, of mutual protection. So, on the extremely rare occasions that someone suffers harm after getting a jab, shouldn't we make absolutely sure they are supported?
The trouble is that, as Todd has found over the years, this has often not been the case.
Of particular relevance to the current situation is what happened during the 'swine flu' epidemic of H1N1 influenza. The first known human case was in March 2009 in Mexico, and by late April, the World Health Organization (WHO) declared its first 'public health emergency of international concern', before declaring a 'pandemic' in June.
By September of that year, the European Commission gave approval to a vaccine, Pandemrix, produced by pharmaceutical giant GSK. Pandemrix was created so speedily because it was based on a mock-up of a vaccine based on the H5N1 strain of influenza from the 'bird flu' outbreak three years earlier. Crucially, it seems, it included an adjuvant, which amplified the immune response to the active ingredient. Clearly, given the speed of approval, Pandemrix had not been through the usual extensive testing.
However, a very serious but rare side effect became apparent. In as few as one in 50,000 recipients, Pandemrix caused narcolepsy. According to a support charity for sufferers, Narcolepsy UK: "Narcolepsy is a rare neurological condition that affects the brain's ability to regulate the normal sleep-wake cycle. This can lead to symptoms such as disturbed night-time sleep, excessive daytime sleepiness and cataplexy." For those with cataplexy, sudden muscular weakness triggered by strong emotions, the result can be collapsing to the floor.
Also on rt.com
'Health passports' for air travel mean mandatory Covid-19 vaccines cloaked in the illusion of choice
Narcolepsy can significantly alter someone's life. Many day-to-day activities, like driving, become dangerous, and many sufferers have to give up work. Even having a bath can be hazardous, due to the risk of falling asleep.
In 2018, Buzzfeedinterviewed several health workers who received the vaccination. A nurse, Meleney Gallagher, received the jab at Sunderland Royal Hospital in the north-east of England. She was diagnosed with narcolepsy in 2013, but only after years of being unable to stay awake and having cataplexy attacks several times a day, sometimes caused simply by laughing. She tried working in different roles, but concluded she was not safe to practise. She was given medical retirement in 2017, but received just 12 weeks' pay despite 20 years working for the NHS.
Last week, Meissa Chebbi told Yahoo News of similar experiences in Sweden. "I have sleep attacks all the time in all kinds of situations and at inappropriate times... In my food, at job interviews, at lectures, seminars, at university. I've fallen asleep at my workplace, I fall asleep on buses and everywhere." According to the article, Swedish Pharmaceutical Insurance has so far approved 440 of 702 narcolepsy claims linked to Pandemrix, paying out a total of 100 million kronor (9.8 million euros, $11.6 million) in compensation.
As Matt O'Neill, chair of Narcolepsy UK, tells me, one complication is that narcolepsy symptoms can be progressive and tricky to diagnose. "Cataplexy doesn't happen all the time. Someone has to see it, and whoever sees it has to know what they're looking at. If it happened to me now, when I'm 52, someone is going to think I'm having a stroke. And they're going to try to shock me or something, which is the last thing I want. It's an easy one to solve if it's what you're looking for. And if you don't even know what you're looking for, then it's not so easy."
In order to get Pandemrix vaccinations up and running, the UK government gave an indemnity to GSK for any subsequent claims. Yet the government has taken a parsimonious approach to the problem, with legal action dragging on for years. The claims have now been "resolved," according to Peter Todd, but for legal reasons he is unable to comment further on that.
Also on rt.com
Why the MSM silence on Sputnik V? It may be the best Covid-19 vaccine, but anti-Russian agendas could stop millions getting it
The UK does have a Vaccine Damage Payment scheme for cases where someone is "severely disabled as a result of a vaccination," paying a fixed sum of £120,000 to those approved. As Todd tells me, that sum "doesn't really go very far for providing for serious permanent disablement. And initially cases were rejected on the basis of no causation. I really got involved when I realised that the government had decided to reverse the rejection regarding causation. If you accept that these cases of narcolepsy were caused by the vaccine, then you'll have to kind of deal with this under your indemnity."
O'Neill believes that the picture as regards other support for those affected has been mixed. For the most part, "you can't fault the clinical help that they've been given because our NHS is pretty good." But financial support has often depended on the generosity of employers. Moreover, there were problems with recording vaccinations given to groups of health workers, so some people had difficulty proving they had been given Pandemrix.
So, what does this all mean for the rollout of Covid-19 vaccines? Todd and O'Neill both argue that a good starting point would be to give open and honest information about the side effects and risks to recipients. More broadly, he argues, we shouldn't leave the burden of dealing with these very rare but life-changing side effects to those who suffer them.
"We're looking at a phenomenon that is only one in a million or one in 10 million. I think for me, it's a question of social justice, as there is a benefit to the whole of society to get people vaccinated, for example, against things like flu, because it feeds massively on hospital spending, other health resources. It also avoids tragic deathand personal suffering if people are vaccinated."
Making financial support clear, suitably generous, and easier to obtain would also reduce people's fears, Todd says. "I really think that the government should actually be concerned about trying to reduce hesitancy about vaccines and get the rate of people vaccinated up.
Also on rt.com
I'm an epidemiology professor and I have some genuine concerns about the AstraZeneca Covid vaccine. Here's why…
"I think that offering a really generous compensation scheme would be one way to really relieve public concern." In comparison with the costs of the vaccine rollout, the costs would be trivial, he says, noting that only about one claim per year is accepted under the current compensation scheme.
Todd adds that claimants shouldn't have to go to the same lengths as now to prove they have been affected: "We could say if there are any close calls, claimants will always get the benefit of the doubt in favour of the patient rather than the government. That's what the Americans do in their vaccine programme."
The risks of not being vaccinated are worth emphasising. For example, O'Neill tells me he believes his narcolepsy was probably triggered by swine flu itself, not a vaccine. Even those who do not face a high risk of death from Covid-19 may suffer long-term effects – so-called 'Long Covid' – which we still need to learn more about. It is highly likely that these relatively unusual effects will be far more prevalent than serious vaccine side effects.
There is no doubt that vaccination is one of the greatest achievements of modern medicine, saving countless lives and avoiding a huge amount of suffering. The Covid-19 vaccines look to have had more testing than Pandemrix received, too. Those who want to spread fears about vaccinations are likely to do far more harm than good, and their arguments should be countered relentlessly.
Nonetheless, it seems clear that the government should be honest that there is a vanishingly small risk of such side effects with vaccination, and work swiftly to make sure that those who suffer them don't also suffer from financial hardship.
Think your friends would be interested? Share this story!
The statements, views and opinions expressed in this column are solely those of the author and do not necessarily represent those of RT.
You can share this story on social media: