As a doctor, people ask me if it's safe to take a new Covid vaccine. Given that criticism is risky, here's my very careful answer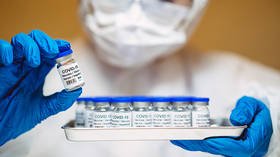 The type of vaccine being developed against the virus has never – outside of Ebola – been used before. The trials have been extremely rushed & involved testing only small numbers. What could possibly go wrong?
Since the first positive results on vaccines have come out, a lot of people have asked me if I think everyone should take them? For some reason, a number of people out there trust my judgement on such things.
I noticed that the Daily Mail recently ran a poll, which showed that three quarters of Britons would agree to have a jab – although 40 percent wanted politicians to take it first to prove it was safe. Frankly, I pity any vaccine injected into certain politicians, as I am not certain it would survive.
Also on rt.com
UK terrorism chief calls for 'national debate' on criminalizing doubts about Covid-19 vaccine
Anyway, are the majority of Daily Mail readers right to be so enthusiastic about vaccination? I must admit that I write this article with some caution, because I am acutely aware that the slightest hint of criticism of a vaccine, any vaccine, is risky.
As I remarked to a friend recently, the moment anyone says 'vaccine', the only acceptable response is to leap to your feet and salute, whilst singing Ode to Joy. Followed by fifteen minutes of enthusiastic clapping. Failure to do so, means you are taken out and shot for thought crimes. Doubleplusgood, indeed.
The first thing I want to say here is that the type of vaccine being developed against Covid-19 has never been used before, outside of Ebola. Some people feel that they should not really be called vaccines, because they are completely different from anything that has gone before.
Up to now, vaccination has meant injecting a dead virus (or bacteria), or one that has been weakened and can only poorly replicate, or parts of the virus, or suchlike. Once inside the body, the immune system spots this 'alien' material, and creates a response against it, which will hopefully be remembered for years and years.
The next time the dangerous virus appears, the body will use the immune memory of something very similar, to wipe out the virus (or bacteria) at high speed, giving it no chance to do damage. The first ever 'vaccine' worked by using the cowpox virus to immunise against smallpox.
It had been noticed that milkmaids who caught cowpox, a relatively mild disease in humans, did not then get smallpox. It was Edward Jenner who wondered how, or why, this happened. In 1796, he scraped material from cowpox sores, and then scratched it into the skin of people uninfected with smallpox, to see if they would be protected.
Also on rt.com
AstraZeneca's Covid-19 vaccine shows average efficacy of 70%
His first volunteer was a young boy, who he 'immunised' with cowpox scrapings. Jenner then tried to infect the boy with smallpox scrapings. A form of research that would be rather frowned upon today. Luckily, the young boy survived, and vaccination was born. Everything since has been a variation on this theme, of using a less dangerous 'thing' to create a defence against a damaging infection. Until now.
Now, we have a thing called a messenger RNA vaccine (mRNA). RNA is, effectively, a single strand of DNA – the double helix that sits within our cells and makes up our genetic code. Many viruses are made up of a single strand of RNA, surrounded by a protein sphere.
They enter the cell, take over the replication systems, make thousands of copies of themselves, then exit the cell. Sometimes killing the cell as they do so, sometimes exiting more gently. Covid19 (Sars-Cov2) is an RNA virus.
Knowing this, rather than attempting to create a weakened virus, which can take years, or break the virus into bits, the vaccine researchers decided to use Sars-Cov2's RNA against itself. To do this, they isolated the section of RNA which codes for the 'spike' protein – which is the thing the virus uses as a 'key' to enter cells.
They then worked out how to insert this small section of RNA, messenger RNA, into the cell, where it takes over a part of the protein replication mechanisms that sit inside all cells. They turn the mechanism into a 3D printer, churning out copies of the spike protein.
These spike proteins then leave the cell – somehow or other, this bit is unclear. The immune system comes across them, recognises them as 'alien' and attacks. In doing so, antibodies are created, and the immune memory system kicks into action. If, later on, a Sars-Cov2 virus gets into the body, the immune system fires up and attacks the remembered spike protein. Hopefully killing the entire virus.
This is all, certainly very clever stuff. What, as they say, could possibly go wrong?
The first thing to say is that, with something this new, we don't really know. It could be that it is absolutely 100 percent safe. We are told that none of the mRNA can get into the nucleus of the cell, where it could become incorporated into the DNA. I hope so. Could it trigger an immune cascade? I hope not.
I know that the researchers will be looking very, very, closely at the novel safety issues that could emerge. If they are not, they damned well should be. However, the timelines here are very short. It normally takes many years to create safe and effective vaccines. Here is it happening in, effectively, weeks.
Also on rt.com
Football for vaccination? UK could go full Orwell with 'QR code certificates' as health authorities pick carrot over stick
The early stage human safety studies have been crammed very tightly together. In addition, we will also have very little information on such things as whether or not the vaccine actually reduces serious infections or death, as noted by Professor Haseltine in a recent article: "These [vaccine] protocols do not emphasize the most important ramifications of COVID-19 that people are most interested in preventing: overall infection, hospitalization, and death." Prof. Haseltine also argues that the trials have all been "designed to succeed."
The reality is that we are rushing and rushing. There are very good reasons for this rush, but I advise caution. Should everyone take the vaccine? Probably yes for those at highest risk of serious infection and death, where the potential benefit is high. As for anyone healthy, under the age of sixty, I would wait. As I shall be.
Think your friends would be interested? Share this story!
The statements, views and opinions expressed in this column are solely those of the author and do not necessarily represent those of RT.
You can share this story on social media: