Who is John Lewis and why might he spell curtains for Boris Johnson's leadership? An explainer for non-Brits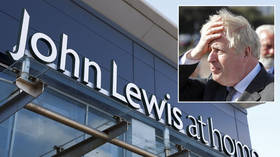 Boris Johnson has miraculously flourished despite a life of lies, corruption, infidelity and contempt for ordinary people. But now he's dissed Middle England's most beloved shop – and that is a line you simply don't cross.
People not au fait with everyday British life might well have casually read headlines this week about John Lewis being a threat to Boris Johnson and wondered, "Who's John Lewis and what in the name of tea and cricket is he going to do to Boris?"
Americans might have thought it was the ghost of the late, great civil rights campaigner taking a trans-Atlantic trip to haunt Johnson over his government's ludicrous whitewashing self-assessing report into racism.
Others might have thought that the Labour Party had found itself an effective leader of the opposition. (Note: it hasn't.) Or perhaps even that Johnson was doomed, at the hands of the evil Lewis, to join Spencer Perceval and become only the second British prime minister to be assassinated.
John Lewis, however, is a department store. But it is no ordinary department store, as I will soon explain.
It's been in the news because – and I'll keep this brief – Johnson had his flat at 11 Downing Street (it's bigger and nicer than the one in number 10) refurbished. In doing so, despite having a £30,000 annual allowance for the job, he allegedly took £58,000, via the Conservative Party, from Lord Brownlow, which is against the rules, possibly against the law. Johnson, notoriously tight with his own cash despite an estimated net worth of £4,000,000, lied about where the money came from.
Also on rt.com
If shady BoJo was American, he'd have been impeached… but there's no accountability in antiquated Britain
This is small beer for Teflon Boris, who has had more than one career built on telling porkies and yet somehow glides through life on an upward trajectory. Indeed, for ages the corruption element of the story barely made a ripple, partly down to the UK's famously conservative press, but also because Britons seem to have become desensitised to what is politely described as 'Tory sleaze'. (Oh, and the person who gets to judge whether Boris Johnson broke ministerial rules is… Boris Johnson.)
But a Tatler profile of Carrie Symonds, Johnson's partner, revealed how the flat had been done up to remedy what the couple apparently called a "John Lewis nightmare" left behind by previous resident Theresa May – and now headlines were created.
These three words were a high-quality yet reasonably-priced knife in the back of Middle England. John Lewis, you see, is how Middle England sees itself – in brand form.
John Lewis is solid, unflashy, respectable and believes in fair play. You can trust John Lewis. John Lewis won't scam you. It's reliable. Its slogan, 'never knowingly undersold', is the original price promise. You can return stuff to John Lewis without a receipt and they'll believe you. Many of the staff – who are called partners because John Lewis is a co-operative – still wear proper suits (muted colours, of course) because they'll probably stay in their jobs for years. And because it's John Lewis.
The John Lewis Christmas TV adverts, now a national event, feature sentimental stories scored with gentle cover versions of already-gentle pop songs.
The stores themselves are safe spaces for the middle class. Come Armageddon, you'll find the homeware department stuffed to its limits with suburb-dwelling professionals still contemplating whether to buy some new earthenware pasta bowls as the planet is swallowed by a ball of fire.
John Lewis even has its own supermarket chain, Waitrose, which receives similar reverence. To shop in Waitrose is a status symbol. To live near one cranks up your house price.
Everything about John Lewis is wonderfully comforting and unradical and un-American.
Also on rt.com
Boris Johnson denies saying 'let the bodies pile high' after SNP MP asks if he's a 'liar'
This is why the 'nightmare' comments stung. Look down on John Lewis and you're looking down on Middle England. And while Middle England might happily dish out snobbery, it'll be a cold day in hell before it takes it. And Johnson needs Middle England to survive.
Sure, the Tories are doing well in the polls, but they are also well known for sudden and ruthless removals of their leaders if they sniff a hint of weakness. Remember, we don't vote in a prime minister, we vote in MPs, who form a government, which choses who leads it. Ditch a PM and you simply put another in their place. No one is indispensable and Johnson's party will be keenly watching the negative headlines that have dominated even those friendly papers.
Johnson has led a charmed existence. He's dusted off countless scandals, both personal and professional. He's got away with corruption, cronyism, infidelity, lying to the public, lying to politicians and levels of betrayal that make Judas Iscariot look like a faithful hound. But could it be that the thing that finally spells curtains for Johnson is… a set of curtains?
The statements, views and opinions expressed in this column are solely those of the author and do not necessarily represent those of RT.
You can share this story on social media: