Quebec's unnecessary curfew has ruined Ramadan. How long are people going to put up with it?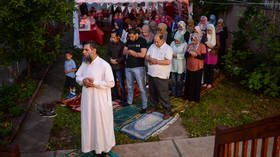 Muslims in Montreal have endured a very difficult Ramadan this year courtesy of an 8pm curfew imposed just before it was due to start. It's time for everyone to question why we are tolerating these authoritarian restrictions.
Until recently, Montrealers could be outside of their homes until 9:30 pm. But, days before Ramadan began, Quebec resurrected an 8pm curfew for Montreal and Laval, turning the holy month into a depressing one for some Muslims.
For some time, I have been writing about how lockdowns are unnecessary, have prevented important medical care for the seriously ill, and have contributed to an alarming increase in suicides and self-harming among children (and adults).
Since last year, we've heard plenty about how lockdowns have ruined holidays like Christmas and Easter (except for Justin Trudeau and Doug Ford, who ignored the stay-at-home orders they helped put in place), and worship in general, with police harassing pastors and even fencing off a church in Alberta.
But until I chatted with a Muslim friend in Montreal the other day, I wasn't aware of how the reinstatement of the 8pm curfew is ruining Ramadan for many.
Montreal has Canada's second largest Muslim population, after Toronto. The 8pm curfew suddenly went into effect on April 11, two days before Ramadan began. The faulty premise was again "cases rising" –faulty, as I've written previously, because the testing gives false positives.
Also on rt.com
Continued lockdowns are a ticking time bomb that will cause a global health crisis in the near future
The President of The Muslim Council of Montreal, Salam Elmenyawi, told media, "It's very difficult for the whole community. We are missing a very important worship. When you are unable to get to the mosque you're unable to connect together, you are unable to fulfill the prayers. To join in prayers doesn't happen by Zoom. You have to be personally there."
Muslims break their fast at sunset, which in Montreal at this time of year is currently just before 8 pm. The friend I spoke with said that while he could break fast with his wife and children, he couldn't do so with his parents and be home by 8pm.
I was keen to know how others were coping, so I posed the question on social media: How is the 8pm curfew affecting you, with regards to Ramadan?
I got a number of replies. "The problem is that we are used to do Iftar (breaking fast) with the whole family and having fun till 1-2 am, go out after Iftar to sit with some friends till morning time or just to take a walk outside. We can't take any chances by going outside because the police are on the street," said one woman.
Another person pointed out that the mosques are closed for a second Ramadan in a row, and going out for an evening stroll after Iftar was impossble. "Forget about this year, you can only walk the dog within 1km from home."
Another said, "Ramadan without family and friends around the table is kind of a hard punishment. Right now, Canada has the hardest restrictions."
Also on rt.com
Ontario has had the longest lockdown in North America – which has been so successful it's just gone into another one
Other comments included, "It's like you're in hell. A rather severe punishment," and "the most antisocial Ramadan ever." The latter respondent spoke of how they normally gathered with family and friends, shared food and sweets, stayed up till sunrise – but now just they eat and sleep. "Ok, we send some food very fast to the neighbours to create these Ramadan vibes but still, nothing can replace the real gatherings like before."
Yes, this is a very small sample. But having lived in countries where Ramadan is celebrated, and having partaken in Iftar meals with friends, I'm aware of the importance not just of meeting to eat together, but of the many other things that are impossible to do under the 8pm curfew.
When Ramadan approaches, many think of the beautiful decorations and lights erected much like at Christmas, the foods served at this time of year, and in Syria, the crammed lanes of Old Damascus at night and during Eid.
But, aside from prayer, the meaningful aspect of the month is the devotion to community and to the poor. Indeed, during Ramadans I spent in the West Bank and Gaza in occupied Palestine and in Syria, I both joined friends for their Iftar and also observed how many ensured the poorest were fed.
In 2007, in Nablus, the owner of a small grocery store I was chatting with showed me stocks of fish, chicken, olive oil, tea, coffee, rice and salt, boxed up and given away every year by a wealthy man in the area to local poor families.
Also on rt.com
The cruelties we have inflicted on children under Covid-19 are unethical and immoral, we're devastating a whole generation
In Damascus some years ago, I saw volunteers in blistering summer heat preparing Iftar meals to hand out to those in need, and also driving and delivering to people outside the Old City. On a later visit, I spoke with volunteers in Aleppo doing the same.
Back in Canada, a dear friend of mine in Toronto is nearly full-time at his local community centre and mosque during Ramadan, both volunteering and in prayer.
Forcing people to lock down at home at 8pm largely prevents many of the acts of goodwill that occur during Ramadan. A curfew, much less one shifted from 9:30 to 8 pm, is not based on science. Even an intensive care nurse attending a Montreal protest on April 18 described Canada's measures as "anti-science." Speaking to Canadian media, Scott Weinstein said: "Outside is the safest place for people to gather. There is no data to show that any of the Covid is being transmitted outside."
On Twitter, others contested the curfew rationale and mocked Covid measures in general in Canada. And last week, a Quebec opposition party called for a "healthy, intelligent and rational" debate on the curfew.
While there are clever ways of getting around the curfew – one friend has registered as an Uber Eats driver so they can be out and about after 8pm – it is clear these unscientific lockdown measures are random and unnecessary. What is the logic of imposing a curfew? Or the reasoning behind moving it an hour and a half earlier? Do people really believe this is about "cases rising"? This unnecessary restriction has ruined Ramadan and is causing frustration and misery.
How long will it be tolerated and why is it not being debated at a national level?
If you like this story, share it with a friend!
The statements, views and opinions expressed in this column are solely those of the author and do not necessarily represent those of RT.
You can share this story on social media: