Why did it take football's European Super League crisis to show Britain that selling its prize assets abroad is a bad idea?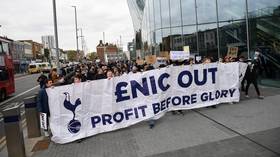 As football fans celebrate the demise of the planned European Super League, we should reflect how it's demonstrated the problems selling out to foreign owners can cause – and what it tells us about Britain as a whole.
RIP the European Super League. It was fun while it almost lasted.
Much like England's chances of ever winning another major trophy, on paper, the European Super League (ESL) flattered to deceive. With a team sheet of galacticosthat included Real Madrid, Barcelona, and Juventus, its formation looked unstoppable. But that was on paper. In reality, however, when it mattered most, the ESL proved unplayable, as when it came to the final third, the breakaway midweek league, as they say in the business, "swallowed it."
Despite all their trickery, power, and financial muscle, European football's greediest club chairmen were turned over, remarkably, by a ragtag mob of English supporters armed with nothing more than laptops, beer bellies, and jingoistic opinions. To put this highly unlikely giant-killing into footballing perspective, not since Greece won Euro 2004, Leicester City fluked the 2015-16 Premiership title, or West Ham made it above 10th place in the league has modern football seen such a colossal upset.
But while millions of English and European fans are now punching the air like Maradona's 'Hand of God', is this triumph of the little guy against the "Dirty Dozen" all it's cracked up to be?
Like the last act of some goofball Hollywood comedy in which a hapless hero saves a perennially deadbeat team from a seemingly unassailable capitalist lizard, Tuesday night's humiliating capitulation by the ESL, less than 48 hours after its 'launch' had been announced, resulted in the 12 clubs (and three others yet to have been solicited) losing out on £3.45 billion in revenue. How did they let that happen?
Also on rt.com
Five remaining Premier League sides join Chelsea in withdrawing from European Super League as Man United supremo Woodward resigns
One can argue the toss about the merits of UEFA, FIFA, and indeed the Premier League, among other vested interests such as Sky and BT Sport, taking the moral high ground against the ESL, given their own money-grabbing form. After all, secessionism meant these organising bodies and broadcasters, as well as several European leagues and media outlets, stood to lose as much combined – if not more – than the rebels led by Real Madrid president and numero uno fall guy, Florentino Perez.
With threats of everything from expulsion from the Champions and Europa Leagues for the bad boy clubs, to Euro 2021 and World Cup 2022 tournament bans for their 'scab' players, the ESL faced formidable corporate resistance. Even British Prime Minister Boris Johnson, not known for an interest in football, made an opportunistic cameo with his own version of VAR – namely, 'voter attentive rhetoric' – vowing to give the "ludicrous" new league a "straight red."
But come Monday night, the die had seemingly been cast. The ESL had bargained that a Champions League without the likes of Real or Barcelona, or a Premier League bereft of 'Big Six' hitters that included Spurs, Manchester City, and Liverpool, would cave in to their demands once UEFA et al calculated that the multibillion-euro hit they'd take over the next two or three critical, post-pandemic seasons would be unsustainable given the financial hole European football is in. Perez and his cabal had apparently played a blinder. The ESL was now a fait accompli: it would kick-off as soon as August 2021. And then England's Arab Spring happened.
From Old Trafford to Stamford Bridge, and the Etihad to White Hart Lane, hundreds of banner-waving, lager-swilling fans hit the streets to show their disgust at one of the biggest marketing blunders since Coca-Cola changed its recipe from 'lip-smacking' to 'vomit-inducing'.
Also on rt.com
Furious Man Utd fans 'blockade' training ground, demand to speak to Solskjaer over Super League fiasco and want Glazers out
Social media predictably went into meltdown, with Twitter's legions of footy fans in particular ceasing hostilities among traditional rivals to unite in their contempt for "change" – change that Real's Perez had argued was essential because "young people don't watch an entire game […] because it isn't interesting enough." Perez was now lobbying to "shorten the games" to deal with the 16-24-year-old demographic's dwindling attention span, while simultaneously colonising more of the rapidly expanding Asian, African, and American markets – where shirt sales, celebrity, and football's soap opera generates more interest, and thus income, among fans for whom English parochial rivalries don't register.
But for all the 'IRL' protests and online bitching, it was television, and primarily Sky Sports, wot really won it. England's latest plucky peasants' revolt – a sort of footballing Brexit, if you will (but with remainers rather than leavers now having the upper hand) – needed a hero. And the mob found one in the shape of ex-Manchester United defender turned TV pundit Gary Neville.
Firmly perched on his Sky Sports soapbox, Neville captured the incandescent rage of many English supporters when he denounced the ESL as a "disgrace," a "joke," and declared the clubs involved executors of a "criminal act against fans." Cynics, of course, will point to Neville being part of a Manchester United set-up which in 1999 elected not to compete in the FA Cup – the world's oldest 'soccer' competition – so the club could take part in the 2000 FIFA Club World Championship in South America, essentially for the money.
Detractors will also point to Neville being called a "hypocrite" by many fans – and even his Sky Sports buddy and ex-Liverpool defender Jamie Carragher – after he'd publicly called for managers to get "two-three years to build a team" and "time to work," only for him and his fellow 'Class of 92' owners to sack Salford City boss Richie Wellens after just four months in charge.
Predictably, Carragher also weighed into the ESL debacle on Twitter in a now-deleted post, slamming none other than supposed ally Boris Johnson with: "Stay out of this you charlatan […] your mates are giving their mates billion pound contracts! And don't even mention football supporters after a magazine edited by you crucified Liverpool supporters after Hillsborough."
Also on rt.com
The battle is won but not the war – football fans must fight on against the gall and greed among the game's elite
Sky-watchers will recall that in 2018 the broadcaster suspended Carragher after he was caught on camera spitting at a 14-year-old girl following a verbal spat with the teenager's father over Liverpool's 2-1 defeat to Manchester United. So much for all that fan love, eh?
One unimpeachable voice of reason in this whole sorry affair, however, was Sky's resident 'legend', former Liverpool midfielder, Scotland international, and seasoned manager, Graeme Souness.
Like his Celtic counterpart, the equally bulls**t-free Irishman Roy Keane, Souness is something of a one-eyed king in a land of football fans and ex-players who are either blind to the obvious, or too stupid to join the dots. Devoid of Neville and Carragher's hysteria, while coolly offering his thoughts on Tuesday's 0-0 bore draw between ESL wannabe and Champions League semi-finalist, Chelsea and Brighton, Souness cut to the chase. Well, almost.
"There has been a total misunderstanding of our attitude towards football," Souness opined. "JP Morgan, an American bank, decisions being made in America, corporate America, they have no idea how the average football supporter views his football in this country."
Concluding that Liverpool, Manchester United, Real and Barca were the "catalyst" for the rebel league, Souness added, "You can bet certain Americans were looking at this, [thinking] we'll remain in this new league for two years, our assets will double in value and we'll get out and we'll move onto something else."
Also on rt.com
'How did they not know?' Football fans blast backtracking bosses amid faux-sincere sorrow over scrapped Super League (VIDEO)
What Souness stopped short of saying was, while the 12 multimillionaires and billionaires behind the now-defunct ESL, along with their legions of financial advisers, lawyers, marketers, and bankers, may seem naive to some, given the tongue-lashing they've had this week from John Bull fans, the 'Europhant' in the room is that neoliberal, corporate raiders from across the Channel, the Atlantic – basically, everywhere – have been buying up massive chunks of UK plc for decadeswith the help and encouragement of successive British governments.
But hey, why let tens of thousands of lost jobs, trillions of pounds haemorrhaging out of the UK into offshore bank accounts, and all those juicy Red Wall votes get in the way of blaming ordinary working-class 'foreigners', 'migrants', 'refugees', and 'scroungers' for Britain's economic woes?
As someone who believes more in the writings of Groucho Marx than Karl Marx, I find it absurd that English football fans are carrying on as if the water supply has been cut off. Yes, English football is the national sport and part of our culture, our heritage, our way of life. But if it's so important, why have we, as anation, since the introduction of the Premier League in 1992 – which was in its own way an ESL-style breakaway coup from the old Football League, as much as the Champions League broke away from the old European Cup – found it so easy to sell-out the 'beautiful game' to a foreign legion of investors, managers, players, and marketers?
Of the Premier League's 20 clubs, all but Mike Ashley's Newcastle United are effectively foreign-owned or financed via global or offshore entities. On the face of it, my own beloved Spurs is an 'English' club insofar as chairman Daniel Levy and parent company boss Joe Lewis are concerned. But scratch under the surface and it's a Bahamas-registered subsidiary, ENIC International Limited, that holds 85.55% of the total issued share capital of the club.
Also on rt.com
UEFA 'exploring punishments' for Super League rebels as desire for retribution remains – reports
Up until Monday morning, Spurs' manager was the Portuguese Jose Mourinho. Seventeen months before that, the manager was Argentinian, Mauricio Pochettino. The club's last English manager was Tim Sherwood, appointed in December 2013. He lasted five months in the job.
On Wednesday evening when Spurs beat Southampton 2-1 in the Premier League, they kicked off at 6pm with just one English player on the pitch, Eric Dier – and even he grew up in Portugal. With the exception of relegation candidates Burnley, every Premier League club fields majority foreign squads. Currently, eight Englishmen ply their trade as Premier League managers – seven of them manage the division's worst-performing clubs.
With this degree of multicultural participation on the pitch, European management off of it, and absolute foreign ownership, the 'English' Premier League is about as English as the UK's car, retail, fashion, travel, utilities, electronics, media, mineral resource, and financial industries are British. That is to say, it's not.
Yes, let's fight tooth and nail to regain control of 'our' game, but let's not stop at the ESL, or pretend they won't rear their ugly heads again sometime soon with a new name, new brand, and a new strategy. Let's face it: if the Germans can own a 'quintessentially English' brand like Rolls Royce, anything can happen. England's defence may have held out, for now. But my money is on the foreigners coming back with a late winner – all they need is a little extra time.
If you like this story, share it with a friend!
The statements, views and opinions expressed in this column are solely those of the author and do not necessarily represent those of RT.
You can share this story on social media: