Empty slogans and literal bullcrap: Biden must learn he can't appease climate alarmists because their demands are bonkers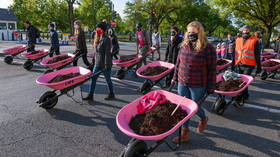 Green energy initiatives, halting the Keystone Pipeline or whatever Democrats do will never be enough for Extinction Rebellion. You cannot reason with Greta Thunberg Doomsday cultists wheeling excrement up Pennsylvania Avenue.
There's no pleasing some people, especially when their ideas are completely and totally unreachable. Either that, or their demands can't be met without screwing over the rest of your populace. Enter Extinction Rebellion, who decided to take wheelbarrows of cow manure to the White House because they thought the Biden administration's climate policies were bullcrap. As much as I admire the visual pun, it only takes a quick look at what groups like Extinction Rebellion want to see they are completely unfeasible.
One of the three main aims they've listed is to completely get rid of greenhouse emissions by the year 2025. This would mean that all air travel would have to halt immediately, hydrocarbon powered cars would have to be taken off of the road immediately, and construction of new vehicles, and buildings would also have to stop immediately. To an even vaguely practical person, it is obvious doing such a thing would collapse entire economies, and maybe even several nations, which amounts to basically asking half of the world to commit seppuku because XR thinks the world is about to end.
Also on rt.com
'Stop the bullsh*t': Extinction Rebellion protesters dump MANURE outside White House to protest Biden climate policies
These are the people that the Biden administration are trying to appease, and I am of the opinion it's downright pointless to do so. Even people who are used as political props, like Greta Thunberg, only have platitudes and catchphrases and no real substance to their words. Her talk of "mind the gap" and declaring a climate emergency doesn't exactly have a lot of meaning to it because there's no way that she understands what this "net zero" demand even is. Given how much her parents love her lecturing people in front of the UN, how exactly are they going to break it to her that she can't fly to New York anymore?
It's difficult to not crack jokes, because the very idea of trying to do what they ask is a complete joke. These people expect the average citizen to give up their vehicles, their ease of travel, and basically their entire way of living for an emergency that doesn't actually seem to have any evidence behind it besides the deranged Doomsday ramblings of XR activists. Biden should have learned this from his time as vice president, because when that administration tried a green initiative, it fell flat on its face. Anyone who remembers history before Donald Trump's presidency can tell you that these pointless pursuits were not worth canceling the Keystone Pipeline over.
Also on rt.com
Extinction Rebellion activists break windows, stage protest outside HSBC HQ in London over fossil fuel financing
This is one of my many issues with the modern Democratic Party. They have been in bed with environmentalists for decades, but they have never taken 10 seconds to think whether or not those environmentalists will ever be pleased by their actions. Nor if they're even worth the votes, for that matter. It comes across like a cynical attempt at appeasement for all the wrong reasons. Real Americans who work hard to provide for themselves and their families are always harmed by these policy prescriptions. There's never a real plan, and what plans are put forward are always half measures because you're dealing with doomsayers. You can't go halfway with someone who thinks the world is going to end in 12 minutes.
The most delicious irony of all this is that even if the United States decided to tank its entire economy to try and appease these nutjobs, it would do nothing to stop their imagined apocalypse. Why, you ask? It's very simple. The rest of the world would have to do the exact same thing, and they actually have the sense not to listen.
Think your friends would be interested? Share this story!
The statements, views and opinions expressed in this column are solely those of the author and do not necessarily represent those of RT.
You can share this story on social media: