Biden's turned into Captain America to hijack climate debate… and left Britain & BoJo looking lost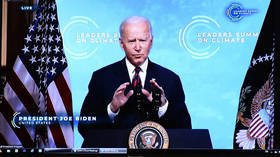 Forty global leaders came together at the behest of Washington to show their commitment to battling climate change. But it was also a power play by Joe Biden, as he took control of an agenda that was set to be discussed at COP26.
Boris Johnson was primed for his big moment. The United Nations climate change summit COP26 was heading for Glasgow in 2020, and he would sit atop a cabal of global heads of state. But Covid-19 struck, so it had to be delayed until November this year.
He was so keen to dominate the agenda, he even abandoned plans to host daily White House-style briefings from his new £2.6million TV studio. Instead, he reassigned the well-paid journalist recruited to host those briefings to be his official COP26 spokesperson.
Things reached fever pitch when Joe Biden revealed he would likely fly over to attend in person. Boris would be the genial host, backslapping the world's leaders on his own turf. He would finally be the grand statesman he dreamed of.
But then, like most US presidents, Biden turned into Captain America and decided to seize control of the global debate. And so this week, he hosted his two-day Leaders Summit on Climate. But that was a misnomer. It was Biden's Summit.
Also on rt.com
Beijing says US return to Paris Agreement is not 'return of the king' but 'return of the student who skipped school'
After being introduced, Biden addressed the world. "The United States isn't waiting. We are resolving to take action," he said. He spoke about "millions of middle-class union jobs," while referring to "auto workers" and "farmers."But make no mistake: he was only addressing Americans and how they would prosper, despite it being a meeting of 40 diverse nations.
After that, Biden was ushered into his chair – or throne – as each leader was then expected to offering fawning respect and express their gratitude. To be fair, most did pucker up and kiss the ring. First was United Nations Secretary-General Antonio Guterres. The came Xi Jinping, who spoke of the US/China climate deal, followed by India's Narendra Modi, who was so obsequious he must surely be chasing some form of US government investment.
Sixth in line was Boris Johnson, which showed that despite Britain's hosting of COP26, he is way down the international pecking order. The British prime minister is renowned for his blundering speeches and, true to form, he delivered again. Talking about renewable energy, BoJo blabbered about turning the UK into the "Saudi Arabia of wind, as I never tire of saying."
It was a crass comparison, given that Biden's administration recently published a US intelligence report which determined that Saudi's de facto leader Mohammed bin Salman was responsible for the brutal death of journalist Jamal Khashoggi.
Boris also used the rather inappropriate phrase "bunny hugging," which predictably raised some eyebrows on social media.
Boris rambling on about "bunny hugging" in front of the world's leaders. He says "you know what I'm driving at" - I wouldn't be too sure... pic.twitter.com/uJBEKIpvk0

— Calgie (@christiancalgie) April 22, 2021
And while Biden sat in a room furnished with American flags, at an impressive desk and in front of a jumbo-sized screen, Boris looked like he was dialling in from an internet cafe. There were no British flags, with his backdrop a blue/green melange like those usually seen in photo booths. While probably part of the COP26 effort, it was lost on everyone. All it did, really, was hammer home the point that Britain has been tossed aside.
Every time a leader had to be introduced, the feed cut back to Washington before they were given permission to talk.
Biden may be well-intentioned, and only climate change deniers would not support his decision to rejoin the Paris Climate Accord after Donald Trump took the US out. But like so many of his fellow Americans, the new president fails to grasp why so much of the world rails against them. They take over, even if they haven't been asked.
And this is what this Biden's Summit essentially was – a takeover. It's only a few months until 200 nations are supposed to meet at COP26 and thrash out how to save the planet.
But instead of making sure his own house is in order, Biden spotted a chance to seize the reins. The upshot is that all the powerful nations have made their pledges and explained their intentions.
Also on rt.com
'Stop the bullsh*t': Extinction Rebellion protesters dump MANURE outside White House to protest Biden climate policies
Saudi Arabia, Russia, France, Italy, UAE, South Africa, and Germany all did it, along with South Korea, Argentina, Turkey, and Brazil. What's left for COP26? With all due respect, no one is hanging on the proclamations of Tonga or Luxembourg.
Boris and Britain have been rendered peripheral figures. Biden knew fine well what he was doing, as even the Pope sent over a message from The Vatican: "I wish you success in this beautiful decision to meet, to move forward, and I accompany you."
Dispensing with the smaller nations made Biden's summit all killer and no filler. There was little of the aimless rambling of someone with no global influence, and it was extremely fast-paced due to everyone setting up in their own offices.
By comparison, Glasgow is going to have plenty of moments when those on stage will have to be identified via Wikipedia searches. People will also be attending in person. That means there's not only the Covid-19 pandemic to take into account, but the question of whether a climate change conference should necessitate thousands of people flying from the four corners of the globe to an exhibition centre.
Also on rt.com
UK wants to lead on climate change and vows to enshrine 78% reduction in emissions into law
As a viewer of Biden's summit, it was refreshing to be able to jump from leader to leader in succession. It's difficult to see what else can be said, too.
And it's yet another sign of where Britain stands in the global landscape. Once a giant that wielded serious influence, it's now far from that. Love him or hate him, Tony Blair would never have been left chasing smoke in this manner.
So, roll on COP26. You'll be able to hear some people you know and many you don't repeat the same green pledges.
If this year proves pivotal and we turn the tide on climate change, the history books won't honour Glasgow. It'll be chalked up as a victory for Joe Biden and the US of A – and that would be fair enough.
The thing is, they shouldn't have been allowed to hijack the debate. Washington might be pushing electric cars and solar power, but it's still not learned the lesson of recent times – that respect is about knowing when to interject, and when to stand aside.
Like this story? Share it with a friend!
The statements, views and opinions expressed in this column are solely those of the author and do not necessarily represent those of RT.
You can share this story on social media: