Why are Christians who just want to worship being called Covid conspiracy theorists waging a holy war on lockdown?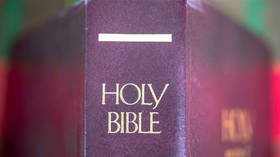 A Canadian pastor was thrown in jail and his church closed when he refused to limit capacity on his congregation. Why is the state clamping down so heavily on people who just want to practice their religion?
The case of Pastor James Coates has become one of the most controversial cases of freedom of religion versus Covid-19 in the world.
Pastor Coates, of GraceLife church in Alberta, Canada, was arrested on February 16 and sent to prison. He spent almost five weeks behind bars. For two weeks, he was in a cell on his own which he was only allowed to leave twice for 15 minutes. His crime was failing to place capacity restrictions upon the congregants in his church.
Also on rt.com
I'm a Christian, but I don't believe God has promised to protect me from Covid-19. Here's why
Pastor Coates told the court, "I am not a political revolutionary. I am simply here in obedience with Jesus Christ; it is this obedience that puts me at odds with the law."
According to the president of the Justice Centre for Constitutional Freedoms, John Carpay, the crime he was jailed for is not punishable by prison time. "Pastor Coates is defending freedom of association and freedom of peaceful assembly, which are freedoms exercised by the entire population, not just churchgoers," said Mr. Carpay.
The story becomes even more Orwellian.
Last week, in a dawn raid, the Royal Canadian Mounted Police, private security contractors and a fencing company moved to execute an Alberta Health Services closure notice by fencing off the church. There were three fences, and no advance warning of any kind. Nothing was said to Pastor Coates or to his lawyers. Erin Coates, the pastor's wife, posted images of the fence going up on Instagram.
The property, incidentally, belongs to the church, but it seems as though the RCMP intend to occupy the site for as long as they wish.
The scale of the intervention was extraordinary. A total of 200 'shock-troops' wore gas masks and riot shields. There were 40 massive black vehicles and a helicopter. The property remains heavily fortified by police and security.
GraceLife's congregation held services at an undisclosed location off-site on Sunday, but this must be a first for the Western world – to have the government lock out believers from a church.
Contrasting the video footage of these cops with that of the Christians in the congregation peacefully walking and singing 'Jesus Loves Me' makes one think of Kurt Vonnegut's image of getting dressed up in a full suit of armor to attack an ice-cream.
The government of Canada, just like the government of the USA, indulges in petty, vindictive and out-of-proportion bullying.
If this happened in a domestic relationship it would be gross abuse, with the aim of cowing a partner.
But this is what the relationship between governments and the people who pay them has become. Pitting public health and fundamental freedoms against each other is unhelpful, and millions all over the world have rallied to support GraceLife and its young pastor.
Also on rt.com
The Covid-19 pandemic has taken thought policing and wokeness to a whole new level. And not even RELIGION is sacred any more
In the US, the First Amendment to the Constitution forbids the federal government from enacting a law restricting religious practice or free assembly: 'Congress shall make no law respecting an establishment of religion, or prohibiting the free exercise thereof; or abridging the freedom of speech, or of the press; or the right of the people peaceably to assemble, and to petition the government for a redress of grievances.' How sad that it no longer seems to apply in America.
People of all faith who understand this – and huge numbers of atheists too – are flocking to support GraceLife Church. After all, as Alexander Hamilton famously said, "When a government betrays the people by amassing too much power and becoming tyrannical, the people have no choice but to exercise their original right of self-defense – to fight the government."
In June 2020 in Toronto, thousands demonstrated side-by-side in the middle of a global health pandemic.
There was no meaningful social distancing on display from the demonstrators, protesting anti-black racism.
Why are these demonstrations allowed when GraceLife congregants are denied their basic right to worship?
According to the Federalist website, 183 monuments were destroyed in the United States alone by June 2020. And in a disturbing video clip released by the Heritage Foundation, Patrisse Cullors, a Black Lives Matters co-founder proudly proclaimed herself as a "trained Marxist."
Also on rt.com
BLM has been plagued by grifters for years, so it should surprise no one that a co-founder now has a $3mn real estate empire
It is my fervent hope that I could be proved wrong, but why is there not equipollent outrage when abortion clinics, liquor stores, strip joints and Walmart remain open?
It is puzzling. Despite the draconian laws of politically correct speech and the dire consequences of 'triggering' someone by something one says, why, come to think of it, are there no consequences when Antifa and BLM march and chant "F*ck your Jesus! F*ck your Jesus?."
While illegal immigrants who have had no health testing whatsoever are welcomed into both Canada and the USA – and put up in hotels across both countries – law-abiding, taxpayers, especially Christians, are harassed for purported crimes against 'public health'.
And as you would expect, leftist media like Vice have put a spin on the story that is adjacent to the truth. It has described GraceLife as "one of the places of worship at the centre of a holy war waged by a group of pastors against the protocols put in to reduce the pandemic's death count."
It is beyond the scope of this column to challenge the "pandemic's death count," but it is with some irony that I learned that the only GraceLife congregant who died in the first week of February during Coates' 'war against the pandemic' was one octogenarian who was unable to get his cancer treatment because of the Covid-19 lockdown.
Leftist – sorry, they prefer to be called progressive, I know – media are livid. They see Coates' story as becoming a rallying cry for anti-lockdown zealots across the country. Those who are more historically literate – and still have courage – see Coates as a Jeffersonian hero.
As Jefferson wrote, "Resistance to tyranny becomes the Christian and social duty of each individual. Continue steadfast and, with a proper sense of your dependence on God, nobly defend those rights which heaven gave, and no man ought to take from us."
According to Vice, "Coates and his followers aren't merely on a holy mission… the pastor greatly downplayed the severity of the pandemic and echoed a popular conspiracy theory that the pandemic is a ploy for the elites to strip people of their freedoms."
Describing anything as a "popular conspiracy theory" is a marvellous way of shutting down any meaningful debate. The real conspiracy is to call anyone who doesn't go along with the media's line as a conspiracy theorist.
Like this story? Share it with a friend!
The statements, views and opinions expressed in this column are solely those of the author and do not necessarily represent those of RT.
You can share this story on social media: