So it is now impossible to be white and African? As one myself, I find this growing racist war on whiteness deeply troubling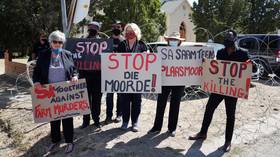 About 8% of South Africa's 59 million people are white, and many can trace our roots there back to the 17th century. I worry radical black politicians' wish to see us expunged, expelled or killed is xenophobic reverse apartheid.
I was bemused to read that a radical black politician in South Africa caused a Twitter storm this week by telling us that one cannot be both African and white. Mbuyiseni Ndlozi, a member of the Economic Freedom Fighters party, said that "no white person on this continent can claim to be African".
As one of the 8% of South Africans who are white, I am perplexed.
South Africa is a geographical location. There is no South African language. There are, the constitution brags, 11 official languages including Sanskrit. But there is no actual South African tongue. There are more than 400 tribal subgroupings.
However, the beleaguered white minority is, again, being castigated.
The purpose, of course, is to cause hatred and division.
Contrary to popular misinformation, the first white settlers didn't find a civilization that they stole.
On April 6, 1652, on instructions from the Dutch East India Company, Jan van Riebeeck sailed to the Cape of Good Hope to establish a half-way station.
Thus, the Afrikaners, i.e. people from white European stock, have been in South Africa since the mid-17th century.
White people are so afraid that they will be seen as racist that they allow historical facts to be ignored.
Ndlozi, who claims that former South African president Nelson Mandela was a 'sell-out', perpetuates racist dogma.
"Racism is satanism, unmitigated evil," said the Polish-American rabbi, theologian and philosopher Abraham Joshua Heschel.
Tony Leon, the former leader of the opposition in South Africa, once said, "We must promote patriotism, but we can never again allow South African children to be forced to submit to the degrading dogma of racial nationalism."
During my long career as a columnist, I have interviewed many South Africans of all colors and I count Prince Mangosuthu Buthelezi of the Zulu nation as a brother.
Beyers Naude, Frederick van Zyl Slabbert, Bantu Holomisa and Mandela all agreed on one thing; without the white man, the history of South Africa cannot be written.
One has only to glance at the lists of white anti-apartheid activists to see how deeply racist – and ungrateful – it is to say whites are not black enough for Africa.
In 1992, white South Africans voted in good faith to dismantle apartheid and move towards equal citizenship.
By telling people that they are too white to belong in Africa, the same racial nationalism is at play. This time it is inverted.
The reason is, of course, political. There is a civil war within the African National Congress (ANC). The fact that former president Jacob Zuma thumbed his nose at his obligation to appear before the Zondo Commission into widespread state corruption is a clue. Julius Malema, the leader of the Economic Freedom Fighter, who seems to wear a different Rolex or Breitling watch every day of the week and regularly calls for killing all the whites, has been courting Zuma.
The Radical Economic Transformers within the ruling ANC – an ever more dangerous faction – have assembled a pack of slavering loot-monsters.
Ace Magashule, the transformers' leader and secretary-general of the party, is the greatest threat to democratic SA. A former warlord of the Free State, he currently has 21 charges of corruption over his head. But as Richard Poplak has written, South Africa's future is not determined either by parliament or the ballot box. It is decided by the strongest. There are 80 ANC National Executive Council members who are not compelled to consult with their constituents. (This is government by dipstick.) A general consensus is reached with the self-interest of the strongest prevailing.
Whoever promises the most to a starving, ignorant population is who will win. Kill the whites? Sure! Confiscate their property? Sure! One settler, one bullet? Sure!
I once interviewed Dr. Carel Boshoff, the professor of theology and Afrikaner cultural activist who founded the all-white town of Orania in the northern Cape that some have described as the last bastion of apartheid. He told me that he often grappled with the thought that the Afrikaner/white nation exists to defend itself.
His point was clear: We have to find a way of being in this world together. You can't wish a nation away. You can't wish a people away.
A formidable organization, Solidarity (Solidariteit), has launched a 4.5 billion rand (US $310,000) project which includes setting up an alternative Afrikaans school system, occupational training college and university. Its purpose is to "create the conditions" for white South Africans to to stay in the country "freely, safely and prosperously".
Solidarity's chief executive, Dirk Hermann, says its recently completed occupational training college "is a living monument. We are building an institution to empower the youth so that they can create wealth for their community. We are here to stay and to build."
The university was built precisely because of the South African government's obsession about race.
Damon Young, a black American journalist who is a contributing opinion writer for The New York Times, had this to say about white people in The Root recently:
"Whiteness is a public health crisis. It shortens life expectancies, it pollutes air, it constricts equilibrium, it devastates forests, it melts ice caps, its sparks (and funds) wars, it flattens dialects, it infects consciousnesses (sic), and it kills people… White supremacy is a virus that, like other viruses, will not die until there are no bodies left for it to infect. Which means the only way to stop it is to locate it, isolate it, extract it, and kill it."
One wonders how many heads would explode if the word 'whiteness' were replaced with 'blackness.'
Chorus: We have to find a way of being in this world together. You can't wish a nation away. You can't wish a people away.
Think your friends would be interested? Share this story!
The statements, views and opinions expressed in this column are solely those of the author and do not necessarily represent those of RT.
You can share this story on social media: