The circus around Prince Philip's death shows MSM are addicted to the Royal soap opera… even if the public have had enough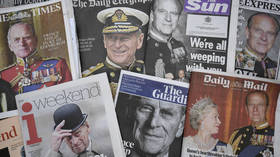 The hysterical, wall-to-wall coverage of the Duke of Edinburgh's death in the UK should have the MSM questioning itself. Millions are tired of it, but the barrage of stories, no matter how trivial, continues unabated
A 99-year-old died peacefully in his bed in Britain the other day. Maybe you noticed?
Prince Philip wasn't, by birth, actually British. He was Greek. And he only joined 'The Firm', the Royal Family, when he married Princess Elizabeth in 1947. He was never King either; he just became the Queen's consort when she was elevated to the throne in 1953.
Their kids didn't even take his surname.
I don't know all that much about the Royal Family, to be honest. I'm not a Royalist, yet neither am I particularly republican. It's more that I simply don't care. The same as I don't give a stuff about EastEnders or Coronation Street. Enjoy those soap operas if you want, but what's it all got to do with me?
But I now know loads about the Duke of Edinburgh (RIP) – one of his many titles – after this weekend's tsunami of stories following his death on Friday morning. And hey, you folks in other countries – yes, you lot who killed or banished your kings and queens a while ago – you don't know what you're missing out on.
It's history, isn't it? Or is it showbiz?
There are loads of fascinating facts. Phil was, for example, born on the Greek island of Corfu in 1921, a Prince of Greece and Denmark, and was smuggled out during political unrest partly thanks to a ride in an orange crate. His mother ended up in a mental institution and his father went to live in France. The young prince was, pretty much, just dumped at Gordonstoun School in Scotland and left to his own devices.
Also on rt.com
'Ridiculously over the top': BBC creates special complaint form as viewers decry 'too much coverage' of Prince Philip's death
He first met Liz Windsor, the future Queen, when he was 18 and she was 13 and visiting the Royal Naval College, where he was a dashing cadet. Both were the great-great grandchildren of Queen Victoria and, therefore, third cousins. Never mind that, though; Royals the world over have always loved to keep it in the family, despite geneticists' advice to the contrary.
And then? And then I lost interest, to be honest. Yes, it's not nice that he died and the Queen lost her husband… but he was 99. It's not the tragedy of a 19-year-old's death, it's not the tragedy of Princess Diana, who died in a car crash in a Paris underpass in 1997. She was 36, and could have been Queen one day, had she not split up with Prince Charles.
But fair enough, I suppose. It's partly the machinery of the British press being set in motion. I've worked in many a newsroom – including the Telegraph, the Sun, and the BBC – and there are loads of obituaries ready and waiting, up there on the shelf. Much of this Prince Philip material will have been ready to go – with the occasional dusting down and freshening up – for decades. Maybe it's a sin to waste even the most irrelevant little snippet.
Plus, most of us Brits as a breed, generally, love all this stuff. I've seen hardened hacks who've been known to run around war zones in a helmet with 'Press' scrawled upon it, dewy eyed at a Royal Wedding or a Royal Birth. Constantly looking up from their work screens on a deadline to get a glimpse of the pageant playing out on the telly.
And few events can trump a good old Royal Funeral, even one socially distanced and limited to 30 attendees by the pandemic. One would have thought there would need to be more than that number just to provide security.
Also on rt.com
'UK is not North Korea yet,' radio host says, after being burned for asking about Prince Philip's funeral – but some say IT IS
The funeral will be held at Windsor Castle on Saturday, not far from where Philip died, and the coffin will be moved around on a Land Rover that the Duke himself helped design. Most of this will, of course (it's 2021) be broadcast live. Righto. Job done. Not much to say now until Saturday, right?
Ah, don't be silly. He died on Friday. It's Monday. And it's STILL going on. Here are a few nuggets from the papers and the broadcasters…
Prince Harry – is he still a Prince or has he been demoted? – has landed back in the UK so he can quarantine himself in time for the funeral, without his bothersome American wife Meghan on account of her being conveniently pregnant.
He will, pundits breathlessly speculate, only wear a suit at the funeral and not a military uniform on account of being stripped of many of his titles in his ongoing rift with the rest of the Royals. Oh, and this could be the balm necessary to heal those wounds, especially with his brother Prince William?
Man, this Prince Harry kid… he's so far down the pecking order these days, he's barely worth a footnote. There would have to be some serious Royal carnage for him to ever sit on the throne alongside Queen Meg. And then there's the disgraced Prince Andrew – he's Prince Philip and the Queen's second son, with links to the dead sex monster Jeffrey Epstein. Andrew's face has been all over the place lately. Perhaps he's up for a bit of forgiveness too?
It's a soap opera. I don't like soap operas. I have never willingly sat through a full episode of Coronation Street nor EastEnders in my entire life.
Also on rt.com
The latest episode of the vapid Harry and Meghan saga shows they've replaced the Kardashians as the world's biggest reality show
And despite Brits' usual appetite for Royal gossip, it seems I'm not the only one who is turned off by all the hype. The BBC and ITV cleared their schedules on Friday to air blanket coverage of the Duke's death. But plenty of viewers simply went elsewhere. ITV and BBC Two shed about two-thirds of their viewers, while BBC One lost about six percent. The BBC was also deluged with complaints to the extent it published a dedicated form on its website.
There were all sorts of bizarre tributes from corporations and unlikely sources, too. National Rail even got in on the act, showing a 'mark of respect' by turning its train booking website grey – and partially-sighted people were unable to buy tickets. Madness.
I dare say if Prince Philip had his hands upon a ghostly remote control, he would have been one of those viewers to switch off too. He would have hated – absolutely detested – all the fuss. For example, pandemic or no pandemic, it seems he never wanted a state funeral anyway.
And so, all that's left to say is God Save The Queen. She'll be 95 a week on Wednesday, and let's hope she's got a fair few years left yet – the media coverage will be off the scale and the country will shut down for weeks when she does, one day, join her Prince in the family tomb.
Keep calm and carry on, ma'am. Please.
Think your friends would be interested? Share this story!
The statements, views and opinions expressed in this column are solely those of the author and do not necessarily represent those of RT.
You can share this story on social media: