It's fine for black celebs to 'reclaim' their real names, but let's not assume all anglicisation is discrimination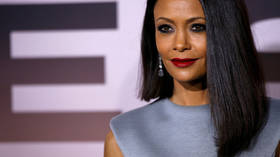 A Hollywood star has stated she wants the Zulu spelling of her name used from now on. That's fair enough, but anglicisation of names is generally not forced on anyone and suggestions it objectifies people are misplaced.
Everyone has a right to their chosen name. The actress formerly known as Thandie Newton attracted a lot of attention recently, when she announced she was changing hers.
At the start of her career, a director omitted a 'w' in the credits of her first movie, so Thandiwe became Thandie and it stuck.
Now, though, she is reverting to Thandiwe, although curiously that is actually her middle name. Her first name is Melanie, and it's unclear why she chose not to use that in her professional life.
On the decision to 'reclaim her name', Newton said, "The thing I'm most grateful for in our business right now is being in the company of others who truly see me. And to not be complicit in the objectification of black people as 'others', which is what happens when you're the only one."
A humane society should not force anyone to change their name to be accepted. That is completely egregious. But there is something troubling about the way Newton has handled this.
She opted to announce the decision in the pages of the British edition of Vogue, which smacks of virtue signalling.
Newton would have known this would lead to a flurry of coverage, with others likely to follow. And that's exactly what happened when actress Tanya Fear announced her name should now be Tanyaradzwa Fear.
So inspired by @thandienewton reclaiming her full name. My full name is Tanyaradzwa~ which means "we have been comforted", I was named this because I was born the year my grandfather died.

— Tanyaradzwa Fear (@TanyaFear) April 5, 2021
There is also a movement in America where Asian people are "embracing their heritage" by dropping their anglicized names. But although the idea is clearly gaining momentum, many people have already done so with less profile.
British TV actor Kwame Kwei-Armah took very radical action; he was Ian Roberts for the first 19 years of his life before switching after reading a biography of Malcolm X.
And several years ago, Welsh international rugby player Toby Faletau (born in Tonga) asked for Taulupe to be used. But his team-mates, who are obviously close to him, still use 'Toby' publicly.
Away from the grandstanding does Newton's charge of "objectification" stack up? If any change is externally encouraged as part of being accepted, then clearly it does. But surely there is a case that nicknames or shortened versions of names are linked to acceptance? It's common for friends to do that with one another.
Again, this does not give carte blanche to expressively ignore someone's wishes and call them a name they don't want you to. However, it goes both ways.
Jean Anderson is a British TV presenter and since Newton's declaration has revealed that she had similar experiences in her career.
Also on rt.com
Yewande Biala's 'outrage' over the mispronunciation of her name is just proof of her attention-seeking, not other people's racism
In this case, though, Anderson was asked to change her first name to 'Jeanie', to attract a younger following.
There was also encouragement to swap her surname, as she was born in Kenya, to something more 'ethnic' to give her an edge. She went onto marry a Swedish man and now uses Jean Johansson.
But her experience proves that the pressure to change doesn't only travel in one direction.
Another problem with Newton's charge is the idea that this is a 'black' issue. But that's not true.
Russian Jewish immigrant to America Issur Danielovitch was an aspiring actor who unfortunately felt his name was just too Jewish.
He opted to become Kirk Douglas.
Another household name across the globe is officially Chan Kong-sang, but we know him as Jackie Chan.
So, the issue goes beyond only black people, and that is a worrying element about Newton's stance. The rise of Black Lives Matter has brought about much-needed awareness of structural racism, but it has also led some to unwisely relate everything back to skin colour.
And the anglicisation of names is not about being black. It happens across the board.
Each individual has to decide where their level of tolerance rests. Making someone's name more 'user friendly' could be seen as a term of endearment.
Also on rt.com
Dear white celebrities: Stop using black people as your 'props' to try to show you're not racist. Because it just proves you are
There are also issues about pronunciation, which again can be misconstrued. For native English speakers and audiences, some foreign names are unpronounceable and there is a worry among white people that asking someone how to say their name properly can be deemed offensive.
It's a similar sort of scenario to the reluctance among some white people to ask a black Brit or American where their family comes from, for fear of offending the person as they may interpret the question as an insinuation that they are 'less of' a Brit or an American. It's a minefield, but it does not mean someone's identity should be trampled over.
The reality is that for most people, the usage of anglicised names isn't a way to make those from ethnic backgrounds more subservient or to signal they don't belong. On the contrary, many people are trying to do the opposite and display inclusion, even if it is a potentially misguided way of doing so.
And the other issue with name changing is that it won't correct true racism. If you are a bigot and are willing to discriminate against someone because of their origin, then you'll do it regardless if they're called Mo or Mohammed.
So, by all means, call yourself whatever you feel is appropriate. No one can strip you of your name, as they don't have the power. But let's also open the discussion and try to understand what is driving the debate, because the more polemic things become, the less we can understand other people's point of view.
Talking and calling ourselves what we are personally comfortable with is a good place to start.
Like this story? Share it with a friend!
The statements, views and opinions expressed in this column are solely those of the author and do not necessarily represent those of RT.
You can share this story on social media: