Twitch's bans for off-platform behavior in the name of 'protection' look like more high-tech censorship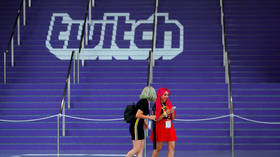 Twitch, the world's largest streaming platform, wants to protect its community by banning people for "dangerous" off-platform behavior. It sounds like a good thing, until they bring up Trump as an example.
It is said that the road to hell is paved with good intentions. In that metaphor, if the brick and mortar is good intention, then the signposts that lead to the road are all misleading advertisements. Twitch, which is easily the largest live streaming service in the world, announced that it would be making serious moves to monitor the behavior of its streamers, even off-platform and offline, and ban those who pose a "substantial safety risk" to the Twitch community. Offenses like violence and extremism, credible threats of mass violence, sexual harassment and exploitation, but also more vague ones like membership of "hate groups" are all listed as punishable. Twitch says it would even be going so far as to hire private investigators to look into people.
Now, that wording makes it sound like a good thing: the platform is going beyond the call of duty to protect its users.
However, then they say they've done this before, "historically." And as media reports are quick to remind, what they're talking about is the banning of the Donald Trump campaign account after the January 6 Capitol riots – which the Democrats and left-wing media have blamed on the now-former president's "hateful rhetoric."
This raises a red flag. If the main example of what you're planning to do is the censoring of a former president you didn't like, it makes one wonder whether protection is what it's really all about.
Speaking of life on the internet, I have heard some insane stories of content creators doing terrible things, such as allegedly sexually assaulting people. Given that Twitch monetizes so many streaming channels, it's understandable that they're not going to want to partner up with someone who's really done something heinous – that's a bad look for the brand, to say the least. At the same time, the methods they describe are open to massive overreach – they are actually going to actively investigate people's behavior outside the platform, after all – and the way they point to Trump as an example is a clear hint that the overreach will indeed happen. Instead of having an actual crime as a prime example of who you have brought down, you just list yourself as yet another platform that censored Trump on political grounds.
Also on rt.com
Megalomania or protecting users? New Twitch policy prepares to deplatform for OFF-PLATFORM activity
This isn't what I would call a win. Not to mention the double standards: Hasan Piker, nephew of Cenk Uygur and part of The Young Turks media group, has outright said the US "deserved" the 9/11 terrorist attacks. All he got was a week's suspension. Then again, Piker is on the political left so I suppose this is just okay.
When you look at examples like this, the supposed benefits start to fall apart. Is this a policy that actually exists to curb harassment and harm to people? Is this something that's actually going to improve the platform, or is it going to make it one where you're cleaning out the supposed rabble if they hold an opinion you don't like? One thing I would argue is that unless someone takes part in illegal behavior off your service, it's really none of your business as a platform. Just as a hypothetical example, if one of your top streamers happened to participate in a nude backgammon league then it might be a little weird. At the same time, if it doesn't affect the broadcasts that they do while they're streaming, who the heck cares?
This brings me back to my original point. Ultimately, whenever policies like this are introduced by a big tech company (Twitch is owned by Amazon), there's always flowery language that is coupled with a massive dose of partisanship. Do I think Twitch is actually going to be taking these measures to protect their platform and their user base? Depends on how you look at "protect" and how you define it. If you're defining it as simply booting out those with different political opinions, then you might want to go to the dictionary and look up what "protect" actually means.
Think your friends would be interested? Share this story!
The statements, views and opinions expressed in this column are solely those of the author and do not necessarily represent those of RT.
You can share this story on social media: