The European Court of Human Rights has just opened the door for mandatory Covid-19 vaccines across the continent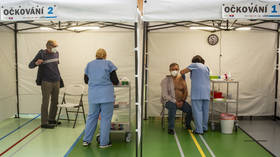 An ECHR judgement on a Czech dispute over childhood immunisation has set a precedent for nations across Europe to introduce legally enforced vaccinations as a "democratic" necessity in the "best interests" of everyone.
The Covid-19 pandemic has coughed up many issues about what our governments and public health authorities can do, none more controversial or divisive than those surrounding the mass compulsory vaccination of entire populations.
And, today, the European Court of Human Rights (ECHR) inadvertently weighed in on this hotly contested topic by handing down a judgement on the rights of a group of parents from the Czech Republic to refuse mandatory vaccinations for their children.
Also on rt.com
I'm 39 & I'll happily take the AstraZeneca vaccine. With only a one in a MILLION chance of a fatal blood clot, I'd be mad not to
The 17 judges of the Grand Chamber ruled that compulsory vaccinations did not breach human rights law and might actually be necessary in democratic societies.
Hmm. Something doesn't seem quite right here. Until, that is, you read Article 8 of the European Convention on Human Rights, which concerns the right to a private life. Because it actually undermines the whole idea of privacy by the inclusion of one small word: "except".
"There shall be no interference by a public authority with the exercise of this right except such as is in accordance with the law and is necessary in a democratic society in the interests of national security, public safety or the economic well-being of the country, for the prevention of disorder or crime, for the protection of health or morals, or for the protection of the rights and freedoms of others."
Foolishly, it appears, I believed freedoms were absolute. That you can't be partly free. You either are or you aren't. But that doesn't seem to be the case.
Those who are truly free should be automatically free to make their own decisions, even if those fly in the face of common beliefs about immunisation against the spread of childhood diseases.
In the case of the Czech families, the ruling is even more significant, as it was made on behalf of children, and the ECHR stated that "their best interests must be of paramount importance".
But whose decision is it? The court says it must ultimately act in a child's best interests, but, as this case shows, it can deny their parents the right to determine what those best interests might be. In this instance, it decided that children should be protected against serious diseases, and that Czech health policy therefore trumped the parents' wishes.
I cannot be the only person who sees the toe of a well-polished shoe being placed between door and jamb here. Now this ruling has been handed down at the highest court in Europe, we are looking at the very real possibility of it being used to reject every challenge about vaccination from concerned mums and dads of nursery-age children to strident anti-vaxxers convinced Covid-19 is a hoax.
Like children in many nations in Europe and beyond, Czech kids are required by law to have a batch of nine immunisations before they are allowed to attend nursery school. Although this is compulsory, the requirement cannot be enforced physically. Nonetheless, unless health reasons exclude them from the vaccination programme, they can be barred from attending and their parents can be fined for non-compliance.
Also on rt.com
'Biopolitical surveillance regimes': Vaccine passports reveal the growing authoritarian tendencies of Western governments
Interestingly, although it was Europe's highest court that adjudicated on the Czech case, across the rest of the continent, mandatory vaccinations for children are not universally required. The governments of Germany, Finland, Portugal, the Netherlands and other nations might recommend that children be immunised, but it's not a legal requirement, according to research from the Italian Journal of Paediatrics. But thanks to this latest decision, that might change.
Although the ECHR judgement doesn't mean public health officials in European countries will necessarily be imminently enforcing Covid-19 vaccinations, should they decide at some point that this is in people's "best interests", then there is certainly a legal precedent to do so. And, vaccine pros and cons aside, for anyone who treasures their right to a private life, that may well be rather unsettling.
Like this story? Share it with a friend!
The statements, views and opinions expressed in this column are solely those of the author and do not necessarily represent those of RT.
You can share this story on social media: