'Shoot the messenger!' The German attacks on RT are an attempt to shift public attention from the mayhem of Merkel's sunset months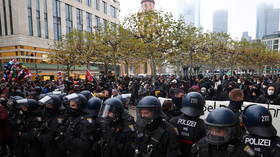 The wild accusations of spying by RT's German-language service, based on a former employee's leaked chats are a distraction from a genuine news agenda that shines the spotlight on corrupt politicians and a clueless government.
As Germany prepares for a string of state elections this weekend, with Chancellor Angela Merkel's Christian Democrats (CDU) sitting on a one-year low of 30 percent in the opinion polls, the dead-cat strategy has been invoked in an attempt to avoid disaster at the ballot box.
The tactic, devised by Aussie political guru Lynton Crosby, is a metaphor for the idea of introducing a shock topic to the public narrative in an attempt to deflect concerns about the matter currently in focus.
The particular dead cat in question, dear reader, is RT DE, which, having announced plans to launch its own TV channel, has got the German establishment's lederhosen in a real lather. Accusations of spying, based on leaked Telegram chats, and the closure of business bank accounts, have been used to embellish the idea that something murky is afoot.
Also on rt.com
RT's German-language service prepares lawsuit after notorious tabloid 'Bild' falsely accuses its journalists in Berlin of SPYING
At the same time, and far from being a coincidence, the credibility of RT as a valid news outlet is being questioned by those who should know better. Respected magazine Der Spiegel pointed out that politicians of all sides, from left to right to Green, have engaged with RT, and that other leading public figures, such as the head of the German Police Union, Rainer Wendt; the ex-chairman of the Munich Security Conference, Horst Teltschik; and the head of the board of the German-Russian Chamber of Commerce and former Der Spiegel journalist, Matthias Schepp, are happy to speak with the outlet's reporters.
From personal experience as an RT writer, I have found a wide number of politicians outside the establishment axis of the Christian Democrats (CDU), Christian Socialists (CSU) and Social Democrats (SDP) are only too happy to be offered a well-read forum in which to express a valid opinion, and they often feel shunned for being a little too fruity for the tastes of German mainstream media.
The largest opposition party in the Bundestag, Alternative für Deutschland, is one such party, and one of its senior Euro MPs, Gunnar Beck, values the opportunities at hand.
"Germany, especially West Germany, has been remarkably stable and monochrome for many decades," he told me. "It's not surprising that the mainstream-party cartel should be deeply perturbed by the inroads made by more recently established political parties. If they are expressing dissatisfaction with the journalistic standards of RT, they are essentially articulating their concern that a growing part of the German public is no longer willing to swallow willy-nilly anything the publicly financed German media is telling them."
Like Beck, many of the lesser-heard voices are those of people with divergent viewpoints from the mainstream that actually make the news what it should be: interesting. If everyone agrees on everything all of the time, it's just not news.
It seems what really irritates the German establishment is that a cocky new kid on the block is daring to question the status quo, upsetting the cosy establishment-media relationship that has for years colluded on the news agenda.
Also on rt.com
German bank closes RT-affiliated companies' accounts, 1 month after German-language channel's launch announced
Allegations of malign influence, spying, leaking and general skullduggery are flung around in an effort to undermine any attempts to upset the apple cart. So, how dare the patronising CDU, via an anonymous source (a genuine-journalism no-no) tell Der Spiegel that: "We don't see Russia Today as a news channel", or that the broadcaster's aim is "obviously disinformation and one-sided reporting."
As for the journalist behind the spying claims – who incidentally launched a book on the day of the Bild article – is it possible he's been simply used by a tabloid with its own axe to grind against his former employer?
Timing is everything, of course. This weekend's polls come at a time when Germany's usual unflappable Teutonic efficiency has been infused with a toxic mix of corruption and incompetence. Neither plays well with the voters.
The country's 14-day totals for the number of coronavirus cases and deaths exceeds the UK, its vaccination rollout is taking forever to immunise its population, and the public has had quite enough of the tiresome lockdown restrictions.
If the German media was up to the job and really pulled this shambles into sharp focus, then the oh-so-comfortable Mutti Merkel government might just raise its game for fear of being hammered in the polls.
But placid and compliant mainstream outlets don't want this, because they like things just the way they are. And watch out anyone who dares to change things. We have been warned.
Think your friends would be interested? Share this story!
The statements, views and opinions expressed in this column are solely those of the author and do not necessarily represent those of RT.
You can share this story on social media: