Not so Whitty: Dr Doom Chris warns of another 'surge' in Covid cases, but is it all about preparing us for yet another lockdown?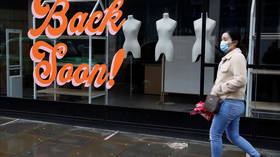 The UK's Chief Medical Officer is warning of a third wave of Covid in late summer if restrictions are eased too swiftly. But are the fears realistic, given the significant falls in Covid cases and deaths?
They call him Dr Doom. And today – as on many other days – it's not hard to see why. Almost all the news on the Covid front is good. Cases (so defined) are down from 60,000 a day in January to less than 5,000, the lowest level since September. Deaths within 28 days of a positive test have plummeted, too – from 1,631 on January 26 to just 65 announced on Monday – with just three deaths for the whole of Wales, Scotland and Northern Ireland. Surely, given the encouraging stats, it's time for the government to rethink its tortoise-paced 'Road Map' and bring forward the dates for the lifting of restrictions?
Step forward, Professor Chris Whitty. If there's ever a man who deserves the epithet 'Party Pooper,' it's the totally misnamed Chief Medical Officer. Because there is nothing remotely witty about him. Whenever the news about Covid is really good, ole black eyes is there to tell us that bad times are just around the corner. "All the modelling suggests" there'll be a new surge of Covid in 2021, possibly in "late summer," he told MPs who had quizzed him about a modelling forecast from the University of Warwick and Imperial College, that there could be at least 30,000 more deaths from Covid as/when restrictions are eased.
Also on rt.com
UK CMO warns of 30,000 further Covid-19 deaths if country reopens too quickly, encourages Brits to learn from surge in Europe
While a speedy reopening would mean "more deaths," Whitty said that opening up in a "steady way" would still be dangerous.
"What we are going to see is, as things are opening up, what all the modelling suggests is that at some point we will get a surge in virus," he predicted. "It is really important that we do not give any impression that what we are expecting is this just goes away and there is no further deaths."
Thanks, Chris. There were millions of Brits looking forward to the end of lockdown and the possibility of life being able to return to normal. Yet here we are, still in winter, and you're already warning us of what 'might' happen in late summer and next autumn/winter. Based on 'modelling.'
That will work wonders for the nation's mental health – already close to breaking point – won't it?
Professor not-so-Whitty could have come out today and stressed the positives. But instead he chose to destroy the hope that people – fed up after a year of restrictions – are clinging to. That really is unforgivable.
Vaccines? The CMO, having encouraged people to get the jab, and praising the vaccine roll-out as "hugely successful," also says that the future "surge" in the virus could claim those for whom the vaccine won't work. He and the government's chief scientific officer Sir Patrick Vallance have made it clear that mass vaccination won't get rid of the virus. So why then is the government talking about the introduction of vaccine passports? The official narrative has more holes in it than a large slab of Swiss cheese. Where is the little boy with the bravery to cry 'The Emperor has no clothes'?
The 'prepare for a third wave' mission – which went into overdrive today – appears to be two-fold. The first is to soften us up psychologically for the return of a full national lockdown in autumn/winter. As the writer Laura Dodsworth pointed out on Twitter, the prediction of another surge is what's known as 'seeding.'
This prediction of a surge is what's known as 'seeding'. The government are 'planting the seed of an idea' in order to mentally prepare you for autumn/winter lockdown. But, if you were paying attention, the extension of furlough already did that.https://t.co/2xWmwPncCU

— Laura Dodsworth (@BareReality) March 9, 2021
We saw the same thing happen last year with the predictions about the "inevitability" of a "second wave." The strongest hint yet that life will not be allowed to return to the 'old normal' in the summer, despite the government's road map, is the Chancellor's extension of the furlough scheme until the end of September.
That brings us nicely up to the return of the autumn/winter colds/flu season and all you really have to do then is to ramp up testing and seasonal factors will do the rest. Hey presto, you have your new lockdown to take you into 2022. But even if the government gets cold feet and doesn't lockdown again in the autumn, warning of one can still have its advantages. By raising the prospects of another depressing shutdown, the public are more likely to accept the maintenance of other restrictions, such as social distancing and mandatory masks, into another winter. Also, if virus 'cases' do increase, (either genuinely or through increased testing and misclassification) the government can always say 'we warned you!' and blame Joe Public.
Also on rt.com
Lockdown without end? Extending furlough till the end of September suggests no return to normal in June
The Covid 'control the proles' show, which began, lest we forget, with 'three weeks to flatten the curve' all of twelve months ago, is quite clearly meant to run and run. It's not so much that the goalposts have been moved, they've been taken off the pitch altogether and dumped into the ocean. Here we are, still in one lockdown and being put on notice of another. Herd immunity? No, it seems we can never achieve that, no matter how many are vaccinated. And of course there'll always be 'new variants' to come along, to keep the fear going.
Meanwhile, outside of Britain it's a very different story in a large number of countries. In Russia, people are back enjoying live theatre performances. In Croatia, Serbia and other Balkan countries they're sitting in cafes enjoying warm, sunny weather. In Belarus, the so-called 'last dictatorship in Europe' they never locked down at all and life has continued as normal. Florida is open for business – and fun – as are many other US states. Aren't we lucky in Britain to have Professor Chris Whitty to spread his message of doom and gloom and keep everyone fearful and depressed? Heaven knows where we'd be without him.
Like this story? Share it with a friend!
The statements, views and opinions expressed in this column are solely those of the author and do not necessarily represent those of RT.
You can share this story on social media: