Lockdown without end? Extending furlough till the end of September suggests no return to normal in June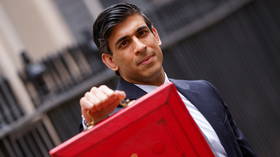 Judging by what's gone on before, the announcement by UK Chancellor Rishi Sunak that the government's furlough scheme would last until at least 30 September doesn't bode well for those who want Covid restrictions to end soon.
Consider the following: When the 'Coronavirus Job Retention Scheme' (to give it its official title) was first announced by the UK government on 20 March 2020, it was supposed to last until 31 May. Why did it need to be so long, some people asked, if we were only going to lock down for three weeks to 'flatten the curve'?
Since then we've seen the same pattern, repeatedly. The extension of furlough, beyond the dates when politicians and talking heads have told us restrictions would be due to end, has been an excellent guide to what really is going to happen.
Also on rt.com
Britain to extend government furlough scheme till end of October
A far better guide in fact than Inside the Tent 'pundits' who told us to dismiss the 'conspiracy theorists' and who have assured us since last spring that life would soon be returning to normal.
Sunak's extension, beyond the initial three months until October 2020, and announced on 12 May, was the strongest hint possible that some restrictions were still planned by the government over the summer of 2020, and so it proved. Businesses were allowed to reopen but only with social distancing restrictions and other 'Covid-secure' measures which greatly reduced their profitability. In addition, in a further move away from the 'old normal', mandatory masks for shoppers were introduced in July, at a time when almost no one was dying of Covid.
In the autumn, after Prime Minister Boris Johnson had talked of life being 'back to normal by Christmas', the chancellor extended furlough again, and then in mid-December he announced the scheme would last until the end of April. That really was the big giveaway – in more ways than one. Anyone who had been paying close attention to how it all worked knew then that a second national lockdown – a long one – was inevitable after Christmas. But again, their predictions – based on a good study of the form book – were dismissed as 'conspiracy theories'.
The fact Sunak was extending furlough until after Easter didn't mean that another lockdown was already planned, of course not – merely that he knew the recovery would take some time, the smart alecs told us. And what happened? On 4 January, exactly as I had predicted on 18 December, Johnson went on TV to announce another lockdown.
Boris Johnson, 4th Jan 2021 :'We urged people to act responsibly over Christmas but while most did, alas, a minority didn't, so unfortunately we have no option but to lock you all down again until the spring. ' The speech will have already been written. https://t.co/jRx5wcfju8

— Neil Clark (@NeilClark66) December 18, 2020
This one would begin to be eased in February we were told. But surprise, surprise, it wasn't. All we got was a road map for lifting restrictions. A road map for tortoises, that is. Johnson cited 21 June as the earliest date for all restrictions to be lifted (though it was still unclear about masks). But this week's news on the furlough front indicates that it's highly unlikely that the 'old normal' we enjoyed up to March 2020 will be here by 22 June.
Had Sunak extended furlough till the end of July, it might still be argued the government was serious about opening up the country fully by mid-summer. But setting the end date to 30 September should set everyone's alarm bells ringing very loudly.
By the end of the third quarter of the year we'll soon be heading into another flu season. If restrictions aren't fully lifted in midsummer do we really expect them to be scrapped once we hit autumn and start getting the usual headlines about the NHS being 'unable to cope' in the months ahead?
Note too that the Coronavirus Act – which grants the government emergency powers – is due to expire at the end of March, and will need Parliamentary approval for extension. We know a sizable number of Tory MPs want restrictions to end sooner rather than later, but what better way is there to get the act renewed for another six months than to tie it to furlough? Then, any MPs who voted against would also be voting for furlough to end – and potentially for millions of Britons to lose their jobs.
Also on rt.com
George Galloway: Nicola Sturgeon's testimony answered no questions; this round goes to Alex Salmond
The UK government has set MPs a trap from which even Harry Houdini would find it hard to escape. The long lockdowns have done great harm to the country (the economic cost has been calculated as £2.4bn a day), but extending furlough until the autumn and not reopening fully will only increase the damage.
So why is the government doing all this? The only logical explanation is that under the smokescreen of fighting a virus, they are engineering a radical restructuring of the economy and society. A 'Great Reset' in fact. And the 'Great Reset' (copyright, World Economic Forum), is about constructing a permanent 'New Normal' , not going back to the old normal of early 2020. 'Build Back Better', the slogan of the 'Great Reset', repeated ad nauseum by its devotees, implies that there needs to be quite a bit of controlled demolition in the first place, and that hasn't yet been completed. So lockdown continues. Repeat and rinse, into 2022.
Also on rt.com
As Boris Johnson announces Britain's 'great reset', were the Covid 'conspiracy theorists' right all along?
If the government really was 'following the science' and being led by the data, they would actually be bringing the dates in the road map forward, not indicating, by the extension of furlough, that restrictions will still be here in September. The Daily Telegraph reported earlier this week that deaths have fallen weeks ahead of the modelling estimates on which the 'road map' was based, while the latest official figures today show a sustained drop in 'cases', so defined, in all four countries of the UK. Back in January, Health Secretary Matt Hancock told the Spectator magazine that once the 'vulnerable' had been vaccinated it would be time to 'Cry freedom!'.
But we've already had more than 20m Brits vaccinated – and around 90% of the over-80s – yet we are still more locked down than the vast majority of other countries.
The extension of the 'Coronavirus Job Retention Scheme' until October strongly suggests that unless there is major public and business pushback, there will be no return to normality by then, regardless of how vaccination rates go and how low case/death numbers fall. And then what?
It is striking that not only Boris Johnson, but other ministers too have failed to rule out a fourth national lockdown for next winter, probably before Christmas – and likely to be billed once again as necessary to 'protect the NHS'. On 15 February Johnson, after being asked if he could guarantee there'd be no more lockdowns, replied: "No, I can't give that guarantee, of course not."
Also on rt.com
If you'll miss lockdown when it's over, you need to get out more. It's going to be a wake-up call for the whole world
Welsh First Minister Mark Drakeford has said the same – predicting that Coronavirus 'was going to be with us for the rest of this calendar year'.
Remembering how this all started, and how the restrictions were originally sold to us twelve months ago, has there ever been such a long 'three weeks' in history?
Think your friends would be interested? Share this story!
The statements, views and opinions expressed in this column are solely those of the author and do not necessarily represent those of RT.
You can share this story on social media: