I joined Clubhouse, the hot invitation-only social media app used by celebrities like Elon Musk. But trust me – it's one big yawn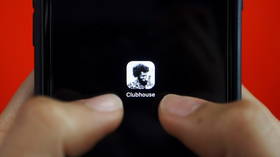 The exclusive audio network Clubhouse is hailed as Twitter for A-listers. But after spending a few days on the app, which is beset with mounting privacy and censorship issues, there's frankly no better time to be offline.
Groucho Marx once said he'd never join a club that would have him as a member.
And, if he were alive today, that'd probably include the new social media app, Clubhouse.
Also on rt.com
Kremlin 'interested' in conversation with Elon Musk, after SpaceX founder invites Putin for chat on audio-only Clubhouse app
Touted as the digital equivalent of Soho House, where luvvie communists become elitists via expensive memberships, it's now the world's hottest new platform.
Launched in the first quarter of 2020 by software developers Alpha Exploration Co., it was recently valued at a whopping US$1 billion.
Downloaded almost five million times, with 3.7 million of those in the past month alone, it's a bona fide hit that's attracted celebrities such as Oprah Winfrey, Drake and Elon Musk.
Rumours abound that, if the app's growth continues at its current rate, it could eclipse the likes of Instagram within a few years.
So why on earth is it so wildly successful? And should we care?
According to its own sales patter, Clubhouse's USP is the fact it's audio-only. This means it's essentially a hybrid of a live podcast and WhatsApp's voice message function.
Except, with Clubhouse, members don't merely listen to interviews and discussions as they happen. They are actively encouraged to contribute their own hot take (as if social media wasn't annoying enough, now you can hear the people you're arguing with!)
It's also invite-only, which appeals to the irredeemably vain and selfie-obsessed, which is most millennials and media professionals who crave interaction, especially during lockdown.
Together, these Clubhouse 'qualities' have seemingly plugged a new gap in the market. One we didn't even know existed.
But is it really deserving of all the hype and adulation? Or is it just another Silicon Valley safe space that stifles debate and banishes members for wrongthink?
Predictably, all of the emerging evidence points to the latter.
Although it's currently self-moderated by members who use free speech as intended (this rare virtue got it cancelled by the Chinese government – always a good sign), the app's head honchos have since caved to mounting pressure by appointing a team of scolds who'll 'fight misinformation,' whatever that means.
Also on rt.com
A black actress as Anne Boleyn? Off with the casting director's head! In the fake news era, history should be trustworthy
This comes after a number of left-wing journalists criticised the platform for being problematic (read: uncensored).
For example, Vanity Fair's Tatiana Walk-Morris described it as "a haven for the powerful to flirt with misogyny and racism", while Vice's Diyora Shadijanova called it "a petri dish for enabling rumour and misinformation".
Others have suggested it's also anti-semitic and hostile to black women, but – let's face it – what isn't these days? Even when things clearly aren't racist or sexist, intersectional grifters will tell us otherwise. Just look at Chaucer.
However, this rabbit hole seems to be beckoning Clubhouse's founders, entrepreneurs Paul Davison and Rohan Seth.
According to Tracy Chou, CEO of Block Party, an app that addresses online harassment, Seth has already been in touch with her about the prospect of tighter moderation… which some would say Is the death knell of a good platform.
After all, this sort of authoritarianism hasn't worked well for Twitter, whose stock plummeted after they cancelled the sitting President of the United States over claims he'd incited violence at Capitol Hill (it was later proved he did no such thing, yet his Twitter account remains suspended).
Meanwhile, Facebook has just censored 25 million Australians from posting news articles, including official government guidance around Covid-19.
This is obviously appalling, but creeping censorship isn't the only bug that needs fixing for Clubhouse. Privacy on the app is another growing concern, which few are willing to confront.
Engineers freely admit that they record and store users' conversations – and will happily turn them over to the relevant authorities, if necessary.
"Solely for the purpose of supporting incident investigations, we temporarily record the audio in a room while the room is live," a spokesperson for Clubhouse told RT.com.
"If a user reports a Trust and Safety violation while the room is active, we retain the audio for the purposes of investigating the incident, and then delete it when the investigation is complete. If no incident is reported in a room, we delete the temporary audio recording when the room ends."
The company adds that "audio from muted speakers and audience members is never captured, and all temporary audio recordings are encrypted."
OK, this also happens on 'traditional' social media if a user's account gets subpoenaed, but is it really the direction of travel we want to go in? Call me old fashioned, but this sort of 'lite' surveillance should trigger alarm bells in even the wokest person.
Still not convinced? Let me tell you another secret about Clubhouse: it's dull. I joined it last week for research purposes and have found it neither controversial or entertaining.
Instead, I just had the displeasure of hearing people bore others on their preferred subjects; ranging from politics to the Covid-19 vaccines. Yawn-o-rama.
One of the chatrooms had people talking about how John Legend and Chrissy Tiegen met, while another mooted the idea of impeaching Trump – yes, again. A third attempted to sell the idea of rejoining the European Union.
I'm not sure which of these is more insufferable, but one contact nailed it when they described Clubhouse as a place where "grown ups become middle schoolers".
Also on rt.com
Candace Owens vs. Harry Styles: Proof that masculinity IS under attack — and black voices only matter if they're left-wing
So here's my suggestion: get yourself an invitation to this much-hyped app – then sell it on Ebay, where they are fetching upwards of £60.
After all, that's what Groucho Marx would do.
Like this story? Share it with a friend!
The statements, views and opinions expressed in this column are solely those of the author and do not necessarily represent those of RT.
You can share this story on social media: