Sorry, St Greta, but you know little about the realities of the UK's new coal mine. Climate panic is ruining workers' livelihoods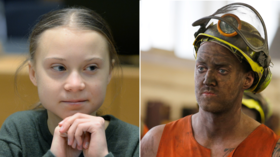 The proposed pit would create 500 new jobs in one of the country's poorest areas, meet strict environmental standards and would shut down by 2049 so the UK meets its fossil fuel commitments. So why all the clamour to stop it?
I grew up surrounded by miners, those brave men who sacrificed their health – and, far too often, their limbs and their lives – to work below ground, digging out the coal that turned their lungs black and laid the seeds of the pneumoconiosis that would choke them to death in late life, if they were not first crushed by falling debris or blown up or poisoned by underground gases.
It is why I have watched with interest the recent ongoing debates about a controversial deep coal mine to be opened in Cumbria, Britain's first such pit since 1987. The £160 million project – which would create 500 jobs in an economically-deprived region – has fuelled the ire of green campaigners, who say its opening would be a 'climate catastrophe'.
Also on rt.com
Climate alarmism has become a growth industry and the pandemic is making things worse, fueling fears of human extinction
One cannot diminish the importance of the British coal industry over its 200-year lifespan – it was the blood, sweat and tears of our industrial revolution, and provided the fuel and finance that allowed the British ruling classes to conquer and to colonise half of the world – the British Empire was built on the backs of British miners.
Not that these men, or the communities they came from, have been remembered or valued for that by any of our current rulers, or even the middle classes. In fact, the opposite has happened: our mining communities have been subject to a 40-year long assault of negative propaganda, that began with the Conservative government led by Margaret Thatcher in the early 1980s.
She considered the miners, their families and their communities, not as central or important to our wealth, our history and our culture, but as 'the enemy within' which had to be destroyed. She famously went to war with the miners and their union, using every tool that the state could provide her with, to close down the industry, wreck their communities and ultimately crush the will, the hope and fabric of these people.
Thatcher and her government succeeded eventually, and every single coal mine in the UK was closed down, losing tens of thousands of well-paid stable jobs for working-class people and wrecking local economies. Then that government – and even the Labour ones that followed – ignored and forgot about these communities, leaving them for 20 years with no investment, no proper representation, and no hope.
More recently, another stigma has been piled on these communities, not a new one, in fact a very old and traditional one: that they are dirty. Dirt has always been connected to the working class, in the work they do, in the communities they live in, in their personal hygiene. George Orwell noted how the British middle class constantly complained about the smell of working people. Such workers have carried the weight of dirt, disease and death on their bodies, and even when such smells are no longer there, that stigma has lived on in the middle class mind.
Now, with the looming and growing climate catastrophe (I am no denier), it seems that it is once again the working class that is bearing the brunt, and carrying the dirt and danger once more on its backs.
Earlier this year, the local council in Cumbria gave the go-ahead for the new deep coal mine to be sunk in the area of Whitehaven, believing it would bring skilled and well-paid jobs into a community that has struggled with poverty and unemployment for the last 30 years. The high-tech project fully accorded with the UK's green industrial commitments, it promised high levels of greenhouse gas emission mitigation, and production was to be halted by 2049.
Despite those commitments, the backlash to this decision has been fierce and led by environmental campaigners such as Greta Thunberg, the 18-year old green heroine with an enormous platform of millions of social media followers and access to world leaders. Imagine the difference between the lives of those unemployed 18-year-olds in Cumbria and Ms. Thurnberg – and those 18-year olds in 1990 that had no jobs to go to and no support. I would like to see some compassion, some understanding here, but I'll not hold my breath.
The Whitehaven coal mine proposal has also been decried by the Labour Party's shadow environment minister, Ed Milliband – an MP and former party leader who represents a constituency of deep deprivation in Doncaster, one that has never recovered since the pits were closed. So he cannot claim ignorance as to the devastation of mining communities, and should know better.
Because of all this political pressure, the Cumbrian council is now planning to revisit its decision to open the mine, which would produce around 3 million tonnes of coal a year, mostly for the steel industry in South Wales, another area attacked and suffering because of the lack of interest and care from politicians since the 1980s.
So now the 500 jobs, plus the other jobs that the new pit would have created, and the massive boost to the local economy are likely to be lost in the name of climate change. Will the government – or St Greta – provide alternative employment? Will the so-called 'green industries of the future' create the jobs the area desperately needs? I doubt it. And so we will condemn thousands of people to continue to live in poverty as we continue to import coal from places where we have no control over how it is mined, and will do so for a long time to come, probably until 2050.
I am not an expert on climate change and don't claim to be, but I do know someone who is – my friend, Dave Douglass, a retired miner and a lifelong trade unionist, anarchist and environmentalist, who puts his money where his mouth is. Now in his 60s, he's decided to come out of retirement and has applied for a job at the Whitehaven pit to ensure that workers are treated well, to set up a trade union and to see that the mine operates in the safe and environmentally-friendly way it has pledged to.
I trust him far and above any vote-begging politician or some global campaigner flying first class (not Greta, of course) around the world to lecture us on their messages of patronage and jam tomorrow. I know mining communities and I know working class people and this Whitehaven project is being used as a symbol by middle-class climate campaigners and middle-class MPs to curry favour in their middle-class constituencies, all while peddling and perpetuating the myth of the dirty working class body and the dirty working-class community.
This new coal mine would have brought hope into a community that has had none for many years – it might have been a symbol that these communities were being remembered again for their skills and strengths, rather than as places full of problems.
Think your friends would be interested? Share this story!
The statements, views and opinions expressed in this column are solely those of the author and do not necessarily represent those of RT.
You can share this story on social media: