Canada declares the Proud Boys a terrorist group, as BLM is nominated for the Peace Prize. Now, watch racial tensions explode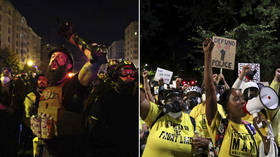 Canada's dramatically dropped the bar on what it defines as terrorism, adding the Proud Boys to a list that includes Al-Qaeda and ISIS, while Black Lives Matter is practically canonized. Is this the way to kill political dissent?
Considering that the foundation of US politics is now constructed almost entirely from the aggregate of half-truths, propaganda, and partisanship, it should come as no surprise that the news headlines are starting to reflect that sorry state of affairs.
Case in point is Canada's outrageous decision to designate the Proud Boys group as a terrorist entity, punishing the "white supremacists" for their participation in the January 6 riot at the US Capitol. Founded in 2016 by the Canadian media personality Gavin McInnes, who has since distanced himself from the group, the Proud Boys now rank alongside the likes of Al-Qaeda, Hezbollah, and Islamic State (IS, formerly ISIS) in Canada's rogues gallery of global baddies.
Ottawa's designation, which reeks of foreign meddling in the internal affairs of a sovereign state, begs a serious question: has Canada forgotten what terrorism looks like? Ask any person on the street to describe an act of terrorism and their answer will likely include references to deadly attacks on innocent civilians, such as the 2017 suicide bombing at the Manchester Arena in England that left 22 people dead, and the November 2015 Paris terrorist attacks that claimed 130 lives.
Have Canadians forgotten the series of attacks on September 11, 2001 that struck the financial and military heart of the United States, leaving some 3,000 people dead? Hopefully not, because that cold-blooded act of terror was responsible for getting Canada bogged down in the longest war in its history. As a member of a US-led international coalition against Al-Qaeda in the mountains of Afghanistan for 12 grueling years, Canada eventually lost 158 soldiers and 7 civilians in the course of the fight. For anyone who may have forgotten history, that is what terrorism looks like.
It is almost tempting, however, to excuse Canada for jumping the terrorist shark, as it were, considering the hysterical rhetoric emanating from its dangerously divided neighbor south of the border. Ever since January 6, when a horde of disaffected Trump supporters, among them members of the Proud Boys, descended on the Capitol building for the Electoral College count, the Democratic Party and its ever-loyal sidekick, the mainstream media, have been selling that incident as an act of Trump-sponsored 'terrorism'. Such is the incredible power of the person or party that has the media industrial complex in their back pocket. But I digress.
NBC News' house historian, Michael Beschloss, was just one of many media personalities and politicians who recklessly characterized the events on Capitol Hill as a "terrorist attack" ordered by then-President Donald Trump (who, coincidentally or not, is up for his second impeachment this week).
"This was a president of the United States inciting an insurrection, a terrorist attack on Congress," Beschloss said, without the slightest hint of irony, before dropping the 9/11 bombast. "We observed 9/11, we remember … an effort to fly an airplane into the Capitol and kill a lot of members of Congress. That almost happened. Here is a terrorist attack [on January 6] that did happen."
On both September 11, 2001, and January 6, 2021, terrorist haters of democracy tried to attack our Capitol and Congress. But on January 6, they actually managed to invade the building and put our leaders and our democracy in danger. We had a close call and must never forget.

— Michael Beschloss (@BeschlossDC) February 3, 2021
In yet another cheap attempt to politicize the event, House lawmaker Adam Schiff (D-CA) stood on the floor of Congress and conflated January 6 – a day that will certainly live in infamy for the Democrats – with some of the most pressing challenges that have ever confronted the nation.
"America has been through a Civil War, world wars, a Great Depression, pandemics, McCarthyism, and now a Trumpist and White nationalist insurrection," Schiff said with all of the solemnity he could muster.
Let's be clear: to lump together the Proud Boys with some of the biggest names in the terror business is a self-defeating gesture – a case of crying wolf – when it comes to fighting terrorism. Although they will never be confused as boy scouts, aside from a couple arrests for their involvement in street brawls, the Proud Boys have never carried out a premeditated attack on any individuals or individuals, to say nothing of orchestrating suicide bombings, hijackings, or other mass killings, which is the modus operandi of modern terrorism. This is not an apology for the group – just the simple facts.
So, why is Canada singling out the Proud Boys as a terrorist organization when left-wing groups such as Black Lives Matter and Antifa – organizations that have acquired global reach, as well as financial clout – are responsible for carrying out real violence in the United States?
Could the answer be that the liberal government of Justin Trudeau is only too happy to crush a right-wing group of largely Trump supporters, perhaps as a gift to the new US leader, and especially as impeachment proceedings against Trump are about to begin? And with talk of the Biden administration preparing to roll out a 'domestic terrorism law', the move by Canada will certainly help in those efforts. In any case, regardless of what happens, radical left-wing groups, no matter how much violence and destruction they spawn, will remain above the law.
That much was obvious following the death of George Floyd in May 2020 at the hands of a white police officer, as BLM went on a nationwide tour, looting and burning large swaths of the country. In the Twin Cities of Minneapolis and St. Paul, for example, three nights of rioting resulted in 400 buildings being damaged, at an estimated cost of $500 million. In Portland, Oregon, BLM and Antifa staged violent protests outside the federal courthouse – government property, just like the Capitol building – where demonstrators clashed with National Guardsmen and other federal agents in scenes every bit as chaotic as those witnessed on January 6.
To top off the anarchy, an entire city block of Seattle was taken over by left-wing protesters and declared, ironically enough, the 'Capitol Hill Autonomous Zone' – a short-lived experiment in police-free living that was soon disbanded after the citizens of this utopia started getting randomly killed by their own. Meanwhile, through the tear gas and mayhem, the media continued to provide ground cover, as witnessed by CNN's description of the wanton violence and destruction as "mostly peaceful protests."
Damn. I was watching CNN the other day, and I thought:Involves a Viking hat: That's a coupInvolves burning small businesses and government buildings to the ground: That's a mostly peaceful protest

— Emré likes the stock (@EmreBarish) February 1, 2021
How was BLM awarded for their handiwork? With an outpouring of massive corporate sponsorship amounting to tens of millions of dollars, which could have been better spent rebuilding the destroyed neighborhoods the pack left in its wake. In fact, the outpouring of support for Black Lives Matter, which seems to think that destroying neighborhoods is the way forward, has even included a nomination for the 2021 Nobel Peace Prize.
Incredibly, at the same time Canada awarded a predominantly white, right-wing outfit of US political malcontents with the yellow badge of 'terrorism,' a left-wing group of pro-black activists that isn't shy about resorting to violence to promote its message is in the running for one of the most prestigious and honorable awards in the world.
If I'm not mistaken, I'd say that, instead of working to promote a world of peace and stability, some very misguided politicians have just succeeded in driving up racial tensions – and possibly even the threat of terrorism – by several degrees. So, what's the reason? Are they trying to conceal something – like maybe the great wealth divide, made even greater during the Covid pandemic – by focusing attention on the 'racial divide?' Or is this yet another symptom of Trump Derangement Syndrome, even though the divisive populist has been effectively removed from office? Or, finally, can such inexplicable moves be put down to a case of sheer stupidity? Whatever the case, the inexplicable move by the government of Canada to designate a group of protesters as 'terrorists' sends a very bad signal to the world, and does not bode well for the future of democracy and race relations.
The statements, views and opinions expressed in this column are solely those of the author and do not necessarily represent those of RT.
You can share this story on social media: