Arnold Schwarzenegger's nonsensical likening of Capitol riot to Kristallnacht is a haunting pretext for dehumanizing Trump voters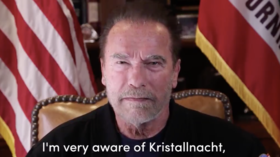 It's disgusting enough when a manipulator diminishes the horrors of the Holocaust by disingenuously invoking the Nazis to demonize a political enemy. It's downright nauseating when the invoker is a morally bankrupt Hitler admirer.
Enter stage far-left, Arnold Schwarzenegger.
The former Governor of California -- who said "I don't remember" when he was confronted in 2003 with an old interview transcript noting his admiration for the Fuhrer -- is winning plaudits on social media for posting a viral Twitter video on Sunday that absurdly compared 1938's Kristallnacht to last Wednesday's US Capitol riot.
Also on rt.com
'Hasta la vista, Donald!': Schwarzenegger sends message to Trump over Capitol Hill debacle
The Austrian-born actor's attempt at likening the Night of Broken Glass to the day when windows were broken at the Capitol was stupid, sure, but it was also devious. With dramatic music playing in the background and a propagandist's confident stare straight into the camera, Schwarzenegger leaped from defaming the Proud Boys -- calling them the equivalent of the Brownshirts who terrorized German Jews on Kristallnacht -- to condemning President Donald Trump and his "enablers" as coup engineers.
He framed his tale as a warning from someone who grew up in the ashes of Adolf Hitler's fallen reich. He spoke of how his father and the other former Nazi Party members on the block took out their emotional pain and guilt by getting drunk and abusing their wives and children.
The messaging is clear: This is what can happen when a nation loses its democracy, when people are misled and, little by little, go along with an evil leader's lies and intolerance. It goes without saying who is cast this time as the guy with the strange mustache.
"President Trump sought to overturn the results of an election, and of a fair election," the script reads. "He sought a coup by misleading people with lies. My father and our neighbors were misled also with lies, and I know where such lies lead."
The crowd ate it up. The video had nearly 34 million views by Monday afternoon, and the reviews were glowing.
Actress Alice Evans called the video "among the top 10 speeches I've ever heard." Journalist and author David Cay Johnston praised the message as "smart insights from someone who understands that Donald is a clear and present danger to our liberty." Actor Tommy Chong lamented that foreign-born Schwarzenegger isn't eligible to run for president: "What an intelligent president he would have made."
This must be among the top ten speeches I've ever heard. It's hit me viscerally. I feel hope. I feel like - I want to be a better person. ❤️

— Alice Evans (@AliceEvansGruff) January 10, 2021
Smart insights from someone who understands that Donald is a clear and present danger to our liberty.

— David Cay Johnston (@DavidCayJ) January 10, 2021
On the contrary, Schwarzenegger is more like a symbol of the pop-culture stupefying of America, from his acting to his politics. Comparing the Capitol riot, born out of an election-fraud protest, to Kristallnacht -- when synagogues and Jewish businesses were destroyed in a direct precursor to the Holocaust – is next-level ignorance. The fact that so many people bought it says a lot about where we are.
But it's not surprising in a country where millions of people were trained to believe Trump is a Nazi because he threatened to govern the US in the interests of American citizens. They see him as a dangerous dictator, even though he's the one being censored, and the deceivers who propagandized against him get book deals and bigger audiences than they ever deserved.
It's only fitting that the moralizer who's telling anti-Trump Americans what they want to hear today is someone who has no business lecturing anyone.
He groped and humiliated women in Hollywood for decades, which he admitted in 2018 after lying about it on the campaign trail in 2003. His marriage to Maria Shriver essentially ended in 2011, after it came to light Schwarzenegger had an affair – and a child – with his housemaid. And at least two black bodybuilders have accused the former Mr. Olympia of racist abuse.
Also on rt.com
Trump's blanket ban from social media proves the information war is over. If you're reading this, you've lost.
It also seems Arnie had something of a soft spot for Adolf in the past. Schwarzenegger was quoted in a 1975 interview saying, "I admired Hitler, for instance, because he came from being a little man with almost no formal education, up to power. I admire him for being such a good public speaker and for what he did with it."
But all of that will be forgotten today. Schwarzenegger, who made no such video when Black Lives Matter and Antifa rioters were burning America's cities and breaking glass last summer, is a hero again. He ripped the Bad Orange Man. And he's chiming in at just the right time in a push to inflict retribution on Trump's supporters.
"What are we to make of those elected officials who have enabled his lies and his treachery?" Schwarzenegger asked. He added: "John F. Kennedy wrote a book called Profiles in Courage. A number of members of my own party, because of their own spinelessness, would never see their names in such a book. I guarantee you. They're complicit with those who carried the flag of self-righteous insurrection into the Capitol."
All over America, people are being investigated and, in some cases, fired on suspicion that they attended last week's pro-Trump protest in Washington. Those who support Trump are guilty by association. Businesses are being warned not to hire people who worked for Trump. The cancel mobs won't have it.
"Let it be known to the business world: Hire any of Trump's (Press Secretaries) fellow fabulists-and Forbes will assume that everything your company or firm talks about is a lie." -'Why We're Holding Those Who Lied For Trump Accountable' https://t.co/oFMo9RP6yK

— Mia Farrow (@MiaFarrow) January 11, 2021
People are making blacklists, millions of Americans are being dehumanized, and their woes are being celebrated.
Does any of this sound familiar?
Subscribe to RT newsletter to get stories the mainstream media won't tell you.
The statements, views and opinions expressed in this column are solely those of the author and do not necessarily represent those of RT.
You can share this story on social media: