President Biden… now you've got rid of that ghastly Mr Trump, it's time the US and UK rekindled our 'special relationship'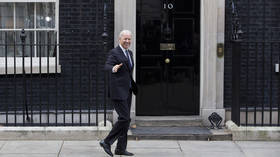 The new US President will meet the UK Prime Minister for the first time at the G7 summit in Cornwall in June. Here, RT.com gets a preview of what Boris Johnson might be preparing for his welcome speech.
Joe, my dear boy, it's so wonderful to see you here in, ahm, Carbis Bay in sunny Cornwall. First off, around here folks call me BoJo and – if I may be so bold – may I call you JoBi? Marvellous, marvellous. That's simply marvellous, old bean.
JoBi it is, then.
JoBi, ahm. Excuse me, Mr President? No, I'm over here. Could you wait five minutes before you go to the toilet again, please? Thank you. I'll call your nurse when I'm finished speaking.
Anyway, let me say on behalf of my Conservative government how lovely it is to see a Democrat in the White House again. President JoBi. Doesn't that just sound marvellous, marvellous?
We are all so terribly glad you got rid of that ghastly brute Donald Trump. Yes, yes. Donald did call me 'Britain Trump', without the apostrophe s... But let's not go there.
And, yes, indeed, it's true, Brexit and the Trump era do seem somehow inextricably linked, and the Obama administration – in which you were a most excellent vice president – very much saw Britain's place as being inside Europe looking out, not outside looking in.
President Obama might well have said before the referendum that Britain would be at "the back of the queue" when it came to a trade deal with the US, way behind the much larger EU market, but let's let bygones be bygones.
Anyway, let me tell you, Mr President, I only decided to back Brexit in the first place as it seemed like a suitable vehicle to get me to 10 Downing Street. It could have gone either way, I even had two articles written for the Daily Telegraph – one for each eventuality. A very Donald Trump approach to the world, not to get hemmed in by actual beliefs.
Allow me to quote myself, from that unpublished Telegraph piece, if I may: "This is a market on our doorstep, ready for further exploitation by British firms. The membership fee seems rather small for all that access. Why are we so determined to turn our back on it?"
Of course, it would have been so much easier to negotiate a trade deal with Mr Trump if he had won a second term, as he believed in Brexit. Or he said he did. As much as he actually believed in anything, other than Himself. But he thought we were chums, you see. By golly, I had him fooled!
Also on rt.com
Britain's Johnson is bowing & scraping to Washington and that's something for the world to dread
Trust me, JoBi. I only pretended to like him. My relationship with The Donald, it was never consummated.
Yes, yes. He and I had a lot in common. We both say whatever we think is needed to be said in the moment to get what we require. 'Truth' and 'promises'? Well, they're very flexible things.
And of course – it's true – The Donald and I both have an eye for the ladies. It's probably wise not to leave us alone around wives and girlfriends. But don't worry about it, First Lady Jill, I am a reformed man! I just became a daddy again. Little Wilfred is my sixth. I think? I do lose count sometimes. Anyway Jill, you're far too old for me. Carrie, the missus, is 24 years younger than I am.
Anyway JoBi, the UK and the USA must always preserve our 'special relationship', even though it's often overstated, especially by the Vote Leave crowd to paint a picture of a rosy trade future. British people do somehow seem to believe everyone in the USA is proxy English, maybe because of the shared language.
Her Majesty's Press often seems to forget about Italian-Americans, African-Americans and such like. Even Donald Trump Himself was actually of German descent. Trump's grandfather, Friedrich, began the family fortune by running a brothel in Canada. Did you know that? His ancestral name was originally Drumpf, apparently. I do so like a bit of history.
And yes, JoBi, you have often stated your close ties to your ancestral home of Ireland and being part of the EU protected the peace agreement that has held so well since the Blair years.
Tony Blair, ah yes, a Labour Party Prime Minister. He would be much more your cup of tea. But he's gone JoBi, gone. Although he may be set for a comeback, so they say, a la Charles de Gaulle.
Anyway, before we tuck in to the first course, remember we do agree on many things: calming tensions with Iran and avoiding a nuclear arms race in the Middle East, for example, and international co-operation on defence, security and intelligence.
And let's not forget climate change, we are very much aligned on this issue. Of course, in November we will welcome you back again to the UK, to Glasgow, to discuss how we can save the world. Just don't ask what JoBi means to your average Glaswegian. Ho ho.
Mr President? Mr President? Can someone give the President a nudge? There you go. On that note, everybody raise your glass: welcome to Britain, President JoBi.
Think your friends would be interested? Share this story!
The statements, views and opinions expressed in this column are solely those of the author and do not necessarily represent those of RT.
You can share this story on social media: