2021's nostalgia trip will see Sex And The City & Sopranos revivals, but what the world REALLY needs is a comeback from Tony Blair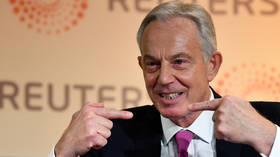 The late 90s and early 2000s are back in fashion this year as some TV favourites are reborn. But it's the return of a former British Prime Minister in the battle against Covid that we should be most excited about.
It's alright… we're saved… never fear… Super Tony Blair is here!
Man, I don't know about you, but it's a massive relief to know Super Tone has slipped into his external underwear and cape and is now sweeping down from the clouds to save the world from the pandemic and Boris bloody Johnson.
In fact, Covid-19 would never have got started in the first place if Super Tone had been around in a Lycra suit. He'd have flown to China himself and whipped the bugger in that Wuhan market.
Bish! Bash! Bosh!
If only he had been asked. He was a bit busy making loads of money at the time, though.
Blair has been on the phone to Health Secretary, and fellow Newcastle United 'fan', Matt Hancock to offer 'strategic advice' on how to beat that pesky virus amid Britain's 'inadequate leadership' – ie bumbling Boris Johnson.
Getting everyone in the UK vaccinated would actually be a doddle if Super Tone was in charge.
A friend of Blair told the Sunday Times, "Tony believes deeply, as do many of the people around him, that he left office at the peak of his powers. He got better at governing as time went on. Ten years later, he is definitely animated by a burning feeling that the British governance is inadequate. He feels that he has the drive and ideas to change that."
Tony Blair, of course, isn't a doctor. Nor is he an epidemiologist. He is that rarest of rare creatures, a former Labour Party leader who can actually win elections.
He won three: in 1997, 2001 and 2005. He then stood down to make way for his former pal Gordon Brown, because they'd apparently made a pact when previous leader John Smith died and opportunity knocked.
No doubt that must be one of Super Tone's greatest regrets – Brown, of course, promptly lost the next election to a Tory/Lib Dem coalition which eventually paved the way to a referendum on… Brexit.
Labour hasn't won an election since. And it seems it didn't actually like winning anyway, as Blair has been pretty much ostracised by the party - not least because of his support for the Iraq War and belief in dodgy dossiers, plus his cosy friendship with George W Bush, the biggest presidential bogeyman for the left until he was trumped by, well, Donald Trump.
Blair has been out of office for almost 14 years but is now, according to the Sunday Times, headed for a "de Gaulle style comeback," referring to how the French President Charles de Gaulle returned to power 12 years after leading his country out of World War II.
His think tank, the Tony Blair Institute for Global Change, has been pointed towards Covid-19 for a while now. And he even has a fan in the form of Brexit guru Nigel Farage; they'd be a dream ticket to run the UK if ever there was one - if only for the humour value.
Blair was very much pro-Europe.
Farage said in a video message, "I do not agree with Tony Blair on much, but he has led the debate on vaccinations well. Put him in charge of the vaccine programme and let's have a government of all the talents to end this unmitigated disaster."
I do not agree with Tony Blair on much but he has led the debate on vaccinations well.Put him in charge of the vaccine programme and let's have a government of all the talents to end this unmitigated disaster. pic.twitter.com/U5a1ZGp7PS

— Nigel Farage (@Nigel_Farage) January 4, 2021
Is it a bird? Is it a plane? No! It's Super Tone! Come on Tony, fly back down, biff that bozo Boris and take your rightful place at the despatch box. We need you now.
You won't be the only one making a comeback in 2021. The hit TV show Sex and the City, which first aired the year after Blair became PM, is to return this year with three of the original cast members and a new title And Just Like That.
The Sopranos, which first aired in 1999 and finished in 2007 - the same year Blair departed the Westminster stage - is also set to return in 2021, as a movie prequel called The Many Saints of Newark.
Also on rt.com
Meet 'Dr' Tony Blair, warmonger turned vaccination guru and health passport promoter
This year will also see a new rock opera based on the life of Blair, with lyrics penned by comedian Harry Hill – yet another throwback to the 2000s, you don't see so much these days in his oversized collars. (Hill, funnily enough, actually IS a trained medical doctor).
It is to be staged at the Turbine Theatre, a fresh venue beside the rejuvenated Battersea Power Station in London. It's part of a £9billion office, retail and housing project expected to be completed in 2021.
Tony! (A Tony Blair Rock Opera) will have a cast of supporting characters that include Osama bin Laden, Princess Diana and Saddam Hussein. Should be fun when it runs for a couple of weeks or so from February 1.
Oh, it's very unlikely you or I will actually be able to get out to see it – everyone will still be in lockdown. Unless, of course, the messianic Tony can come to our rescue…
Think your friends would be interested? Share this story!
The statements, views and opinions expressed in this column are solely those of the author and do not necessarily represent those of RT.
You can share this story on social media: