Libs dance on grave of singer Ariel Pink's career for attending pro-Trump rally but ignore violent rhetoric from leftist celebs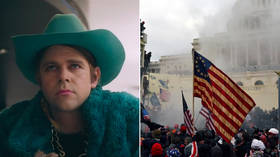 Despite saying he was not part of the US Capitol riot in an interview with Tucker Carlson, singer Ariel Pink's career continues to fall apart and liberals are dancing on its grave for reasons never applied to anti-Trump celebs.
In terms of the entertainment world, four years of a Donald Trump presidency has taught us two things.
The first is one that should have already been known to anyone paying attention to the recent movement of the culture: Hollywood's anointed celebrities are mostly out-of-touch, vapid creatures who stick to whatever larger narrative will advance their careers and keep them away from controversy. While Trump was president, this meant becoming an overnight political expert and obsessively targeting him and anyone who supports him.
The second is an extension of the first: there is no greater crime an artist can commit today than espousing ideas that can be aligned with the right.
Musician Ariel Pink, birth name Ariel Rosenberg, is learning that very quickly. Pink has seen fans and colleagues turn on him after it was revealed he attended the pro-Trump rally in DC that occurred before the storming of the US Capitol last week. Pink has denied taking part in the actual riot, an egregious act committed by unstable supporters that left five dead, including a police officer.
Also on rt.com
Hollywood could teach Joseph Stalin some new tricks about erasing history amid calls to remove Trump's 'Home Alone' cameo
This pesky detail has not mattered though. The storming of the Capitol was the sole act the left needed to validate their most extreme fantasies about conservatives, and Pink has found himself dropped by his record label and struggling to maintain a career.
Appearing on Fox News' Tucker Carlson Tonight, yet another act that has caused backlash for the artist, Pink described himself as "destitute" and "on the street," unable to tour in the wake of the fallout.
"I'm sort of overwhelmed right now and I don't know what to do. My family's been getting death threats. The hate is overwhelming. People are so mean. I'm terrified," he said.
The musician also reiterated the fact that he did not visit DC for any sort of riot and was merely there to see the president speak and put his support behind him.
"I went to the White House to see our president, I went to the hotel, took a nap, end of story," he said. "I was there for a peaceful rally, that's all it was to me."
This has not stopped critics from trashing the artist and aligning him with the worst examples of conservatives.
It should be noted that Pink is facing a different sort of controversy in regards to ex-girlfriend and bandmate Charlotte Ercoli Coe, who has alleged sexual and mental abuse during their relationship together, detailing Pink attacking her onstage at a 2017 show (something she defended as "fun" on Twitter at the time) and giving her a sexually transmitted disease.
Pink, who says he can't afford his lawyer at the moment, has denied being a "sexual predator," but admitted to the onstage attack, calling it "gross." A copy of a text message allegedly belonging to Pink also finds him admitting to "f***ing up" in the relationship and sharing nude photos to brag "about how hot my [girlfriend] is." The singer, however, has denied further allegations and has sought restraining orders from Coe, alleging blackmail.
If allegations against Pink from this he said/she said mess are true then they are obviously worthy of consequences, but they are not the point in the larger discussion of artists facing professional consequences for their support of Trump. After all, critics of Pink target his decisions to go on Fox News and attend a Trump rally – and remember when and why his label dropped him – more than anything else because, again, the greatest cultural crime an artist can commit today is breaking from the accepted liberal narrative.
Look at the numerous other examples of this. Artists who have aligned themselves with Trump in any way have faced racist and misogynistic attacks, and some have even lost gigs.
Pink is an example of how conservative artists are treated post-US Capitol.
Also on rt.com
Ben Shapiro's first 'movie for conservatives' isn't bad, but he needs to show it somewhere other than his right-wing echo chamber
On the flip side, liberal celebrities push violent rhetoric on a constant basis and are actually celebrated by the mainstream media and social media mobs hungry to devour anything remotely conservative.
Artists like Alec Baldwin and Sean Penn, pushed out in media interviews as pseudo-experts on anything political, are among the many celebrities to joke or even encourage the death of President Trump. Snoop Dogg, Kathy Griffin, Madonna, and others have joined in on those fantasies.
Even amidst Black Lives Matter protests that turned violent over the summer – conveniently being ignored by the media now – liberal celebrities showed their undying support for the movement and did nothing to tone down their rhetoric.
Leading up to the presidential election, it was the same story. Loudmouths like Michael Moore described "acts of violence" by the right that amounted to little more than differences of opinion. The violent rhetoric is commonspeak for liberal celebrities and is never once questioned by the media or their Hollywood overlords.
As a conservative, especially a pro-Trump one, you can get lambasted for things you don't even do. 'Walker, Texas Ranger' star Chuck Norris even had to release a statement confirming he did not attend the pro-Trump rally in DC ahead of the Capitol riot after an image of a lookalike – who is clearly not the actor – surfaced and earned waves of criticism for supposedly helping to "incite" the violence that occurred.
Pink is now the poster-child of the dire professional consequences one can face for being an artist and thinking freely, something that is not welcome in a culture that is quickly being purged of dissenting opinions and middle-of-the-road ideologies.
If the issue was artists aligning themselves with and promoting political violence then it would not be just Pink losing gigs and struggling. The real problem is that the culture has been weaponized by extremists who feel righteous enough to forgive their own tactics while promoting the cancellation of anyone who dares to not go along for the ride.
If you like this story, share it with a friend!
The statements, views and opinions expressed in this column are solely those of the author and do not necessarily represent those of RT.
You can share this story on social media: