'I'm a Weapon of Mass Distraction': American lawyer who took on US oil giant held under house arrest in New York for 500+ days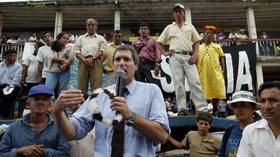 Steven Donziger's story is that of a single man battling a powerful corporation over its devastating pollution of the Amazon region – and paying a terrible price. Here, he speaks exclusively to RT.com about his ordeal.
As a law graduate from Harvard, a contemporary of Barack Obama, there's an expectation you would be exempt from the abuses of the US state.
However, things have played out differently for Steven Donziger.
He's been under house arrest for over 500 days, despite being convicted of no crime. He has been disbarred and vilified, had his bank accounts frozen, and now faces up to five months in jail. He is forced to wear a GPS device strapped to his ankle, and in order to leave his two-bedroom home in New York he needs permission 48 hours in advance.
Donziger, speaking to RT.com from his seventh floor Manhattan apartment, says: "I can't even go get the mail in the lobby. What's happening to me has never happened to any other person in America for even one day."
Also on rt.com
Blocking Assange's extradition to the US is the right decision… but it's been made for the wrong reason
His crime?
Officially, he has been charged with criminal contempt of court.
The more likely reason, according to him and his supporters: he is being persecuted for taking on a US oil giant, and winning.
The saga began three decades ago in 1993, when Donziger became part of a legal team that began proceedings against Chevron for systemically polluting the land of the indigenous people in the oil-rich Lago Agrio area of Ecuador.
They won damages of $18 billion from an Ecuadorian court in 2011, later reduced to $9.5 billion – less than a tenth of Chevron's 2019 turnover of $139 billion.
Chevron, however, has not paid a cent of that. It instead turned its guns and money on Donziger, and has spent many millions – the target himself estimates it might actually be billions – in the battle against him.
'They dumped massive amounts of toxic waste'
The polluting was done between 1964 and 1992 by Texaco, which was later bought by Chevron.
"I think this is probably the most important corporate legal accountability case in the world today," Donziger states. "It's connected to global warming and the survival of our planet.
"Oil and big fossil fuel companies do not want to pay for their pollution, if they have to, then their entire business model would be much less viable or would have to be extinguished, in my view.
"They don't pay for the damage they caused and run away with profits… it's blood money and they use a lot of that to try to green wash their reputation and attack their critics like me.
"Chevron dumped massive amounts of toxic waste and killed people in the process.
"They think by attacking me they won't have to live up to their legal obligation to the indigenous people in the Amazon they poisoned for decades to save money on their production costs.
"The larger case is still alive and is promising… they feel enormous risk."
It's a complex situation, but Donziger's current predicament is because allegations have been made over his conduct in the case, with a US court ruling in 2014 that the Ecuador judgement was "obtained by corrupt means."
This is based on allegations that Donziger ghost wrote the original court judgement against Chevron and bribed Ecuadorian officials, even though the pollution damage was not challenged. This was claimed by former Ecuadorian judge Alberto Guerra, who has since admitted this was a lie.
Donziger feels that having to defend these spurious accusations is all part of a strategy of intimidation. "I defend myself constantly but I don't feel I should have to – we won the case. The whole idea is to make it a debate over me. It's a clever narrative they have created.
"I wasn't the lawyer in Ecuador, there was a legal team there but they tried to blame it on me as conceptually they can't account for the fact that Ecuadorians have the sophistication, skill, and volition to win a case against them in court.
"It has to be some American guy who manipulated that, which is not true.
"Are there things that could have been done differently? Of course, any lawyer who litigates a multi-year complex case who says otherwise is full of s**t. Those are strategic and tactical decisions, not ethical decisions."
Donziger's case, which carries a maximum prison sentence of five months, was finally due to be heard next week in New York, but due to Covid it has just been pushed back to May 10. He will have endured nearly 650 days of house arrest by then.
The reason the detention was ordered was because Donziger was deemed a flight risk, due to his links with Ecuador.
Donziger, who is 60 years old and doesn't have a criminal record, says the idea he'd flee is "preposterous": "That's not how I roll, I don't run from things and I wouldn't do that. And it makes no logical sense; if I did that I would be a fugitive for the rest of my life, and I'm only facing five months [in jail] here."
'They want to crush me'
He marked his 500th day under house arrest last month in a scene straight out of a Latin American playbook, with an address to supporters from a window of his apartment.
Donziger is adamant he should not be facing criminal charges at all: "The orders that are the basis for these criminal charges are currently under appeal. They are civil orders, but the judge charged me with criminal contempt for not complying with a civil order that I appealed and has not been determined to be lawful yet; that's never happened, as far as we can tell, in the entire history of the United States."
The other unique element is that the US District Court for the Southern District of New York declined to prosecute Donziger, but a judge allowed a private law firm to do so. It was then revealed that Chevron was a former client of the firm, as recently as 2018.
Also on rt.com
US charges for new Lockerbie suspect 32 years on are a dismal show of mawkish grandstanding
Donziger says: "Basically a private law firm was appointed by the judge to prosecute, but he hid the fact that the law firm had Chevron as a client.
"This is a corporate capture of elements of our federal judiciary for Chevron to deprive me of my liberty, take my passport, take my money, and crush me.
"They don't want me to continue my advocacy such that they will have to pay the judgement by having it enforced in countries where they have assets outside of the United States."
In the main case, three appeal courts in Ecuador have upheld the $9.5 billion award, including its supreme court. Canada's supreme court has also agreed.
Donziger feels a large part of the issue is that some elements within the US don't want to be challenged by smaller, less powerful nations.
He explains: "[The] trial court judge is the lowest level judge in the federal system and he has ruled to overturn a decision of a sovereign nation at the highest level by their supreme court. Can you imagine the reverse, if an Ecuadorian trial judge tried to overturn a US Supreme Court decision? It's judicial imperialism.
"They hate the concept of a country like Ecuador having a court that holds a big US company accountable. I don't think they want other countries ruling on the conduct of US companies to this degree."
'I've been SLAPPED'
Donziger's law license has been suspended, as a consequence of the contempt of court charge.
He appealed but it has not been reissued. So not only is his movement restricted, but he has lost his livelihood and Chevron has had his bank accounts frozen.
Donziger feels he is a victim of a SLAPP – a Strategic Lawsuit Against Public Participation, designed to chill free speech: "What is happening to me is a small piece of a broader mosaic; I'm being used as a weapon of mass distraction.
"Chevron is trying to kill off this kind of work, to make the cost of this so high that there will be fewer human rights lawyers. My focus is to get my clients the result that has been legally granted."
But life is tough, as with no income Donziger relies solely on donations to exist.
"People donate all over the world $5 or $10 at a time, which we use to pay our bills, plus my wife has a modest job," he says. "It's a struggle to survive, and if my donations stopped I'd be homeless.
"I'm amazed at our resilience and ability to deal with it. Obviously, it's extremely depressing on one level, but it's also nourishing on another to know that you're effective enough that they go to these extreme measures.
"What's really encouraging is to see is the solidarity and response of tens of thousands of people around the world who've signed up to our campaign, the 55 Nobel laureates and 37 bar associations who've stepped up to support me - that lifts our spirits enormously.
"We try to create a level of happiness in our home every day, my wife and I vowed to not let it turn into a pathology. We're as good as we can be under the circumstances and mentally our health is solid."
America has a huge media industry, but the corporate interests in his case have meant Donziger feels shunned by large parts of it. His plight has been featured only on certain platforms: "The independent media has been pretty engaged, but the big networks that rely heavily on corporate advertising have been very disengaged, and I include the New York Times in that."
Perhaps not surprisingly, given his profession, Donziger still believes in the rule of law. However, he does feel there is scope for US judges to abuse their power, as only four federal judges have ever been impeached, so some may feel they can act with impunity.
"I think the vast majority of federal judges do their jobs correctly," he states. "It is overall a pro-corporate judiciary in America, but I think almost all judges are conscientious about fulfilling their ethical duties.
"And there are lawyers who have it worse than me, who're locked up in Turkey, Saudi Arabia and Russia, but this hasn't been seen before in the United States, and this trend is growing around the world.
"I don't think it should be divorced from the authorisation we see manifested by Donald Trump, Orban, the Law and Justice party in Poland, and Boris Johnson to some extent.
"These are trajectories that are quite dangerous to people of colour and vulnerable communities, and those who stand up effectively have become targets – I'm an example of that."
Donziger remains a humorous, affable man, who even makes a few wisecracks at his own expense during the interview; when discussing being in a good mental state, he quipped: "That's my own self-assessment, others might disagree," and then heartily chucked like a man without a care in the world.
He also spent the final 10 minutes of our Zoom call discussing his favourite English football team, Fulham, and their troubled season, along with his confusion at why star Dele Alli is not being picked by Tottenham Hotspur's manager Jose Mourinho.
It was reassuring to see that, while his liberty has been taken, his spirit hasn't been broken.
He isn't seeking to be placed on a platform or hailed as a campaigning icon. To him, he was simply doing his duty and he wants to return to it: "I never thought of this in any other way as a lawyer doing my job to get a result for my clients. But they want to silence dissent and send a message to anyone else who might stand up to corporations – that is, what could happen to you is what is happening to Steven Donziger."
Like this story? Share it with a friend!
The statements, views and opinions expressed in this column are solely those of the author and do not necessarily represent those of RT.
You can share this story on social media: