US charges for new Lockerbie suspect 32 years on are a dismal show of mawkish grandstanding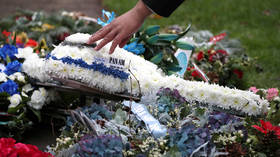 Attorney General William Barr's announcement of charges for the man who allegedly made the bomb that blew up Pan Am Flight 103 in 1988 feels like the last desperate measure in a sorry saga that has lasted more than three decades.
America wields an unhealthy, mawkish obsession with terrorist attacks. It lets them fester to prolong the pain, like some national ritual. That's why there was an inevitability about Attorney General William Barr's latest manoeuvring over the Lockerbie bombing this week.
The incident occurred over the skies of southern Scotland in 1988, as a jumbo jet on its way from London to Detroit via New York exploded at 31,000 feet. All 243 passengers plus 16 crew members on board Pan Am Flight 103 were killed, as were 11 people on the ground.
In the aftermath, all the intelligence reported to the media created the impression that Libyan dictator Muammar Gaddafi was the orchestrator.
And now, to mark the occasion, exactly 32 years on, Barr has announced charges are being brought against a new suspect. Mohammed Abouagela Masud is suspected of making an explosive device and delivering it to be loaded onto the plane.
Oddly, Barr made these claims in 2012 to Libyan investigators after the fall of Gaddafi's regime.
Why it has taken eight years to charge Masud isn't clear. Although perhaps it shouldn't be a surprise, as the entire investigation has been mired in controversy from the very outset.
Charges were first brought in November 1991 against two suspects. The then-acting attorney general played up to the gallery, declaring: "We have the resolve and the ability to track down – no matter how long it takes – those responsible for terrorist acts against Americans." It will come as no shock to hear those were the words of William Barr during his first spell in his current role.
In 2000, two Libyans, Abdelbaset Ali al-Megrahi and Lamen Khalifa Fhimah, stood trial. The following year, al-Megrahi was found guilty and given a life sentence and Fhimah acquitted.
Their trial took place under the Scottish legal system, but with input from representatives of the US Department of Justice in a court at a disused US Air Force base near the Dutch city of Utrecht. That bizarre situation was brokered by a number of individuals, including Nelson Mandela and Tony Blair. It was a non-jury trial, so three Scottish judges delivered the verdicts, and they were confirmed in the resulting appeal.
It was 2002 before al-Megrahi took residence in a Glasgow prison, but even before he entered his cell, there were cries of a miscarriage of justice. Mandela, for one, spoke of how he had new evidence that cast doubt on the Libyan's guilt.
Jim Swire, whose daughter Flora was on the plane, led a campaign to clear al-Megrahi's name and kept that fight going for over a decade. He said, "We have a common interest; to have the verdict against him re-examined."
In 2009, al-Megrahi was released from prison on compassionate grounds, as he had terminal prostate cancer. He returned to Libya amid bizarre scenes, with a crowd at the airport greeting him like a gold-medal winning Olympian. That kicked off a debate as to whether he should have been allowed to spend his remaining time as a free man.
Swire said, "The scandal around Megrahi is not that a sick man was released, but that he was ever convicted in the first place." But then US President Barack Obama countered, "I think all of us here in the United States were surprised, disappointed and angry about the release."
Despite only being expected to survive a few months, al-Megrahi battled on for another three years before succumbing to his illness.
This caused many to speculate that the cancer had been a lie, but US diplomatic cables published by WikiLeaks revealed it was "inoperable and incurable."
They also revealed how the British government was saying one thing in public and acting very differently behind closed doors. One theory was the deal to send him home related to BP gaining access to Libyan oil, which Gaddafi's son Saif denied. "This was one animal and the other was the compassionate release. They are two completely different animals," he claimed.
In what became a never-ending story of appeals, the case boiled down to whether a Maltese shopkeeper was able to accurately identify al-Megrahi as someone who had bought clothes from him. These were the garments in the suitcase containing the bomb.
The latest appeal ended last month with the verdict being the trial judges were "fully entitled to infer" al-Megrahi had been involved in the bombing. Hardly a ringing endorsement of guilt and it did nothing to convince the court of public opinion.
So barely a fortnight later and in his last major act before he exits as attorney general, Barr has appeared again like he did in 1991 proclaiming to have found the culprit – who will have to be extradited from Libya, which in all likelihood will never happen.
This debacle could still be unresolved by the time Barr and plenty of others have passed on judging by the length of time it's taken to get to this point: a questionable conviction and a new suspect appearing out of the wild, blue yonder.
It clearly haunts Barr that his vow to hunt down the perpetrators in 1991 now looks embarrassing. His latest act is a PR exercise to make it look like the world's most powerful nation has eyes on everyone, no matter what dark corners they are lurking in. But the reality is it doesn't.
Also on rt.com
The end of American power: Don't blame Trump, and don't expect Biden to save it either
And how sickening is it to bring new charges on the 32nd anniversary of the bombing? It has the feel of a faded pop band announcing a tour to celebrate their only hit single to stay in the limelight and earn a final pay packet. It also speaks to the American need to stoke the fires of revenge and pain simultaneously.
The US turned hunting Osama bin Laden into a national soap opera, before killing him and throwing his corpse into the ocean. It has also shown what it is capable of with Julian Assange and Edward Snowden. Nothing is off limits in the quest for vengeance.
America selectively forgets all the conflicts it has fueled, how its state actors have fired missiles and killed people in so many lands. Any damage to it is seen as more important, so terrorist attacks from decades ago are kept alive on media-powered ventilators.
William Barr and the US government are conducting a dirty game and it does nothing for the memory of the 270 innocent souls who perished in 1988.
Think your friends would be interested? Share this story!
The statements, views and opinions expressed in this column are solely those of the author and do not necessarily represent those of RT.
You can share this story on social media: