Blocking Assange's extradition to the US is the right decision… but it's been made for the wrong reason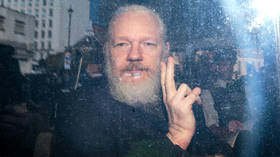 Julian Assange has been saved from extradition to the US from the UK as he is considered a suicide risk. While the outcome has been welcomed by many, it does nothing to address political persecution or support press freedom.
The battle is over, but the war is not. The decision by Judge Vanessa Baraitser not to extradite WikiLeaks' Julian Assange was highly unexpected. After all, investigative reporting has revealed she has a track record of having approved 96 percent of extradition requests.
Very few of Assange's backers and supporters of press freedom believed she would do the 'right thing'. And they have been proven correct.
Yes, it's a relief that a man who uncovered the wanton abuse of state powers will not be sent to America to face trial and a potential lifetime behind bars. And it's a massive shot in the arm for anyone who believes ordinary people are entitled to know what governments and authorities do in their name.
For that, the judgement at the Old Bailey in London will be viewed as a landmark decision. Many will see it as reasserting the basic fundamental right to seek truth and hold states to account for their actions.
Also on rt.com
Slavoj Zizek: The treatment of Assange is an assault on everyone's personal freedoms
Hearing the verdict, the crowd outside the court erupted with joy, chanting "Free Julian Assange now!" and passing around bottles of champagne. But he is not expected to be allowed to leave custody until later this week, as the US government plans to appeal the decision. That will be processed first, and then he should be released following a bail hearing on Wednesday.
It will be Assange's first taste of freedom since June 19, 2012, when he applied for political asylum in London's Ecuadorian Embassy, subsequently appearing sporadically on a balcony to wave to the world. During that time, he fathered two children with his partner Stella Moris.
He was removed from the embassy by British police on April 11, 2019 and has since been incarcerated in Belmarsh Prison, in south-east London.
His first appearance in public will, for some, be like Martin Luther King's 'I have a dream' speech, or the JFK assassination – they will remember it forever. But, sadly, that is not how the establishment or governments will view it.
Assange's legal team failed to convince the judge he had not committed politically motivated misdemeanours. He was freed for the sole reason that he is considered a suicide risk if sent to the US. He is struggling with both his physical and mental health.
Also on rt.com
Only we can lock up journalists and get away with it, UK embassy warns China
As one of his supporters said after the verdict, "The political arguments were upheld. It is only the doctor's assessment of Julian Assange that has saved him from extradition."
The refusal to extradite was because the court felt the US prison system would be too inhumane and potentially tip Assange over the edge. In short, the judge felt if he were to be locked up in America, he would die – either of physical ill health or by killing himself.
Recent pictures of Assange show a person who appears to be in a worryingly frail condition compared to the healthy man who entered the Ecuadorian Embassy.
With a lack of access to fresh air, exercise and, normal human interaction for so long, this is hardly surprising.
Investigative reporter John Pilger tweeted, "It's a face-saving cover for the British to justify their disgraceful political trial of #Assange on America's behalf."
Julian #Assange has been discharged by the judge at the Old Bailey on grounds that he was too great a suicide risk if extradited to the US. This is wonderful! It's a face-saving cover for the British to justify their disgraceful political trial of #Assange on America's behalf.

— John Pilger (@johnpilger) January 4, 2021
The judgement even made reference to billionaire convicted paedophile Jeffrey Epstein's death in custody as an example of why Assange should not be sent there.
Speaking outside the court, Rebecca Vincent, the director of Reporters Without Borders, commented, "It is very clear on substantive grounds: this country would have handed him over."She added: "The arms of the US can reach everywhere."
Britain's legal system exits this affair looking both lily-livered and toothless. Instead of taking a stand for freedom of expression and supporting fearless reporting, it has used a technicality to duck out of any responsibility.
The concern for Assange's life is clearly important and respected by all, but the refusal to appreciate the political element of his persecution is appalling.
It is a half-cocked effort to appease everyone and thereby maintain the sinister status quo. The message is clear: any future journalist or whistleblower who ends up in the same situation, who is physically more robust than Assange and lacking his profile, will be extradited.
We should all celebrate the restoration of Assange's liberty. He is guilty of nothing and has been denigrated for revealing sordid secrets the US government wanted to keep hidden forever.
Assange deserves to walk free and be respected for what he did in the name of truth. But the fact remains, Judge Baraitser did the right thing for the wrong reason.
If you like this story, share it with a friend!
The statements, views and opinions expressed in this column are solely those of the author and do not necessarily represent those of RT.
You can share this story on social media: