Pompeo is right that Al-Qaeda is active in Iran. But he's not looking for military action… he wants to cause problems for Biden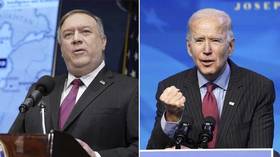 Encouraged by Israel, the US Secretary of State has attempted to put roadblocks in the way of any Joe Biden-led reconciliation with Iran. But his strategy may not play out the way he intended.
According to Mike Pompeo, it was a tale as old as time – the world's largest state sponsor of terrorism colluding with the world's most dangerous terrorist organization against the interests of the United States and its allies.
These allegations were made yesterday during an address at the National Press Club, in Washington, DC. "Al-Qaeda," Pompeo announced, naming the terrorist group responsible for, among its many crimes, the 9/11 attacks on the US, "has a new home base. It is the Islamic Republic of Iran."
According to Pompeo's modern-day version of 1001 Arabian Nights, "[a] sea change was happening within the Iran-Al-Qaeda axis," with the Secretary of State noting that "Al-Qaeda today is operating under the hard shell of the Iranian regime's protection."
Almost every news outlet that has followed this story has come away with two conclusions: that Pompeo failed to provide any evidence to sustain his allegations, and that the purpose behind his speech was to build a foundation for military action by the US against Iran in the waning moments of the Trump presidency.
Also on rt.com
'Reheated propaganda': Pompeo speech claiming al-Qaeda has 'home base' in Iran roasted as 'absurd' pretext for conflict
These take-aways are both wrong.
US allegations that Iran has provided a haven for Al-Qaeda pre-date the Trump administration. The US and its allies have been tracking Al-Qaeda activity since before 9/11. While there is no evidence that Iran played any part in either inspiring, facilitating or implementing that attack, there is every reason to believe that the Iranian security services have, in fact, formed a covert relationship with Al-Qaeda as regards to opposing US intervention in the Middle East and Southwest Asia since the terror attack on the US.
Pompeo did not craft his allegations out of whole cloth – indeed, his narrative of an Iranian-Al-Qaeda nexus has been a part of official US policy since 2008. According to a US treasury report released in December 2011, Iran has in place a formal agreement governing its relationship with Al-Qaeda
The report noted, "Under the terms of the agreement between Al-Qaeda and Iran, Al-Qaeda must refrain from conducting any operations within Iranian territory and recruiting operatives inside Iran while keeping Iranian authorities informed of their activities." If Al-Qaeda didn't violate these terms, "the Government of Iran gave the Iran-based Al-Qaeda network freedom of operation and uninhibited ability to travel for extremists and their families."
Also on rt.com
Pompeo claims Al-Qaeda has new home base in Iran, but doesn't provide evidence
While the report did not specify the source of the intelligence used to prepare the estimate, it is widely believed that some, if not all, of the information was derived from documents seized by the US during the May 2011 raid on Abbottabad, Pakistan, which killed Bin Laden.
Since the release of the 2011 report, the State Department, in its annual 'Country Reports on Terrorism' publication, has accused the Iranian regime of hosting Al-Qaeda's "core facilitation pipeline" and "remained unwilling to bring to justice senior Al-Qaeda (AQ) members it continued to detain," while also refusing "to publicly identify those senior members in its custody." The State Department has routinely named persons it has connected to this activity, most recently in its 2019 iteration of the report, released in 2020.
The US is not alone in making such an assessment. In mid-2018, the United Nations Analytical Support and Sanctions Monitoring Team, operating under the mandate of the Security Council, identified two members of Al-Qaeda were playing prominent management roles within Al-Qaeda while based in Iran. One of these, Abdullah Ahmed Abdullah (aka Abu Muhammad Al-Masri), was described as Al-Qaeda's number two man. On August 7 last year, Abdullah was killed, ostensibly by Israeli assassins, in a Tehran suburb.
By bringing light to a decade-old accusation, Pompeo appears to be building on the assassination of Abdullah as part of a broader Israeli strategy of pressuring President-elect Joe Biden to walk away from his stated intention of rejoining the Iran nuclear agreement and seeking to normalize relations with Iran.
Also on rt.com
Bullying and racism won't prevail: Iran's president hails Trump's departure, compares him to former Shah
According to Israeli media, "Israel wishes to portray Tehran as a terror incubator for the organization that was responsible for the September 11 attacks," in the hope that by doing so, political obstacles are created that would impede any such reconciliation. Reports that Pompeo met with Mossad Chief Yossi Cohen at a café in Washington, DC the day before delivering his anti-Iran speech only fueled such speculation.
The Obama administration, including Joe Biden in his role as vice president, had soft-pedalled the allegations of an Iranian-Al-Qaeda nexus when crafting the 2015 Iran nuclear agreement. The actions of Pompeo in going public with these allegations are less about laying the foundation for a war with Iran (indeed, some press reports state that President Trump has issued explicit orders for Pompeo to make sure his rhetoric doesn't provoke such an outcome), but rather to paint the incoming Biden administration into a corner where any attempt to negotiate with Iran must address an issue that, if true, would be deeply polarizing to both political parties in Congress.
The fact is, Pompeo has probably overplayed his hand. "This is not a love match," Barbara Slavin, the director of the Future of Iran Initiative at the Atlantic Council, told Al-Monitor.com. "It's always been an uncomfortable relationship, one that has been extremely cynical and opportunistic on both sides." Slavin views the Iranian relationship with Al-Qaeda as "a bargaining chip with the United States," noting that, "if the US were willing to lift sanctions on Iran and take Iran off the terrorist list and so on, Iran would drop Al-Qaeda like a hot potato."
Seen in this light, Pompeo may have helped facilitate the very reconciliation between the US and Iran he was conspiring with Israel to prevent. By raising the profile of Iran's alleged relationship with Al-Qaeda, he has added value to a bargaining chip that was not always there, and as such inadvertently smoothed over the very speed bump he was trying to create.
Think your friends would be interested? Share this story!
The statements, views and opinions expressed in this column are solely those of the author and do not necessarily represent those of RT.
You can share this story on social media: