Sacha Baron Cohen won't be cheering Trump's social media ban when Twitter decides his 'jokes' are offensive and kicks him off, too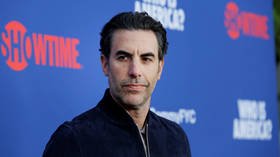 For someone whose career is based on the ability to perform shocking comedy unchecked, Borat's creator shows naivete in applauding Donald Trump's Twitter ban. Reining in free speech will have serious repercussions for Baron Cohen.
To say that Sacha Baron Cohen does not like President Donald Trump is a bit of an understatement. It seems like the only reason that there was a second Borat movie was to make Trump and his allies – specifically Rudy Giuliani – look like terrible people.
It's no surprise, then, that Baron Cohen would cheer Trump being banned from Twitter, whether the Capitol Hill riot had happened or not. And he hasn't held back, hailing the expulsion as "the most important moment in the history of social media."
Ladling on the hyperbole, he added, "to every Facebook and Twitter employee user and advocate who fought for this – the entire world thanks you."
This is the most important moment in the history of social media. The world's largest platforms have banned the world's biggest purveyor of lies, conspiracies and hate. To every Facebook and Twitter employee, user and advocate who fought for this--the entire world thanks you! pic.twitter.com/jihFaOA39G

— Sacha Baron Cohen (@SachaBaronCohen) January 9, 2021
What's really alarming about this is that Baron Cohen clearly fails to understand exactly what he's doing. Trump's ban is a move that could end up hurting everyone, not least Baron Cohen himself who constructed an entire career on being able to do and say as he pleases.
Because whether you like Trump or not, the issue here is free speech. Although the president did nothing to help the tense situation on Capitol Hill last week after the confirmation of the electoral college, he did not cause it. But social media companies have used this opportunity to place the blame on him, allowing them to do something that they've wanted to do for years – silence him. And this isn't something that should be applauded, especially by a comedian.
I won't make the argument that if this happens to right-wingers, it can happen to everybody. That's evidently not the case. But what could end up affecting Baron Cohen, and other satirists, is his willingness to put up with censorship by big tech.
Over the years, it has become increasingly common for a certain vocal crowd to loudly call for censorship of anything they find offensive. Baron Cohen thrives on shock value comedy, and is always pushing the envelope with his work. The mob could just as easily turn on him.
In this day and age, there comes a point where we need to realize that the chilling effect doesn't necessarily have anything to do with our political persuasion. Rather, it has to do with just how comfortable we are with censorship and the destruction of people's lives.
Also on rt.com
If Sacha Baron Cohen wants to 'stop hate for profit', why is he still making jokes at Kazakhstan's expense?
I am, of course, speaking of cancel culture. This is not a phenomenon that is exclusive to one side of the political aisle or another. No, it dictates that which is considered indecent must be destroyed, and what Baron Cohen has cheered so loudly only feeds the proverbial monster. If, in a potential third Borat movie, he made an inappropriate joke about Vice President-elect Kamala Harris, he could quite easily find himself at the other end of the barrel.
Comedy and satire are designed to 'punch up', and as such they require the freedom to speak in the first place. There's a reason that these concepts simply don't exist in totalitarian states. Baron Cohen may as well be offering the gift of speech given to him by God to the leaders in Silicon Valley on a silver platter.
It's incredibly naive of him to make the assumption that he won't be put on a cross for being offensive at some point in the future. Bear in mind that this is a man who made 'The Dictator', which could just as easily offend people on the political left as the political right. Without that freedom to make movies like this, Baron Cohen has nothing – and he'd do well to remember that as he applauds the deplatforming of Trump.
Like this story? Share it with a friend!
The statements, views and opinions expressed in this column are solely those of the author and do not necessarily represent those of RT.
You can share this story on social media: