Sorry, Star Wars fans. Kathleen Kennedy has a long time to go, and her departure is far, far away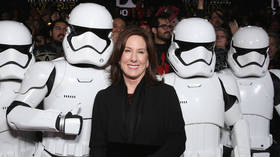 Many Star Wars fans hoped both the Sequel Trilogy and its architect would be erased from their beloved galaxy, but they are in for a disappointment. Disney believes the Force is strong with Kennedy, and she isn't going anywhere.
If Disney and Star Wars were on Facebook, their relationship status would most certainly be set to "It's complicated." Ever since the studio bought the rights to saga back in 2012, it has made a variety of questionable decisions regarding what is arguably the world's most popular science fiction franchise.
Things started off looking good in 2015 with the release of 'Star Wars Episode 7: The Force Awakens', and they appeared to get better with the release of 'Rogue One' in 2016. Disney's strategy at that time was to release a new Star Wars movie every year in an attempt to cash in on their $4 billion investment. This strategy seemed sound, until the release of 'Star Wars Episode 8: The Last Jedi' in December of 2017.
Also on rt.com
Sharing political opinions now 'irresponsible': Woke mob demands Disney sack Gina Carano after 'Mandalorian' star mocks Democrats
'The Last Jedi' proved to be an incredible misstep for Lucasfilm and its leader, Kathleen Kennedy. It's the most divisive Star Wars movie to date, and though it was a financial success at the box office, it left such a bad taste in the mouth of the Star Wars fandom that it turned more than half of "lifelong Star Wars fans" against the franchise.
Kennedy was on a high when 'The Last Jedi' was released, mostly because her tenure at Lucasfilm had been plagued by troublesome productions, and writer/director Rian Johnson brought in a Star Wars film on time, on budget, and without any of the behind-the-scenes drama that had plagued both 'Rogue One' and 'Solo: A Star Wars Story'. Thus, Kennedy looked at Johnson as the future of the Star Wars franchise.
At least, until the fan backlash almost tanked Disney's golden goose.
There was a lot of spin going on in 2018 in an attempt to dismiss the criticism the fanbase had about 'The Last Jedi', but no amount of spin could make Disney dismiss the failure of 'Solo: A Star Wars Story'. Not only had the production been bungled so thoroughly by Kennedy that the vast majority of the movie had to be reshot (to the tune of doubling its already large budget), but the discontentment of the fanbase, a change in release date from December to the overcrowded summer blockbuster season, and poor marketing achieved what no one at Disney thought possible...
A Star Wars movie failure at the box office
'Solo: A Star Wars Story' now holds the title of being the lowest-grossing live-action Star Wars movie, taking in only $393.2 million in worldwide box office gross. And that was one failure that Kathleen Kennedy and Disney couldn't spin-doctor their way out of.
The failure of 'Solo' forced Disney's CEO Bob Iger to re-evaluate their strategy with Star Wars and attempt a course correction to get the lucrative franchise back on track. Though many fans were calling for a change in leadership at Lucasfilm, Disney believed the problem didn't lie with Kennedy and her questionable talent as a creative producer, but with 'Star Wars fatigue'. The official company line was that their "one Star Wars movie a year" strategy was causing moviegoers to "burn out" on Star Wars, and they needed to scale back on their theatrical offerings.
Also on rt.com
'You can't sit with us' – The Woke Mean Girls come for Mandalorian star Gina Carano over her election concerns
In the hopes of getting things back on track, Iger personally convinced 'Episode 7' writer/director JJ Abrams to return for 'Episode 9: The Rise of Skywalker', with a target release of December 2019. Abrams was tasked with trying to fix the mess Kennedy and Johnson had made with 'The Last Jedi' and healing the divide within the Star Wars fan base – an impossible task for one movie. But while Abrams was busy with the next Star Wars film, Iger and Kennedy were busy shifting their strategy from theatrical releases to a focus on television properties for the studio's big streaming service, Disney+ – a service which CEO Bob Iger saw as the future for the entertainment arm of the studio.
While this was happening, Disney also opened the new Star Wars-themed attraction in their Disneyland and Disney World parks, dubbed 'Galaxy's Edge'. What was meant to be a huge addition to Disney's theme park arm ended up falling flat, with overpriced souvenirs and a focus on Sequel Trilogy characters that held little appeal for the majority of fans.
Many Star Wars fans upset with the way their beloved franchise has been handled point to the failures of 'The Last Jedi', 'Solo', 'The Rise of Skywalker', and Galaxy's Edge as proof that Disney has run a once lucrative and beloved franchise into the ground, and many ask why Kennedy – the widely acknowledged architect of the decline of Star Wars – still has a job as the CEO of Lucasfilm.
In fact, many fans believe the success of 'The Mandalorian', the first Star Wars TV show offering on Disney+, is even more proof that the reigns for the franchise should be taken away from Kennedy and handed over to Jon Favreau and Dave Filoni, the brains behind the hit show. Speculation that Kennedy had nothing to do with 'The Mandalorian' and its success runs rampant throughout the Star Wars fandom, and it is commonly believed that Favreau and Filoni are really running things over at Lucasfilm.
Some fans are even speculating that Disney has acknowledged its failure and plans to ERASE the much-maligned trilogy of Star Wars sequels. YouTube commentator The Quartering recently outlined the reasoning behind this speculation, saying that Disney is planning to replace all instances of Sequel Trilogy characters, such as Rey and Kylo Ren, in the Galaxy's Edge parks with characters from the more popular 'Mandalorian' series.
But what these fans and commentators fail to realize is that Disney isn't planning to erase anything. In fact, they're doubling down on Kathleen Kennedy and her vision for the franchise.
Firstly, Disney would never simply "erase" episodes 7-9, simply due to their licensing deals regarding those films. And whether fans want to admit it or not, all three of the sequel films made Disney a profit, and continue to do so through licensing.
Secondly, in a post-coronavirus age where theme park attendance is struggling, it's not unusual to see a company like Disney change strategy with an attraction like Galaxy's Edge, where older characters and elements are swapped out for ones that are more popular, relevant, and actually have future content in the pipeline to drive up attendance. There are many more seasons of 'The Mandalorian' on the horizon, whereas the sequel trilogy has been completed.
Also on rt.com
New 'Star Wars' may have a gay character — if this franchise continues to go woke, it will continue to go broke
Third, Kennedy is entrenched in her position as the head of Lucasfilm, and she's getting as much credit for the success of 'The Mandalorian' within Disney as Favreau and Filoni are. Keep in mind that Kennedy has been a staple in the upper echelons of Hollywood elite since the late 1970s. She's married to a super-producer husband, Frank Marshall, is best friends with Steven Spielberg, and was hand-picked by George Lucas as his successor. She's one of the most powerful women in Hollywood, with the full backing of Disney's board of directors. On top of all this, in an era where Hollywood is desperately trying to appear more inclusive, the idea of firing Tinseltown's most influential female executive is utterly fanciful.
Fourth, Disney has just announced its plans to produce up to ten new Star Wars TV series for Disney+. Apparently, all concern over 'Star Wars fatigue' is now forgotten. But regardless, all ten of these shows are the brainchild of Kennedy, who is developing and overseeing all of them. Favreau and Filoni may be involved with two or three, but Kennedy is involved in every single one, which equates to the future of Star Wars being hers, and hers alone.
Fifth, Star Wars is coming back to the big screen. Though it is not yet known in what capacity, we do know that writer/director Taika Waititi is moving forward with his Star Wars feature, and Kennedy is involved in its production.
Finally, we have the release of 'Star Wars: The High Republic' – a subseries of the Star Wars media franchise that stretches across books, comic books, video games, and new media. A cross-platform endeavor meant to reinvigorate the Star Wars expanded universe. And guess what? It was all developed and spearheaded by Kathleen Kennedy.
Also on rt.com
Just when you thought 2020 couldn't get any worse along comes Wonder Woman 1984, a man-hating mess of a movie
As one can plainly see, all current and future offerings of Star Wars-related media are coming from Kennedy, and so long as she's in charge, it's doubtful anything with her name attached to it will get "erased" from Star Wars canon. Disney has no plans to fire or replace her, and they are letting her run the show, just as she always has.
For better or worse, Disney is all-in with Kennedy and her vision of Star Wars.
Think your friends would be interested? Share this story!
The statements, views and opinions expressed in this column are solely those of the author and do not necessarily represent those of RT.
You can share this story on social media: