Wayne Dupree: There's great anger among Trump supporters over his speech conceding defeat, but he had no choice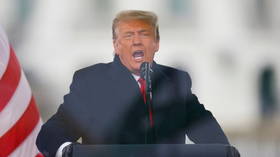 We have to find a way of ending the hatred and the divisions, so that we can move on in peace, and the president's words were a good start.
On Thursday night, President Donald Trump for all intent and purposes, conceded to the new administration while telling supporters that the future is bright with what's coming next in his life. I know many of his supporters do not like that, but logically it makes sense. With Rep. Nancy Pelosi threatening to impeach him if the 25th Amendment isn't invoked, coupled with the media pushing that narrative and Big Tech shutting down his ability to post a message on Twitter or Facebook, it wasn't looking good.
Despite everything Trump had to say, however, I don't think it will bring our nation together because we are still worlds apart in our beliefs and the principles we hold dear. I've already come to terms with it, unlike others. I never fell in love with Trump. I defended him because I voted for him, but I never fell in love with him because I don't love politicians because of the hurt they can give.
I also know that we are in for many heartaches, top-down government policies that will forever change our country. However, I have to believe that God will continue to protect us if we put Him first. I am forever grateful that we had a president like Donald J. Trump. He wasn't my first choice (I went with the governors, but they were early outs, and I don't trust senators, so he was quickly the go-to guy), but he showed me that I was wrong.
Also on rt.com
Wayne Dupree: The US media has become a disgrace over the past 4 years. They don't report news – they manipulate it
He put America first, and he stood and fought for us. I think he still will, but he had to offer an olive branch to the other side and set the tone to move forward. President Trump knows the truth, and so do we, and so does our Heavenly Father. In His timing, he will right the wrongs. President Trump will be fine, and in time, I pray we will.
I was speaking to a friend of mine who feels that we have been played. I can't say that I agree with him, but he did explain how there was no Kraken as promised. There's no report from the Director of National Intelligence John Ratcliffe, which was due December 18, on foreign interference in the election.
He also reminded me there was no raid on servers in Germany, related to the Dominion voting machines. Nobody is sitting in GITMO spilling their guts about a vast conspiracy. He had questions about the promised indictments coming from Durham's investigation (Durham was probably sent packing 18 months ago) and how VP Mike Pence was never going to save the day.
All of these are solid points of anger from someone who "loved" President Trump. His additional points include how the Supreme Court was never going to hear the Texas lawsuit, state legislatures in battleground states were NEVER going to decertify their electors, and Federal Courts were never going to rule against governors and secretaries of states for bypassing their own legislatures. Again, how could I defend those things?
Also on rt.com
Wayne Dupree: Democrats say they didn't cheat, so they shouldn't be afraid of audits that would just humiliate Republicans
I could have gone into a room with all those points and dropped into a deep depression because I was looking for those things to happen. But I remembered who I was, and honestly, I wish people would get along, and the noise we all hear every day, killing us minute by minute, was gone.
I'm an independent conservative who voted for Trump. I'm also a United States Air Force veteran that did eight years, including a stint in Operation Desert Storm/Desert Shield. I got up at 4am this morning because I was so upset about what happened on Wednesday. I have friends that I hunt, fish, and play golf with that are Democrats. They are good, kind, decent people. Just because we might look at the world differently shouldn't make us hate each other. If we take a step back, there is a lot we have in common.
There are loudmouths on both sides that do the most damage. Conservative, Liberal or Independent, let's agree to let decency, respect, and common sense prevail. We are all Americans; let's take care of ourselves and our great country. Remember, we still have the greatest country in the history of this planet. That's the bottom line.
We are all imperfect. There has been much wrongdoing on both sides. Let him who is without sin cast the first stone. This should not be about an eye for an eye and a tooth for a tooth.
Also on rt.com
Wayne Dupree: The revenge of the Establishment is complete – the deep state Trump sought to overcome has conspired to defeat him
If we follow that path, we will all be blind. True healing can only come about when we realize that we have all done wrong in our lives, and we realize the Lord's Prayer; Father forgives us as we forgive those who sin against us.
President Trump's Thursday night speech was the right thing to do. Sad words to hear coming from a man I grew to admire and respect. Regardless of what is in store in his future, he will always be President Trump to me.
Our country is bigger than any man or any election. My personal opinion is that Mr. Biden didn't get over 80 million votes. However, he won, and you can't prove that he didn't; the lawsuits were mostly thrown out because of procedure loopholes, which says a lot about the incompetence of the attorneys more than anything else.
The Democrats just fought like hell to preside over an electorate that has never distrusted and hated the government more because of the shutdowns, the hysteria, the preference for big corporations over small business, etc. All of that and an impending economic crash. They will rightfully get the blame for all of it.
Like this story? Share it with a friend!
Let's hope that we have learned our lesson and the next elections are more secure and therefore more trustworthy. Let's move on, fellow Americans.
The statements, views and opinions expressed in this column are solely those of the author and do not necessarily represent those of RT.
You can share this story on social media: