The UK is finally checking visitors for Covid. But why has border-obsessed Brexit Britain been open to disease for so long?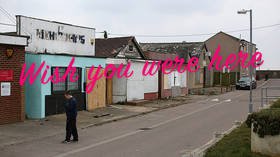 Visitors to the UK from next week will need a negative Covid test. But why have we let people wander in and out for almost a year, free to spread the virus if they are infected? The answer: money, of course.
So, the UK is placing restrictions on people coming into the country. From next week, at some point, probably, though it might change its mind, the government will require visitors to have had a negative Covid test less than 72 hours prior to arrival.
Yep, almost a year to the day since the UK's first detected Covid-19 case, Boris Johnson and his elite squad of razor-sharp brain merchants have concluded that reducing the number of people with the virus entering the country might be a good way of having less virus in the country.
Despite the natural advantage of having a giant moat around our country and the fact that no human has walked here from continental Europe since the Mesolithic period 8,000 years ago, the UK has at no point put any meaningful restrictions on people coming into the country during the pandemic.
No swab tests, no Fit to Fly certificates, no temperature checks, no quarantine centres, no swearing on your mum's life. All they said was that people arriving from some countries should self-isolate (once they'd got a train and bus home). And, of course, everyone followed that rule.
According to the government, the government has consistently been "ahead of the curve". Sadly that's only because the curve has now circumnavigated the globe and is about to lap it.
Also on rt.com
Britain needs a wealth tax to pay for Covid lockdowns and to reduce inequality. But will our craven politicians even consider it?
Other nations who saw this particular penny drop aeons ago are laughing at us from the pub during their economy-boosting 'staycations', while eating food that hasn't been delivered through a letterbox.
Meanwhile, Brits are set for months of hunting down the one Netflix show they haven't watched and greeting delivery drivers like long-lost relatives. By the time we emerge there'll be no pubs, just Amazon warehouses and shantytowns made from pizza boxes.
The irony is that this has happened - or not happened - in the Time of Brexit. The Age of the Great Separation (though not as great as the Mesolithic one) when we're "taking back control" of our borders. There hasn't been an easier time to do that. Half the population has wanted tighter borders for years and the other half probably agrees right now.
So why the wait? Even when other countries banned travel from this plague island due to a more virulent 'Made in Britain' Covid variant, we still kept the gates wide open. Come on in. Please wash your hands. That'll do.
It's because border control is rarely about doing the sensible or logical thing - it's about power and money. Power over 'undesirables' and taking money from anyone who'll bring it, no matter what else they bring with them. The UK economy is so reliant on tourism that we bend to the tourist dollar (as well as making sure we don't upset any wealthy types who might want to flit between homes).
If you're a child in a dinghy fleeing a war we probably started or a Belgian fisherman catching too many haddock, we'll send in the Navy. But if you're bringing some cash with your virus, we'll give you a Tube map and discounted tickets to Madame Tussauds. No questions asked.
It's almost as if no-one considered the possibility that, if we had kept infections down, we might have enjoyed booming domestic tourism - that people would have spent their Mykonos money in Margate or Minehead. That the billions spent helping the hospitality industry would have been far fewer.
It wouldn't have replaced foreign tourism, but it would at least put a plaster on the wound. And it would have been a lot more fun for us.
This writer took three trips in the UK last year when rules were relaxed, spending his hard-earned sterling in pubs and restaurants that might not survive the winter lockdown. He loved it. Yes, he wanted to go abroad but that wasn't practical. Now he can't go anywhere.
Some people will say, "We didn't know!" Well, so-called developing countries like Vietnam seemed to know. Despite also having a huge tourist industry, it banned arrivals from China - its biggest trading partner - last February (when it had five recorded cases) and from the UK and Schengen countries in March.
This was labelled an overreaction. To date, Vietnam has recorded 1,509 cases and 35 deaths. This is a country that has a land border with China. It's a country that experienced economic growth last year and whose people are leading vaguely normal lives.
The UK, which has a smaller population, has had roughly 2.9m cases and 78,000 Covid-related deaths. It has a land border with Ireland. Its economy can be found in the nearest toilet, its citizens' faces pressed to windows.
I'm not usually a fan of comparing countries, but even without examples like Vietnam and New Zealand - which also took a much-derided early decision to restrict incoming travellers and is reaping the benefits - using our geographical advantages to tighten ship seemed like the logical thing to do. A year or so ago.
But we didn't. Now the horse has not only bolted, it's probably made its way to a nice beach somewhere.
Anyway, if you visit the UK in a few days, it's not going to be quite as convenient as it was. Though I'm not sure why you'd want to.
Think your friends would be interested? Share this story!
The statements, views and opinions expressed in this column are solely those of the author and do not necessarily represent those of RT.
You can share this story on social media: