America is now ruled by people older than the 'gerontocracy' of Soviet Union's twilight days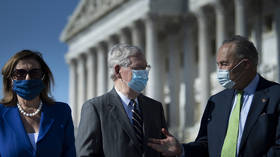 Joe Biden, set to be the oldest-ever US president, is actually on the younger side of people currently running the American political establishment, who show no sign of wanting to ever step aside for another generation.
It is often overlooked that Donald Trump currently holds the distinction of being the oldest-ever US president, being 70 at the time of his inauguration. Biden will take that trophy as well if he's inaugurated in January 2021, having turned 78 last month. Even so, he is actually younger than the current leaders of the House and the Senate!
Though all major power brokers in Washington are older than the "gerontocracy" that ruled the Soviet Union in the 1970s and the 1980s, you won't hear the US mainstream media make the comparison, as it wouldn't fit their Narrative.
Also on rt.com
'What about Biden?' Conservatives ask after New Yorker breaks story on Sen. Dianne Feinstein's 'COGNITIVE DECLINE'
Sure, there has been some carefully calibrated talk about the "cognitive decline" of Senator Dianne Feinstein, who is 87. But Feinstein is from an overwhelmingly Democrat state and she can be easily replaced at the same time as Kamala Harris, Biden's running mate who still hasn't resigned her Senate seat.
House Speaker Nancy Pelosi (D-California) is 80, and has raised eyebrows herself with the whole "Good Morning. Sunday Morning" glitch-in-the-Matrix behavior during a TV appearance in September.
Way back in 2018, Pelosi insisted that any talk about wanting someone younger in the leadership position was "sexist," and went on to ruthlessly crush any opposition to her getting the gavel – and the power that went with it – inside the party. In the same interview, Pelosi blanked out on the name of Senate Majority Leader Mitch McConnell (R-Kentucky), calling him "whatshisname."
Born several months ahead of Biden in 1942, McConnell is 78 himself. He had a bout with polio when very young, and though successfully treated, he's had difficulty climbing stairs all his life. While he hasn't shown any signs of cognitive decline, his political choices as of late have certainly caused some Republicans to wonder if he's truly the legislative genius his supporters make him out to be.
Some people doubt Mitch McConnell is a political genius but it's true:He told Senators NOT to fight for Trump.He did nothing about Brian Kemp & GA GOP.He just gave Americans $600.He's flipping the bird to the GOP base: because who needs voters?What could go wrong?

— Emerald Robinson ✝️ (@EmeraldRobinson) December 21, 2020
Senate Minority Leader Chuck Schumer (D-New York) is "only" 70, but has actually been in Congress longer than McConnell, if one counts his 18 years in the House before he got elected to the Senate in 1998.
Only House Minority Leader Kevin McCarthy, 55, technically qualifies as a member of 'Generation X' rather than a Baby Boomer. Nor does he have any Cold War political baggage like the rest, having been in the House since only 2006. If the Republicans somehow win the House majority in 2022, he might gain more influence – but that's speculation at this point, on both counts.
Meanwhile, the young activist House members who came in with 2018's "Blue Wave," such as Alexandria Ocasio-Cortez (D-New York), are being kept in check by the old guard. Just last week, AOC was denied a spot on the House Energy and Commerce Committee, thwarting her plans to push for her "Green New Deal" proposal.
Also on rt.com
We gotta talk about Joe Biden's cognitive decline because his US media cheerleaders won't… it's so like the sad fate of Brezhnev
Compare this state of US politics with the notorious "gerontocracy" of the Soviet Union. Three aging Soviet leaders died in quick succession between 1982 and 1985, prompting then-US president Ronald Reagan to say "How am I supposed to get anyplace with the Russians if they keep dying on me?" Yet Reagan was 74 at the time, older than all three.
Leonid Brezhnev was 54 when he took over the Communist Party in 1964. For the sake of political stability, he remained a figurehead after his 1975 stroke and "ruled" the USSR until his death in 1982, as no one in the party could agree on who ought to succeed him. His 18-year tenure was later dubbed the "Brezhnev stagnation."
Former KGB chief Yuri Andropov, part of a triumvirate running things for the better part of Brezhnev's latter years, died himself at the age of 70 in 1984. He had led the Soviet Union for less than 16 months. Konstantin Chernenko, 73, took over from Andropov – and died in March 1985, after only 13 months in charge. His successor, Mikhail Gorbachev, was 54 at the time, two years younger than Kamala Harris is now.
Also on rt.com
Forget Joe Biden… The big news is Kamala Harris, who is clearly being groomed to take over as president in 2024
In one of those strange intricacies of the American political system, Harris went from getting zero delegates in the Democrats' nomination process and dropping out before the first primary to being widely expected to take over from Biden sooner rather than later. One might say her relative youth and being a 'Woman Of Color' – an identity politics feature increasingly important to the Democrats – might spell the end of the Boomer dominance.
The thing to keep in mind, however, is that the "young reformer" Gorbachev managed to run the Soviet Union into the ground within five short years. In 1991, the old guard tried a military coup against him. Though Gorbachev survived the coup, the Soviet Union didn't. By the end of that year, the USSR had "dissolved," breaking up along Communist-drawn boundaries into independent and quasi-independent states.
Think your friends would be interested? Share this story!
The statements, views and opinions expressed in this column are solely those of the author and do not necessarily represent those of RT.
You can share this story on social media: