Forget Joe Biden… The big news is Kamala Harris, who is clearly being groomed to take over as president in 2024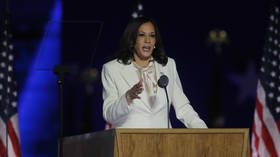 Joe Biden will be 82 in four years' time and is unlikely to go for a second term as president. It's obvious already that Kamala Harris would be his probable successor, despite a controversial CV.
It's not about the next four years. This election could have decided America's future until 2032.
Joe Biden looks to be on his way to The White House as the 46th President. It was his third tilt at glory, and he received the most votes of any candidate in history.
And following him to Washington will be Vice-President, Kamala Harris. Of course, she really wanted to be in Joe's place but her campaign to stand as the Democratic candidate was an unmitigated disaster.
Newspapers revealed how two senior figures were pulling in different directions. One was Juan Rodriguez and the other was Kamala's sister Maya, proving that it isn't only Trump who's prone to nepotism.
Maya was an odd choice to lead, as she was one of three senior policy advisors to Hillary Clinton in 2016.
That campaign was so inept, it's been hailed as a prime example of how not to win the presidency.
Also on rt.com
Slavoj Zizek: Biden's win changes nothing and signifies stalemate that could see Trump run again in 2024
Not only was the lack of focus an issue, there was also an absence of clear policies. Plus there was indecision as to whether she should maximize capital out of her role as a prosecutor or not. The New York Times reported, "She has proved to be an uneven campaigner who changes her message and tactics to little effect."
Harris was the first major casualty for the Democrats and never even made it to the primaries. Four others hung on and quit after her, again also before the primaries. Julián Castro, Marianne Williamson, Cory Booker and John Delaney would trouble to be recognised outside of their own homes. A further 11 Democrats soldiered on before Biden emerged victorious.
Although haphazard organisation was one reason Kamala pulled out, another was that she couldn't afford to continue. Her campaign didn't have funds to pay for TV advertising and it even had to stop buying Facebook ads. She then had to fire a lot of staff and rely on volunteers to knock on doors.
While it's admirable that Harris will shatter a glass ceiling by becoming the most senior woman of colour ever in American government and first female VP, it does pose a question. If she can't run a functioning campaign within her own party, how has she earned a shot at the big time?
Also on rt.com
Biden administration will find it hard to integrate itself in a world changed by Trump
Well, firstly there's Biden's age to consider. He'll be 82 at the end of his first term and it's widely predicted he'll call it quits then. Sources close to him suggested so last year, and CNN's Anderson Cooper and Obama's former campaign manager David Axelrod have both expressed this view in the past few days. In that scenario, Harris would be a front-runner to take over.
It is particularly telling that Axelrod has spoken out, as he is incredibly well-connected inside the Democrat apparatus.
Harris is being positioned now to take over in 2024 and win again in 2028. She's just turned 56, so her age is not an issue, and she is being groomed to appear presidential. How else would someone go from being a basket case of a candidate to a highly-respected national figure in a matter of months?
You can see the behind the scenes string-pulling, like how her husband Douglas Emhoff is being hailed as the first Jewish second gentleman; no Jew has ever been part of America's first or second couples.
Making sure he gets attention and column inches is all about building up Harris. It's an attempt to replicate Barack Obama's optics. His wife Michelle was tremendously popular and softened his image.
Also on rt.com
'Unacceptable': UK peer slammed after dubbing US Vice President-elect Kamala Harris 'the Indian'
But the real focus should be on Emhoff's job. He works for multinational law firm DLA Piper in Washington, which also undertakes lobbying work. The couple are reported to comfortably be millionaires, and are very much part of the establishment.
Her ethnic background provides some much-needed diversity in the traditionally rather white world of US politics, but she isn't especially progressive. Left-wingers might be surprised to know that during her time as District Attorney in California, the felony conviction rate rose to 76 percent from 50 percent. in 2004 the conviction rate for drug dealers was 65 percent, but that climbed to 76 percent two years later.
Indeed, her record as DA mirrors the schizophrenia of her aborted Presidential bid. She pushed for programs to help released convicts find employment, but has been criticized for making it harder for those seeking release to access evidence.
Also on rt.com
Wayne Dupree: Oops! Kamala's 'Harris Administration' gaffe has revealed the Democrats' true plans
There was also the debacle of Jamal Trulove, who was sent to jail for murder unjustly. Harris oversaw his case and was present at his sentencing hearings.
The appellate court found there had been "prosecutorial misconduct" and threw out the case, which later saw Trulove awarded $13.1 million for spending six years in prison.
Police had fabricated evidence, but after his 50-year conviction – despite there being no physical or forensic evidence – Harris offered up her praise for the "brave witness who stepped forward from the crowd."
She was also accused of not pursuing a 'dirty cops' scandal in Southern California, but all this is now being swept under the carpet. The Democratic establishment know she is one of them and are plotting her course, and we can expect to see her afforded a higher profile than other VPs over the next four years.
Because Kamala Harris is being lined up as the 47th President of the United States.
Think your friends would be interested? Share this story!
The statements, views and opinions expressed in this column are solely those of the author and do not necessarily represent those of RT.
You can share this story on social media: