Cornell University is so scared of being seen as racist, it makes vaccines mandatory for WHITES ONLY. Spot the problem here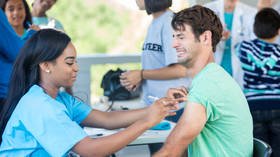 New York's prestigious Cornell University is requiring students to get a flu vaccination or face punishment. Unless, of course, they're students "of color," in which case they can apply for exemption. What happened to equality?
A vaccination program that discriminates based on race might seem a little Jim Crow, but it's actually the kind of program being pushed by Cornell University in Ithaca, New York. Monday marked the start of National Influenza Vaccination week, but Cornell was ahead of the curve, requiring all students to take the shot before coming to class this academic year, even if their classes are online-only, as well as comply with Covid-19 "surveillance testing requirements."
That is, unless those students are "Black, Indigenous, and other People of Color (BIPOC)." Those students aren't subject to the same stringent vaccine requirements of their white classmates, and though they are strongly encouraged to get tested and get the flu shot, the university offers them an exemption should they choose not to. The university even describes the requirements foisted on whites as "suspect or even exploitative" to its students of color.
Cornell won't dispatch racial scientists to check the skin tone of any of these students, or ask for a DNA test. Merely identifying as "BIPOC" is considered grounds for exemption, meaning bonafide crackers like Shaun King or Rachel Dolezal could avoid the shot, were they students at Cornell.
"The Ivy League school offers a race-based exemption from its new mandatory flu shot, requiring only white students to get immunized before returning to the area."Isn't this systemic racism?https://t.co/QPRfcgA9dT

— Jolly Lady of the Lake 🎄❤️ ⚔️ (@Lady_Astor) December 8, 2020
For Cornell's 'privileged' whites, who make up 40 percent of the student body at the university, failure to get vaccinated will earn them a visit from the totally-not-totalitarian sounding Cornell Compact Compliance Team, while failure to get tested for Covid-19 will see them locked out of libraries and campus buildings.
Martin Luther King is spinning so hard in his grave, he could power the university for years.
But before any vaccine-averse Caucasians start brushing up on their Ebonics and consulting Ancestry.com in search of a minority ancestor (like Elizabeth 'Pocahontas' Warren did when applying to Harvard University), they should consider why blacks and other minorities in the US might want an exemption in the first place.
The medical establishment in the US hasn't treated African-Americans very well throughout history. While Cornell points out that minorities often don't have equal "access to appropriate care," those that did have access to medicine were often treated horribly. White doctors would use black patients for "dissection, surgery, and bedside demonstrations" prior to the Civil War, and starting in the 1930s, doctors conducting the now-infamous 'Tuskegee Experiment' allowed hundreds of black men to suffer and die of syphilis over 40 years, under the illusion that they were being treated for the illness.
Also on rt.com
New guide on how not to be a Covidiot shows how out of touch the authorities are with people really suffering because of the virus
The Tuskegee Experiment left many African-Americans with a lingering mistrust of medicine. Politicians and health officials pushing for a coronavirus vaccine are still encountering resistance from the black and Latino communities. With blacks three times more likely to die of Covid-19 than whites, according to the Centers for Disease Control and Prevention, University of Chicago researcher Dr. Monica Peek told the Chicago Sun Times that it will "be a double tragedy if African Americans refuse to take the vaccine."
So why is Cornell University allowing self-declared minorities to dodge the flu jab? After all, we're told by everyone – politicians, journalists, scientists and celebrities – that vaccines are safe and effective. Social media companies ban anyone arguing otherwise, and military intelligence specialists have literally been deployed to fight anti-vaxxers online. With the weight of the establishment behind mass vaccination, why would Cornell buck the trend?
In all likelihood, Cornell's staff are probably scared stiff of being accused of racism, and petrified of the Tuskegee-like optics of forcing injections on black and minority students.
Also on rt.com
Matthew McConaughey calls out intolerance and hate from 'far left'. Their response? Shut up and check your 'white privilege'
The opt-out policy leaves the university in a bizarre bind though. While the current rules apply to the influenza vaccine, there is no reason to suspect that they wouldn't apply to a Covid-19 vaccine too. If that vaccine proves effective, and the university gives minorities an easy out, isn't it guilty of perpetuating the same "systemic racism and health inequities" that inspired the exemption in the first place?
A society that claims to respect individual liberties wouldn't force vaccinations on its citizens, and a society that professes to abhor racism wouldn't treat two groups differently based on their skin color. Unfortunately the coronavirus pandemic has squashed civil liberties worldwide, while the George Floyd riots of the summer have given African-Americans de facto immunity from the same rules that apply to everyone else, with the establishment desperate to glorify their plight while simultaneously coddling and patronizing them.
Cornell has apparently embraced both positions, but they're incompatible. Either all students are allowed to opt out and risk sickness, or vaccines are mandatory across the board. If the university truly cared about civil liberties it would choose the former. If it truly felt obliged to care for its minority students and resolve "longstanding systemic racism and health inequities," it would choose the latter.
Think your friends would be interested? Share this story!
The statements, views and opinions expressed in this column are solely those of the author and do not necessarily represent those of RT.
You can share this story on social media: