As UK says bye to EU, remainers in Brussels linger in Brexit denial, pushing fake news about Cambridge Analytica & Leaver trickery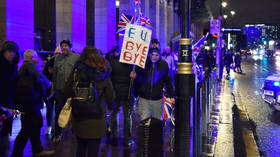 The head of protecting 'values and transparency' in the EU, Věra Jourová, should know not to repeat false claims about the Brexit campaign as it undermines efforts to counter online skullduggery and validates deluded remainers.
The European Union's obsessive belief that dark and malign forces somehow tricked the British public into choosing Brexit persists to dominate thinking, even now, as this loveless marriage reaches its finale.
Inexplicably, top officials in Brussels still cannot get their heads around the maths. More people in the UK voted to leave the EU than chose to remain. 52 per cent to 48. 17,410,742 for and 16,141,241 against. No matter how you look at it, the result does not change. There was no arm-twisting, no bribery and absolutely no "dirty methods" from the Brexit side despite that entirely baseless accusation just yesterday from, ironically, the vice president of the European Commission for Values and Transparency, Věra Jourová.
In launching the EU draft legislation to deal with online political campaigning, Jourová mentioned both Cambridge Analytica and apparent skullduggery in the Vote Leave campaign as examples of what should never happen again.
So what did she believe went wrong, exactly? She brought up the "Cambridge Analytica scandal" of hoovering up Facebook profiles to use in targeting adverts. Okay, but this was in the USA, not the UK or even Europe.
If you remember, Britain's Information Commissioner, Elizabeth Denham, found CA had absolutely NOTHING to do with the Brexit referendum and, anyway, she said the now-collapsed company had exaggerated its ability to impact and influence when it was using off-the-shelf analytical tools available to anyone.
Having sat in a meeting with CA as they tried to flog their services, that was my judgement as well. CA were not the scheming geniuses that revisionists would have. They weren't even first on the political campaign scene.
The man who actually blazed that trail was Barack Obama, who in 2008 mined data and micro-targeted advertisements like never before. Reading back over the boastful data geeks detailing how and what they did with the big data at their disposal, it is their manipulation of data that changed the game, not CA, despite their attempts to hijack that accolade.
But you will never hear anyone who exists in the realm of the liberal political elite accuse Saint Barack of using illegal or questionable data handling to beat his Republican rival at the time, the late John McCain.
Because when the home team wins it's anything goes, but when the away side takes the honours, then foul play must have been the decisive factor. Can we just stop this?
Also on rt.com
Brexit mastermind Nigel Farage is looking to repeat the impossible by helping Italy liberate itself from the EU's shackles
Věra Jourová also implied belief that the Vote Leave campaign, which of course saw off her team, was run along lines that were questionable despite the fact that they were outspent by £6m during the run-up to June 23, 2016.
She referred to one of the many messages that leavers adopted, pointing out the UK sent £350m to the EU each week when it could have spent that money on the NHS. It was a controversial not-quite-there claim that confused the general public and, away from the media frenzy that it gave rise to, had no real traction. Because the vast majority of those who voted leave admitted it was immigration that was far and away the key issue in confirming their decision to choose Brexit.
Not, as Jourová falsely claims, the message about the NHS. So when she accepted that particular slogan "influenced the will of the people to a large extent, according to many analysts" she was ill-informed.
What "analysts" found, including leading Brexpert Prof Matthew Goodwin, after a year's worth of research was that "immigration and its impact on the country was clearly the main driver behind Brexit," and not any of the other mind-tweaking controls that remainers would have us believe.
Thanks to the leave-resistant media and the political establishment in the UK and EU continuing to delude themselves – even now, four years after the event – that somehow they were cheated they are still propagating fake news, skewed facts and a deeply erroneous version of history.
What the Madame Vice President is trying to achieve in introducing transparency to online campaigning is certainly needed not just in the EU but in the UK and elsewhere. It is a welcome initiative.
However, in order to avoid her office becoming a laughing stock and discrediting her ambitions, she needs to sack her ill-informed speechwriter, do some research herself and stop proclaiming a false narrative just because it's a nice fit alongside her own outlook. Then that would be something everyone could get on board with.
Think your friends would be interested? Share this story!
The statements, views and opinions expressed in this column are solely those of the author and do not necessarily represent those of RT.
You can share this story on social media: