The Tories and Labour are using a planeload of Jamaican criminals as pawns in a political pissing contest while Britain crumbles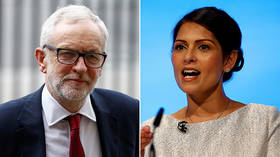 A battle is raging over whether or not a group of murderers and rapists should be returned to Kingston, but is either side really interested in the individuals and public safety, or is it all just meaningless posturing?
Britain's political machine is in a frenzy over a single issue.
Correcting the bumbling Covid-19 response? No.
Preparing the country for Brexit? No.
The safety of 13,000 jobs following retail giant Arcadia's administration? No.
Also on rt.com
Johnson urges MPs to back UK's regional tiered system amid criticism within his own party
The burning issue is 28 Jamaicans due to be deported on Wednesday. Among them are convicted murderers, rapists and drug dealers. Some have committed child sex offences and other have been involved in gun crime. They are reported to have served a combined 228 years in prison.
The original passenger list for the Kingston-bound flight was 50 but that has been bargained down by the back and forth in Westminster. In the blue corner, the ruling Conservative government led by Boris Johnson. And in the red corner, the opposition Labour party. The nitty gritty of shipping out undesirables is the remit of Home Secretary Priti Patel who said: "It is foreign national offenders that the Labour Party want to put first. Killers. Rapists. Drug dealers. Convicted foreign criminals who have no right to be in this country."
She has already blinked by agreeing not to return any Jamaicans who came to the UK under the age of 12. Part of the sensitivity relates to the Windrush scandal. That saw hundreds from the Caribbean threatened with or actually deported because they arrived before 1973. Back then they had an automatic right to permanently remain but because it was a formality, many never got any paperwork. So when the hostile environmental policy came into law in 2012, they couldn't prove their legitimacy and ended up in a bureaucratic minefield.
The current flashpoint is unrelated, but for the mainstream media and some politicians, it has been an easy dog whistle to blow. Patel is not being distracted and is marching onward. The airline that is set to carry them is being kept secret, as this is now a major PR operation. If those 28 people don't go hurtling down a runway somewhere in Britain, then Patel will look weak and be torched by her party for letting criminals loose. In reality, the group makes up such a small number, it will have no effect in a national sense either way.
A Home Office spokesperson said: "We make no apology for seeking to remove dangerous foreign criminals to keep the public safe. Each week we remove foreign criminals from the UK to different countries who have no right to be here; this flight is no different."
Also on rt.com
'Authoritarianism at work': Tory MPs attack Boris Johnson's Covid tiers plan
The government has already flip-flopped on school meals, exam results and using Huawei equipment, so it can't afford another. It's about showing – we are in control, we call the shots. While the Tories try to look tough, Labour is playing the 'we're all someone's son or daughter' card and have got #StopThePlane trending on Twitter.
Arch left-winger, former leader and currently whipless Jeremy Corbyn tweeted: "We need an end to the 'hostile environment' and to treat people with humanity, respect and consideration."
I have written to the Home Secretary to express my concern about the imminent deportation flight to Jamaica that is scheduled for Wednesday.We need an end to the 'hostile environment' and to treat people with humanity, respect and consideration. pic.twitter.com/2tdiqHUVaT

— Jeremy Corbyn (@jeremycorbyn) November 30, 2020
And Clive Lewis MP posted online: "The Government is doing little more than pay lip service to righting wrongs and correcting injustices. I've coordinated a letter asking @pritipatel @ukhomeoffice to #StopThePlane and stand alongside nearly 70 MPs and peers calling for Wednesday's flight to be cancelled #Jamaica50."
Backing them up is a letter signed by 82 black public figures, including author Bernardine Evaristo and supermodel Naomi Campbell. Labour is trying to appear as if they want to offer a place to everyone in British society. It's two ideologies facing off in front of an audience of millions but 28 Jamaicans are caught in the crossfire.
The politicians have decided they know best, but has anyone asked them? Is deportation from the UK in its current state such a bad thing? Asylum seekers are being stuffed into hotels all over the country, given no money and left to rot. It's no wonder there are reports of mental health problems, borne out by the horrendous knife attack in Glasgow which ended with the refugee being shot, when he actually wanted to cancel his application to remain.
The country is riveted by draconian lockdowns that make no sense with one in six people admitting to no longer following them. The Covid death toll is almost 60,000 and families are seeing loved ones pass away via iPad.
Then there's those who want to welcome immigrants like these Jamaicans and accommodate them no matter the circumstance. But instead of fixing the issues, working together, improving things and getting a resolution – Britain's political power brokers are having a pissing contest.
Also on rt.com
'New Prohibition era?' Alcohol BANNED in Welsh pubs & bars as new social distancing measures announced
Maybe their lives will be better back home, maybe not. But none of our elected officials – who earn a basic salary of £81,932 – bothered to do anything of note before this shouting match. Even now, it's all words and TV-friendly cliches, depending on what side of the fence they are on.
It shows how low we've sunk. 28 Jamaican criminals are the scraps Britain's politicians are fighting for to satisfy their bloodthirsty bases.
Think your friends would be interested? Share this story!
The statements, views and opinions expressed in this column are solely those of the author and do not necessarily represent those of RT.
You can share this story on social media: