With the migration being mostly political, is Parler destined to be "Conservative Twitter," or will it gain mainstream appeal?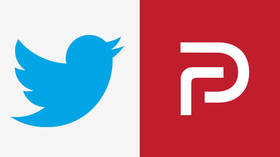 As a new social media platform tops the download charts, everyone's pondering whether it can compete with Twitter. In the end, that'll depend on whether it can hook in the average person, rather than the political theater.
For some time now, there's been a cry for an alternative Twitter from many outspoken individuals, most of them conservative or of a non-leftist leaning. Ultimately, when there's an issue with a product the market is supplying, people will clamor for an alternative so they don't keep running into the same problems. As a comic-book writer, I'm all too familiar with the sentiment, because the reason I got into the business was that the mainstream was not satisfying the desires of its customer base. In a sense, whether it's comic books or social media apps, it comes down to Free Markets 101.
Enter Parler – an alternative to Twitter that has a similar look and feel, but slight differences. You get a significantly larger character count, but, aside from that, follows and hashtags work in a very similar way. Its terms of service are very simple and easy to follow, with the basic idea being that, as long as you're not doing anything illegal, Parler is not going to censor you. As a service, I can't say anything negative about it, but I do need to quantify that I only just set up my profile today.
Also on rt.com
Has the ACLU become the Anti Civil Liberties Union after advocating for an anti-trans book's censorship?
Naturally, the question prompted by this sort of service is whether it's going to be able to grow enough to be an actual competitor to Twitter. A few years ago, many thought the Gab app would be able to do it, but it's been enmired and dragged down by an owner who seems to be a conspiratorial goof and thinks an image of a woman's cleavage is more offensive than Nazi propaganda. I don't believe Parler is going to have the same problem because it has stricter rules. However, all of this isn't really what's going to determine its popularity in the future, because it wasn't politics that created and made Twitter popular in the first place.
Anytime there's discussion of a new social media platform, there's always talk of the bad practices of the previous ones. You're never going to hear me say much that's positive about YouTube, Twitter, or Facebook when it comes to their allowing conservative thought on their platforms. So many conservatives have been demonetized, banned, or shadowbanned, that it makes my stomach churn. That's not what makes social media run, though. The posts I see most often on social media are discussions of pop culture, clips of cats, and photos of attractive women in skimpy clothing. That seems to be what's on the mind of most people who use these apps, and that's the user base that's going to determine whether or not a social media platform is successful in the future.
Ultimately, therefore, I think that's the audience the app needs to go for. If it just talks about how it's the place for conservatives or the place where users don't have to worry about Twitter censoring them, it's only going to gain traction in the short term. What Parler needs to focus on to succeed in the future is the fact it has a really good interface and that posts can be longer, and to focus on any functionality it has that Twitter doesn't. It can't look at this as if it is purely a political battle; it needs to view it as a business battle.
If Parler is able to emphasize these positive traits in advertising itself and in competition with Twitter, I can see it growing quite a bit. However, I'm of the belief that it would be a totally bone-headed move to just market itself as "conservative Twitter" as opposed to something that has the potential to be far superior.
Think your friends would be interested? Share this story!
The statements, views and opinions expressed in this column are solely those of the author and do not necessarily represent those of RT.
You can share this story on social media: