Has the ACLU become the Anti Civil Liberties Union after advocating for an anti-trans book's censorship?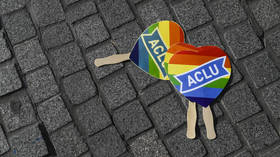 With Abigail Shriver's recent book being banned and unbanned at Target, there is debate about whether the book should exist at all. And the ACLU, a supposedly pro-civil liberties organization, is in the pro-censorship camp.
The recent book by Abigail Shrier called 'Irreversible Damage: The Transgender Craze Seducing Our Daughters' is a scathing take on transgender activism applied to children. The book was banned from the department store chain Target when a handful of progressives complained about it, but reinstated after a backlash. That reversal came across as a victory for free speech, because many of us in America believe that words of caution like this should be out there even if you find them offensive. Provided they're not calling for violence or crime, they fall under free speech protection.
It shouldn't surprise anyone that progressives don't want this book to exist. Those who fall under the self-proclaimed progressive purview have a history of demanding censorship. In fact, Grace Lavery, a professor at Berkeley, stated outright, "I encourage followers to steal Abigail Shrier's book and burn it on a pyre." I think that counts as encouraging felonious behavior – on top of following the Shutzstaffel tradition of book burning and a desire for censorship. What's shocking to me is that the American Civil Liberties Union (ACLU) had similar feelings.
"It is nothing short of horrifying, but sadly also completely unsurprising, to see an ACLU lawyer proclaim his devotion to 'stopping the circulation of [a] book' because he regards its ideas as wrong and dangerous." https://t.co/AmCjfOOKqD

— Abigail Shrier (@AbigailShrier) November 15, 2020
Chase Strangio, a lawyer for the organization and its deputy director for transgender justice said that "stopping the circulation of this book and these ideas is 100 percent a hill I will die on." Let's take this into thought.
At one point, the American Civil Liberties Union fought for the right for neo-Nazis to march in Skokie, Illinois. Speaking as an Illinois resident and to quote the Blues Brothers, I hate Illinois Nazis. However, despite how detestable and idiotic their message is, they do have the right to be detestable and idiotic as long as they're not hurting anyone. At the time, the ACLU understood that.
Also on rt.com
Target makes abrupt U-turn & RELISTS 'transphobic' book after being bombarded with censorship accusations
I can't speak for the lived experiences of Chase Strangio, and I can be empathetic towards past struggles with identity. With that said, the right of free speech goes beyond any one person's pain. If we are going to have healthy discussion about issues that are going on within our society, one thing that we all have to realize is that people should be free to speak. If we begin taking that away from them, all you have to do is look at any dictatorship that has ever reigned to see what the chilling effect is. That's not a road that anyone should want to go down, because we will inevitably all suffer underneath it.
This is just one of many similarly disturbing statements that have come from the ACLU in recent years. Going back to 2016, a senior ACLU manager welcomed Facebook's decision to censor news reports distributed via the network. They also applauded a raid on Donald Trump's lawyer in 2018, which supported the opposite of what civil liberties actually are. This is a worrying trend, because we're seeing this organization, which set out to brazenly defend free speech, become so partisan it's unable to perform its ostensible mission. It no longer defends civil liberties, so perhaps ACLU should now stand for Anti Civil Liberties Union?
That way, maybe we can get some honesty in advertising.
Like this story? Share it with a friend!
The statements, views and opinions expressed in this column are solely those of the author and do not necessarily represent those of RT.
You can share this story on social media: